Annual Program Improvement Planning
If you have trouble downloading forms on this page, try clearing your cache on your browser or using a different browser.
Annual Improvement Plan Forms for use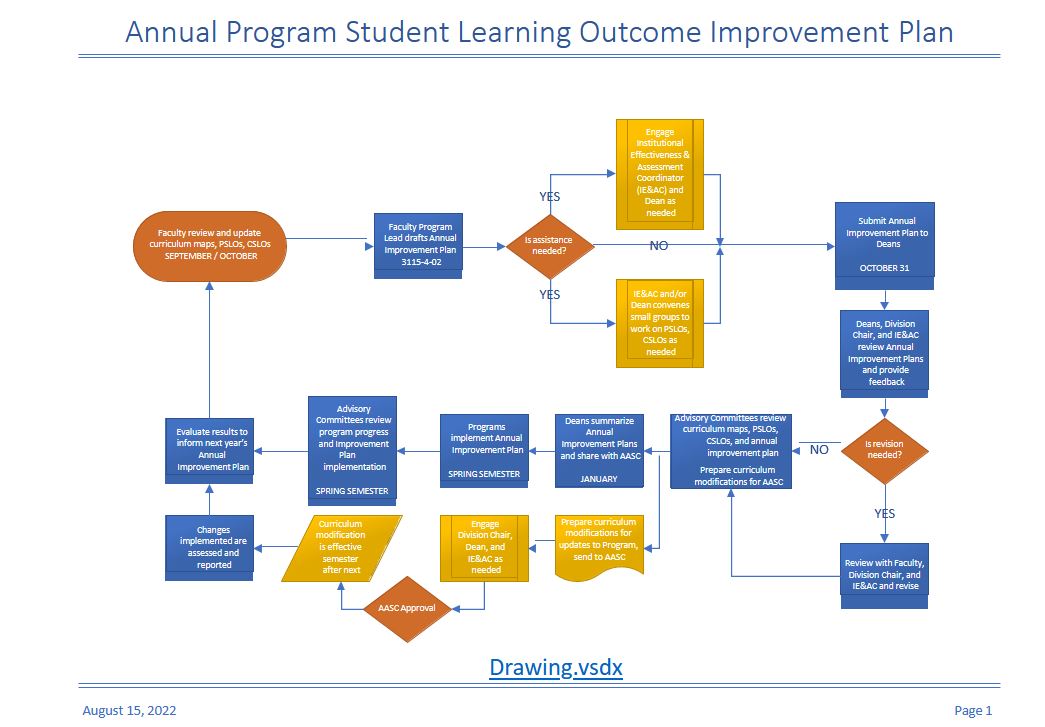 The Annual Program Student Learning Outcome Improvement Plan & Report (Annual Improvement Plan for short) is designed to provide an opportunity for faculty to record Program Student Learning Outcome Assessment results. Recording Assessment results annually provides faculty the opportunity to document qualitative data in support of their findings from assessments. Annual Improvement Plans are collected and reviewed during the 3-year Program Review to consider trends from a longer perspective and plan for future changes to the Program of study.
The Annual Improvement Plan is supported by Policy Series 3115. The Annual Improvement Plan includes a review of Program and Course Student Learning Outcomes annually with the Program's Advisory Committee. At least 1/3 of all Course Student Learning Outcomes and all Program Student Learning Outcomes are to be reviewed Annually with the Advisory Committee. Meeting Minutes are to be included with the Annual Improvement Plan. Advisory Committee reviews are a significant step in keeping Programs current with industry standards and innovations. This is a requirement from Minnesota State Colleges and Universities Policy 3.30, Part 3, Subpart C. "Role of committee", and is required by MN State Administrative Rule 3505.1400
Institutional Effectiveness and Assessment at NTC helps to improve curriculum development processes and a campus-wide understanding of assessment. This work includes improvement of learning outcomes, aligning course, program, and college outcomes, and increasing the quality of instruction.
Safe storage of your Assessment Data: We use Teams as a shared location for Assessment Data storage. The information included in efforts at continuous improvement contain no information requiring highly restricted access. Microsoft Teams has been our recommended storage solution by IT. Here are the MinnState data secure storage recommendations from IT:
End User Data Storage and Sharing Recommendations
Assessment Office: NTC Campus 307 Phone: (218) 333-6633 paula.demars@ntcmn.edu