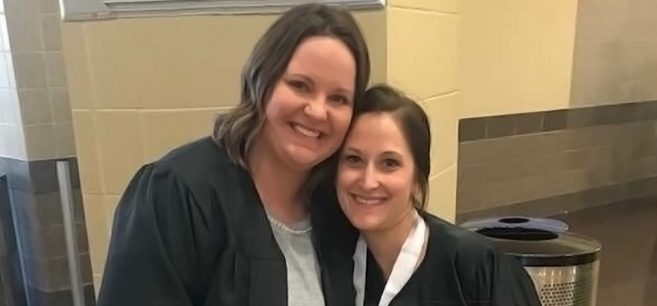 Five years after graduating from high school, Krysta Masurka wanted to continue her education and decided she wanted to be a nurse. Two years later, she graduated from the nursing program at Northland Community and Technical College in East Grand Forks, Minn. — and immediately questioned whether she had made the right decision.
Medical Coding at NTC
At Northwest Technical College in Bemidji, students can obtain a certificate, diploma or associate of applied science degree in medical coding. Each credential builds on the one before it, and all offer job opportunities in the Bemidji region. For more information, contact the NTC Office of Admissions at admissions@NTCMN.edu, call (218) 333-6600 and ask for admissions or visit the Office of Admissions..
"When I got done, I started second-guessing whether that was really what I wanted to do," she said.
After relocating with her daughter to Grand Rapids, Minn., she decided to give up on the idea of becoming a nurse and seek new options. Wanting to stay in the medical field, she began exploring programs available at Northwest Technical College. There, she found the perfect fit in the college's Medical Coding program.
"Medical coding interested me," she said. "It's on the insurance side and you still get to read reports and see what's going on with people. I didn't know much about it until I started, but after about two weeks I knew I loved it. I just took off with it."
Two months prior to starting the program her son was born, and she moved back to Grand Forks, N.D. NTC's medical coding program can be completed entirely online, which allowed Masurka to pursue her education on her own terms.
"I definitely preferred it," she said of online coursework. "I didn't have to get day care or do any of that. It takes a lot of time management, but I was able to get a lot done during the day."
And through the personal attention she received from her instructors, Masurka was able to develop close relationships with NTC's faculty. She especially credits the support of Kaci Petersen, an NTC alumna herself who Masurka called "just awesome," for her success in the program.
"She's one of the best instructors or mentors I've had," she said. "If it wasn't for her, I don't know what I would have done."
Petersen recalled Masurka as an inquisitive student with an obvious love for the work involved in medical coding.
"It was a special thing to have that connection with someone even though it's an online program," Petersen said. "You can tell right away when students like what you're teaching."
Masurka's hard work has paid off. She graduated from NTC with honors in May 2018, passed her Certified Medical Coder exam and has landed a job with the Heart Institute of North Dakota. There, she'll be reviewing insurance submissions that initially were rejected for payment.
"I'm going back through old claims to make sure they were coded correctly and to see if there's any way I can resubmit for payment," she said.
Masurka's path to a dream career and a bright future started with her decision to attend NTC.
"It's an excellent school," she said. "Everyone there is great."