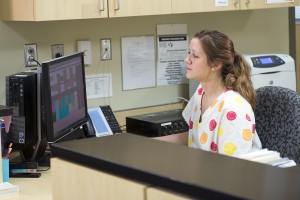 Train for crucial support roles behind the scenes.
As the demand for health care services grows so does the demand for professionals who can manage and process medical information. Northwest Technical College's Health Care Support program prepares graduates as highly trained specialists responsible for the coordination of day-to-day medical office functions and processing of medical information. Responsibilities often include patient scheduling, telephone communications, medical record maintenance, medical transcription and patient billing. NTC offers certificate programs in Medical Coding, Medical Insurance and Medical Transcription to help you start your career quickly. Or you can start with a diploma or Associate of Applied Sciences (AAS) degree in Medical Coding, a diploma in Health Care Administrative Support or an AAS in Health Care Administrative Specialist. It's easy to choose the starting point that works best for you. Most of the certificate credits in Medical Coding and Medical Insurance can be applied to an AAS or diploma.
Read this printable flyer to learn more about career opportunities available through NTC's Health Care Administrative Assistant programs.
Also, read this printable flyer to learn more about opportunities available through NTC's Medical Coding program.