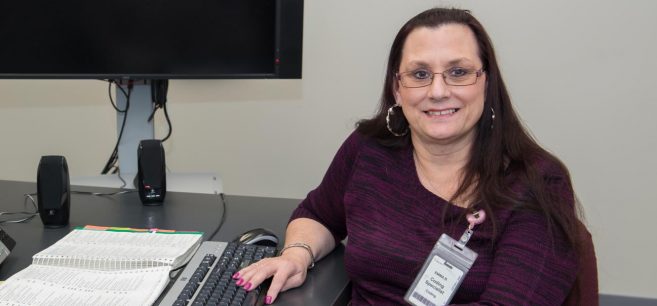 S82.90XA – lower leg fracture.
S63.509A – sprained wrist.
Emma Randall spends her days absorbing these codes, and hundreds of others like them, as a coding specialist for Sanford Health in Bemidji. Using these codes, the Northwest Technical College alumna can share with insurance providers the different procedures performed on patients she oversees, which the insurers use to pay for these services.
The self-described morning person begins her work at 5 a.m., and says that on a typical day she can code between 160 and 200 encounters. She oversees patients who are seen in Sanford Hospital's Bemidji emergency room, patients of two local family practice doctors and patients who receive EKGs.
"I stay busy," she said.
Randall, who arrived in Bemidji 20 years ago with her family from Washington, was looking for opportunities to continue her education, and settled on NTC. She completed her medical coding program on Oct. 13, 2010 – three days after she accepted her job at Sanford Health.
"I went straight into what I went to school for," she said. "I started out for six months as a ward secretary, and then I became a coder."
Randall says the encouragement she received from NTC's faculty and staff was invaluable, and she especially recalls the mentoring and support she received from medical coding faculty member Sue Sutton.
"She was always there when we needed help," Randall said. "She was always there, ready to be hands on if we needed it."
That support, combined with Sutton's own passion for the medical coding profession, helped Randall find her own path to success.
"Sue always talked about how much she loved coding," Randall said. "She loved doing it, and I think she really enjoyed teaching it too. I realize doing it myself and how I feel about it, she was right."
Beyond what she learned from her coursework, Randall said NTC taught her to be adaptable in a profession that can change almost daily as insurance providers adjust their processes and procedures.
"NTC did teach me to be patient and to be resilient in what I'm doing and not to give up," she said. "That's one thing I learned through all my courses – everything you read, or are taught, is going to change day-to-day and you just have to be patient and roll with it."
Randall credits NTC for helping her find her passion as a medical coder, and says she would recommend the school to anyone who asked her.
"I would tell them to go. If they put the time and the effort in, it will pay off for them," she said. "What you learn at the school and the people you deal with, it's a very good experience.
"I made some great friends there, with the staff as well as with other students. It's not something I would change."