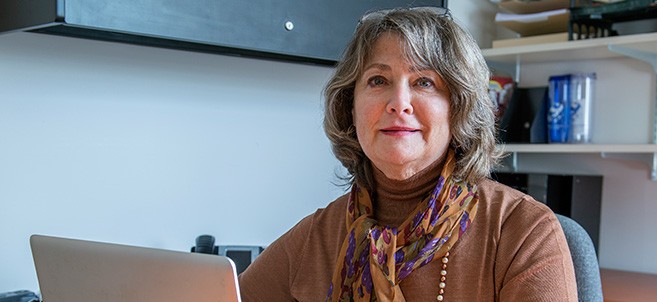 While Sue Sutton worked in hospitals as a department director for coding, billing, transcriptions and health information, she could not lose sight of a passion for teaching she developed while attending graduate school.
"When the teacher stood up I thought, 'I want to be you'," she said. "It was always in my heart."
When a faculty position became available at Northwest Technical College, Sutton saw the opportunity she needed to pursue her passion.
"I told my husband I'm going to take a leap of faith that maybe I'll get this job – and I did," she said.
Now in her sixth year a faculty member in NTC's medical and office administrative assistant program, Sutton is passing on to her students the expertise she gained during her own career in health care's behind-the-scenes workings – medical coding, billing and language transcription.
"I just like the interaction with the students," she said of her career in teaching. "It's a little bit of a high, it really is. You reach students in the classroom and you think 'this is good.'"
Medical coders assign numbers to medical procedures and patient diagnoses that are similarly applied by other coders nationwide. Coders ensure that records are consistent, regardless of where in the country those records are kept. Modern systems offer thousands of new codes that allow records to be more specific than ever before, and Sutton says with these changes she's effectively teaching students a new language.
"Rather than saying 'he has a cough,' coders can say 'he has a scratchy throat,'" she said. "It becomes a universal language."
Sutton directs NTC's Coding the Path from Poverty to Hope program, funded by a $100,000 grant from the Women's Foundation of Minnesota. That program allows qualifying women to enroll at NTC and pursue a certificate in medical coding free of charge, in addition to other benefits.
"We all know our students run into so many barriers, whether that's the cost of tuition or books, an old debt we can erase for them, or coverage for transportation or day care," Sutton said. "Our intent is to make this as easy for our students as possible."
Initially expected to serve 10 students, the program currently has 28 women enrolled. Sutton says students who complete the program will be eligible to pursue a variety of professional certification exams or further their education with an associate's degree.
"This grant was set up so that women would just blossom," she said. "They can bring up their household income and end up with a real, solid career."
Sutton meets with students every two weeks to mentor them as they progress through the program. At the meetings, the students have been introduced to StrengthQuest, an online program that helps students identify their strengths; have received study tips; and have met with working medical coders to discuss the profession, among other activities.
"Not only do we teach, but we advise students," Sutton said. "I loved all my jobs, but this has been just marvelous – a highlight of my career."