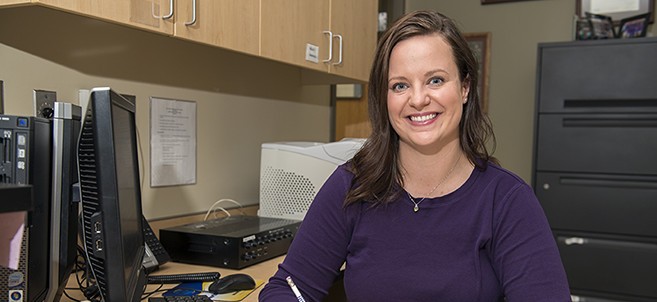 The best two years of her life — that's how Kaci Lee Petersen describes her time at Northwest Technical College. From securing the education she needed to building a career to creating lifelong friendships, the 31-year-old says her time at NTC was life-changing.
"I had no intention of going to a traditional college – or any college, for that matter – after high school," Petersen said. "My mother encouraged me to enroll at NTC and it was the best two years of my life."
Petersen, a Bemidji native, worked as a grocery store clerk prior to enrolling at NTC. She graduated from the college's Medical Administrative Secretary program in 2003.
Now working as a coding specialist, she says NTC did "an excellent job" preparing her for coding certification exams.
"In the field where I'm employed, it's pretty impossible to obtain a job without education and formal training."
NTC's programs are significantly shorter than traditional bachelor's degree programs, and students have the flexibility of taking both online and on-site courses. This helped Petersen create a class schedule that allowed her to work full-time and graduate with no student loan debt.
In addition, Petersen said it was beneficial to have instructors who had worked in the field they were teaching.
"They used their own real-world experiences to help shape our college education and make sure we were ready for anything," Peterson said. "They were also available as references after graduation and,  in my case, helped me get my first job."
NTC's small campus and class sizes create an intimate learning environment.
"I was involved in student senate and other activities during my tenure, and have remained lifelong friends with many fellow students."
Looking back, Petersen says her college experience at NTC was "exceptional."
"All the instructors and support staff were amazing, and the relationships I built with other students will last a lifetime," she said. "I am so grateful for making the choice to pursue a two-year technical degree that prepared me for an amazing career – not just a job!"