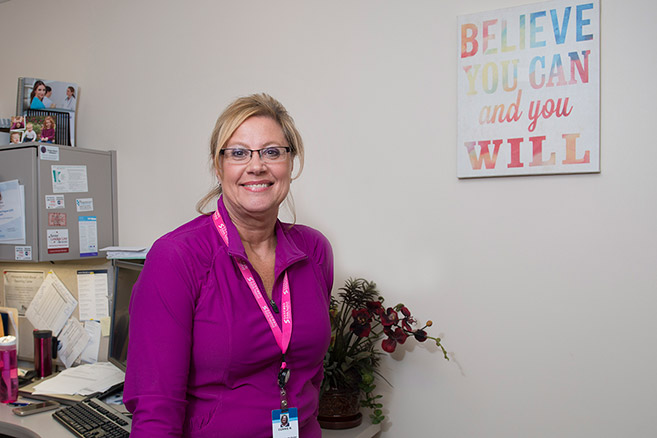 "Believe you can and you will."
Those words not only grace a water colored sign on the wall of Northwest Technical College alumna Connie Norman's office at Sanford Health in Bemidji, but also establish her foundation for the support she provides as a Community Health Worker.
"Often times when I work with patients, they come in feeling overwhelmed — thinking they can't handle one more thing — and I'll talk about that sign," she said.
Northwest Technical College's Community Health Worker program teaches students how to serve in a broad range of health-related functions and the importance of their role in bridging the gap between people and often complicated health and social care systems. During Norman's time at NTC, her educators taught her those skills and more.
"I really do believe that if you can help somebody understand they can do something to change or improve their health, they will," she said.
At Sanford Health, Norman works with patients referred to her from their providers and connects them with resources to help them meet health care goals or receive guidance through the health care system to better health for each individual patient and their family.
"I love just about everything," Norman laughed when talking about her job. "What I love the most is the environment I work in because there is a team atmosphere and it's building stronger and stronger."
Norman believes the most valuable trait of Community Health Workers is that their work doesn't stop after one visit. They can continue to work with a patient for as long as the doctor requests — or the patient desires.
"If I'm working with a patient and I don't have all the answers — I'm not a nurse, doctor or social worker, for example — I can pull those people in to work with that patient. It's never just me — it's about building that team, and the patients appreciate the fact that we are one here."
When it comes to working as a team, Norman's supervisor and registered nurse Amy Magnuson explained Norman's greatest strength is her ability to represent the patient's perspective. When developing new education or information processes for patients, Magnuson said Norman looks over the materials giving suggestions that will best suit a patient's needs.
In addition to her patient's perspective at Sanford, Norman gives an "in the field" perspective to NTC as it looks to improve and expand its Community Health Worker program. Norman says she continues to work with her instructor, Wendy Potratz.
"She's the one who really has a passion for making sure that CHWs are seen as vital parts of any team, and that they're prominent in making a difference in a community," Norman said.
During her time at NTC, Norman enjoyed the friendly atmosphere and the college's ability to accommodate each student's needs.
"For me it wasn't a long process; it kind of just happened very quickly and I appreciated that. I was working — as a lot of students do —  and they gave me online assignments to do if I wasn't able to be at class.
"Being someone who had moved to Bemidji, started a job, and went to school all at the same time, there was always someone there that supported me and helped with whatever I was doing all along the way," said Norman. "They have a good handle on what they're offering."