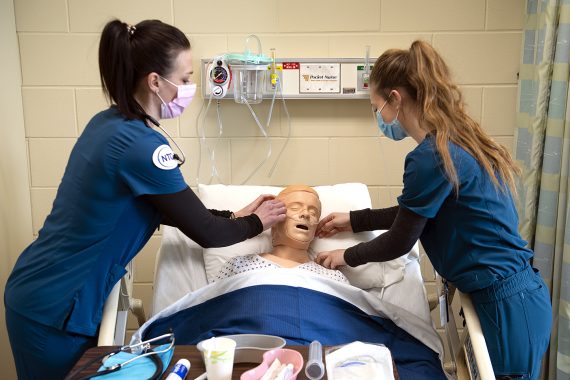 Health care programs at Northwest Technical College—Bemidji's technical college—have been recognized in recent rankings by the websites Intelligent.com and PracticalNursing.org, including a pair of appearances on "best in the nation" lists.
Intelligent.com ranked NTC second on its list of the nation's top 13 online associate in health science programs and 11th on its list of the top 19 online certificates in medical coding and billing.
NTC's 60-credit associate's degree in health sciences broad field prepares students for a wide variety of careers in a program that can be completed on campus or online. The program prepares graduates for immediate employment or for continuing education in bachelor's degree programs.
The college's medical coding diploma is a 29-credit program that prepares graduates for entry-level medical coding positions and stacks directly into NTC's diploma and associate of applied science degree programs in medical coding. The program typically sees 100% job placement rates for its graduates.
Intelligent.com uses information from a variety of sources, including aggregate data gathered from other ranking sites such as U.S. News & World Report, in compiling its rankings. It also uses publicly available information from resources such as the U.S. Department of Education's College Scorecard, the National Center of Education Statistics' College Navigator, College Board, and the Bureau of Labor Statistics. The site's rankings focus exclusively on accredited non-profit institutions. In addition to assigning a score based on a comparison of aggregate data from other ranking sites, Intelligent.com also assigns points for academic quality, graduation rate, cost and return-on-investment and the availability of student resources at the school.
The website says, "our top picks are highly-regarded, affordable and offer the tools and resources students need to successfully graduate and excel in their fields."
PracticalNursing.org has ranked Northwest Technical College's practical nursing program as one of the best in Minnesota. The site reviewed 26 programs in Minnesota and ranked Bemidji's technical college 10th in the state.
The organization's evaluation process considers a variety of factors, including an assessment of a program's support for students as they prepare for licensure as well as past and present first-time pass rates, weighted by year, for the National Council Licensure Examination (NCLEX). Graduates must pass the NCLEX in order to receive licensure to legally practice nursing in the United States.
NTC's 42-credit Practical Nursing diploma program prepares nurses to provide professional, patient-focused bedside care. Practical nurses are found caring for patients in nearly all health care settings, including hospitals, nursing homes, clinics, private homes, group homes and other institutions. NTC's program prepares students for licensure and employment, or for further education in an associate's degree program.
Northwest Technical College's nursing programs are fully accredited by the Accreditation Commission for Education in Nursing (ACEN). Bemidji's technical college received initial accreditation for its associate and practical nursing programs in 2019. Initial accreditation indicates a determination by the ACEN Board of Commissioners that NTC's programs are in compliance with all relevant accreditation standards.
Learn More
Northwest Technical College
Intelligent.com
PracticalNursing.org
——ntc——