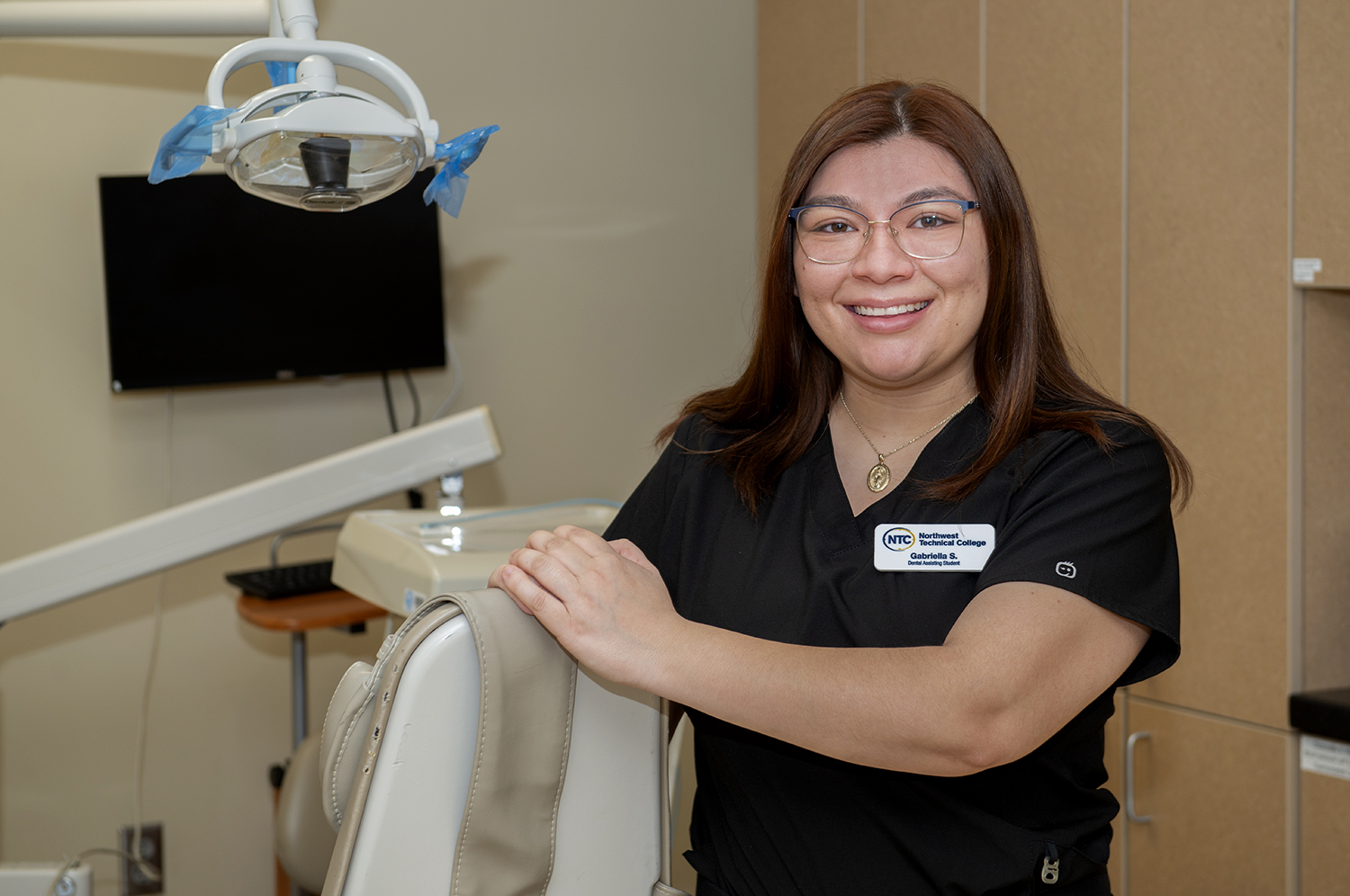 Dentistry runs in the family for Gabriella Santillan, a sophomore dental assisting student originally from Harlingen, Texas. Santillan's uncle is a dentist, so it's a familiar career field in her household. Santillan found Northwest Technical College while looking for dental assisting programs in northern Minnesota.
"I was able to get a rundown of the program from admissions representative, Patty Hartshorn, tour the facilities and talk to instructors. NTC is a feel-good environment," Santillan said.
Santillan took a few courses to see how she liked the program before jumping in with both feet. She decided to continue after having positive experiences in the classroom and with her instructors.
NTC dental assisting faculty helped Santillan secure an internship with a dental office in Warroad, where she watched procedures and sterilized dental instruments.
"I was able to get a feel for the occupation while saving for school," Santillan said. "Unfortunately, I got COVID-19 over the summer and was unable to work for an extended period of time, so my savings were diminishing."
The Delta Dental of Minnesota Foundation created the Delta Dental Equity and Education Scholarship program at NTC in 2022, which supports black, Indigenous and students of color enrolled in the college's dental assisting program. Santillan applied and received one of the scholarships, which can be used for tuition and other expenses like housing, travel costs and education materials.
"Receiving a scholarship that not only pays for classes but room and board on campus is comforting and helps me pursue my degree," Santillan said. "I had been driving two-and-a-half hours one way to attend classes, so this scholarship is very beneficial."
Santillan is grateful for the NTC dental assisting program and the financial support the Delta Dental Equity and Education Scholarship provides.
"The dental assisting program is a good opportunity to meet different people. Connecting with people who have the same goals as you sets you on the right path, makes you feel good about what you're doing and gives you people to lean on, whether it's peers or professors," Santillan said.
About NTC's Dental Assisting Program
Dental assisting students gain technical knowledge and manual skills necessary to enter the dental profession as a chair-side clinician, assisting with a variety of clinical functions, laboratory tasks and business office responsibilities. Labs, internships and service learning activities offer students real-life experiences and interactions with patients and dental care professionals.
Contact
Links