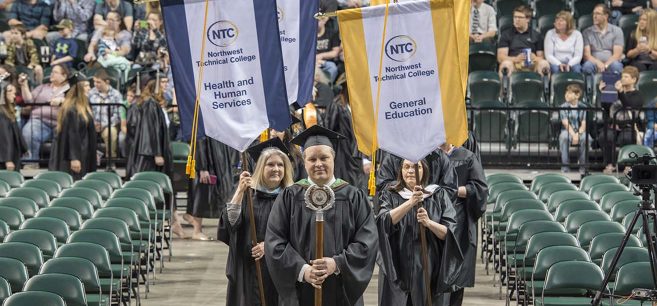 More than 200 students will receive certificates, diplomas and degrees from Northwest Technical College this year.
While a formal commencement ceremony will be planned for a later date due to the COVID-19 pandemic, a virtual celebration will acknowledge graduates and mark the end of the Spring 2020 semester on May 7 at 9 a.m.
"We are extremely proud of our Northwest Technical College graduates and look forward to celebrating their success in person once it is safe to do so," Travis Greene, associate vice president for student life and success, said. "NTC graduates contribute significantly to the Bemidji community and surrounding areas. We are proud to welcome our graduates into the NTC alumni family and look forward to the many great things they will accomplish throughout their lives."
The event is open to all students, families and college representatives and will include messages from President Faith C. Hensrud, Vice President for Academic Affairs Darrin Strosahl, academic deans and more.
Profile picture frames are also available to all graduates on the NTC commencement website at ntcmn.edu/commencement.
Additional events for the Northwest Technical College Class of 2020
NTC Nursing Pinning Ceremony
The NTC Nursing Pinning Ceremony for the class of 2020 will be held virtually at 12 p.m. on May 10 where students will be formally admitted into the profession as graduates of NTC's nursing program.
Links
Contact
2020-N-041