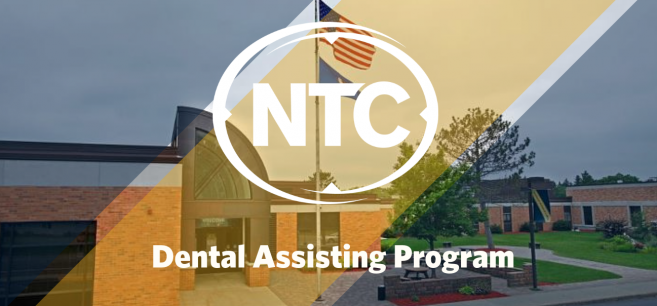 Northwest Technical College's dental assisting program prepares students with the knowledge and education necessary to become a chair-side dental assistant. This program offers a 45-credit diploma or 60-credit Associate of Applied Science (AAS) degree option. Students will earn how to assist with a variety of dental clinical functions, laboratory tasks and business office responsibilities.
Morgan Groenhoff, a current first-year student in the NTC dental assisting program, said, "We get a lot of hands-on experience in this program. The teachers are really friendly and helpful when answering any questions. I really like the dental assisting program at NTC."
Along with clinical assisting, the required curriculum also includes teachings in dental anatomy, radiology, pharmacology, ethics and management.
The program and it's course work is based on quality instruction, hands-on experience and targeted training to meet increased market demand. The dental assisting program will provide the broad base needed to begin or advance in a wide variety of health and human services careers or to continue education at Bemidji State or another four-year university.
Makenzie Pelach, a previous student in the NTC dental assisting program, said NTC's two-year program allowed to finish her degree and seek employment as quickly as possible while working to advance her education.
"I would like to further my education in dental hygiene or oral surgery after having experience in the workforce," Pelach said.
Certain dental science courses offered in the curriculum will transfer to both Dental Assisting and Dental Hygiene majors if students wish to continue their dental education. Graduates are eligible to write the Dental Assisting National Board Certification Exam and the Minnesota State Dental Assisting Licensure Exam. Upon successful completion of the exams, graduates are certified and licensed dental assistants.
Dental Assisting Open House – March 5, 1-3 p.m.
Those interested in learning about the high-demand careers in dental assisting can explore Northwest Technical College's educational opportunities at a March 5 open house.
NTC's dental assisting lab will be open from 1-3 p.m. for meetings with faculty, where participants can learn about the program and career opportunities available to dental assisting graduates. The program's state-of-the-art labs, which were refitted last spring with new training stations, will also be open for tours.
Contact
Links
Northwest Technical College, located in northern Minnesota's lake district, has prepared students for fulfilling careers in high-demand fields for more than 50 years. The college's accessible, affordable, hands-on programs also help the region's employers meet their ever-growing need for a highly skilled workforce. NTC serves more than 1,000 students with an excellent education, an open-enrollment policy and affordable tuition. Students may pursue nearly 40 degrees, diploma and certificate programs in six distinct career paths. Classes are offered on campus, online, or as a combination of both. NTC is a member of the Minnesota State system of colleges and universities. For more, visit ntcmn.edu
---
2019-N-015