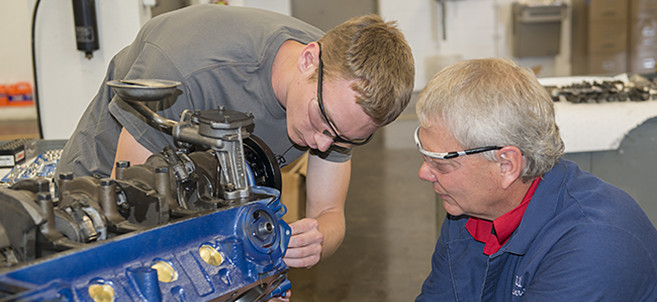 Northwest Technical College hosted a group of Wisconsin high school students who used the college's automotive labs to rebuild a 1968 Ford engine.
The Superior High School students are part of a program called Spartan Hot Rod, a mentoring program that connects high school students with area automotive professionals. Sponsored by Superior-area businesses and the Superior Police Department, the program guides students through the restoration and modification of a project car each year.
Paul Nelson, instructor for NTC's high performance engine machinist program, met the group at a car show in Duluth in Feb. 2015. He offered to mentor the club in engine building and machining, and secured donated parts valued at about $3,000 to support the project.
The club brought a 289-cubic-inch, eight-cylinder 1968 Ford engine to Bemidji on July 13, and rebuilt it during a week of work in NTC's labs. When completed, the club took home a 298-CC engine to install in their 2016 project car, a 1968 Ford Falcon Coupe.
The club spent four nine-hour days on the NTC campus to tear down, machine and reassemble the engine.
Spartan Hot Rod started in 2012 after small fundraising efforts and with donations from local businesses. Participating students strip and restore a car at Len's Auto Body in Superior, learning bodywork, mechanics, upholstery, exhaust and electronics in the process. Each year's completed vehicle is sold via auction and proceeds are used to finance the next year's build.
Contact
• Paul Nelson, high performance engine machinist program instructor, Northwest Technical College; (218) 333-6638, paul.nelson@ntcmn.edu
Links
• High Performance Engine Machining program at NTC
• Spartan Hot Rod on Facebook