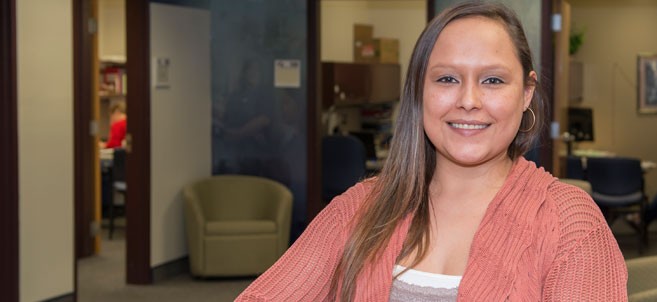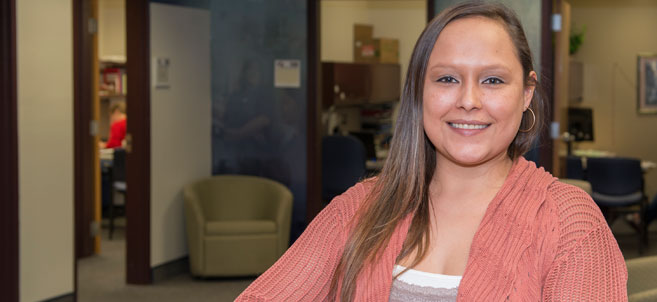 College wasn't always a part of life's plan for Jesse Lynne Ness, a 2004 graduate of Bemidji High School. But her mother's encouragement and support from staff at Northwest Technical College have made a degree — and the career opportunities it brings — a reality for her.
"Honestly, I never really thought I would go to college," says Ness. "But after I had my daughter in 2011, my mother gave me a push of encouragement to pursue a college degree."
NTC made it easy for the working mother of two to pursue a degree through its Administrative Assistant program.
"I just happened to show up at NTC during an open house in July 2012 and got registered that day. I started classes at the end of August," she says.
"I chose NTC because of the size of the school. I felt connected with the faculty and all my instructors. That was a good feeling."
A combination of online and on-campus courses has allowed Ness to finish her degree on time and still experience college life. Although she wasn't involved in school activities during high school, Ness surprised herself by discovering she enjoyed participating in campus activities at NTC. She also credits the faculty in student services with going the extra mile to support her academic success and create an outstanding college experience.
Ness graduated in 2015 with a diploma in Administrative Support and a certificate in General Business and moved right into a job.
"My goal was always to find a front office position in the Bemidji area, whether it was a school or business," she says. "In March 2015, I was offered a front office position at Upper Mississippi Mental Health Center."
Ness would advise anyone who's considering returning to school to "just do it!"
"Never give up on yourself," she says. "It is harder to start back up than to quit what you have already started to work for. My journey at NTC has been absolutely amazing. I have met some phenomenal people, and I will keep them close forever!"