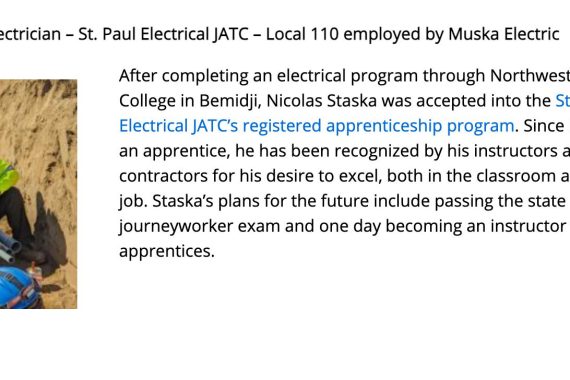 NTC electrical construction alumnus Nick Staska, currently an apprentice working with the Muska Companies in Roseville, has been named an Apprentice of the Day by the Minnesota Department of Labor and Industry! The DLI has been recognizing apprentices every day this week as part of Apprenticeship Week in Minnesota.
Congrats to Nick for the recognition and to our electrical construction faculty for having one of their graduates spotlighted during this important week!
From the Department of Labor and Industry website:
Nicholas Staska, electrician – St. Paul Electrical JATC – Local 110 employed by Muska Electric

After completing an electrical program through Northwest Technical College in Bemidji, Nicholas Staska was accepted into the St. Paul Electrical JATC's registered apprenticeship program. Since becoming an apprentice, he has been recognized by his instructors and contractors for his desire to excel, both in the classroom and on the job. Staska's plans for the future include passing the state journeyworker exam and one day becoming an instructor to future apprentices.