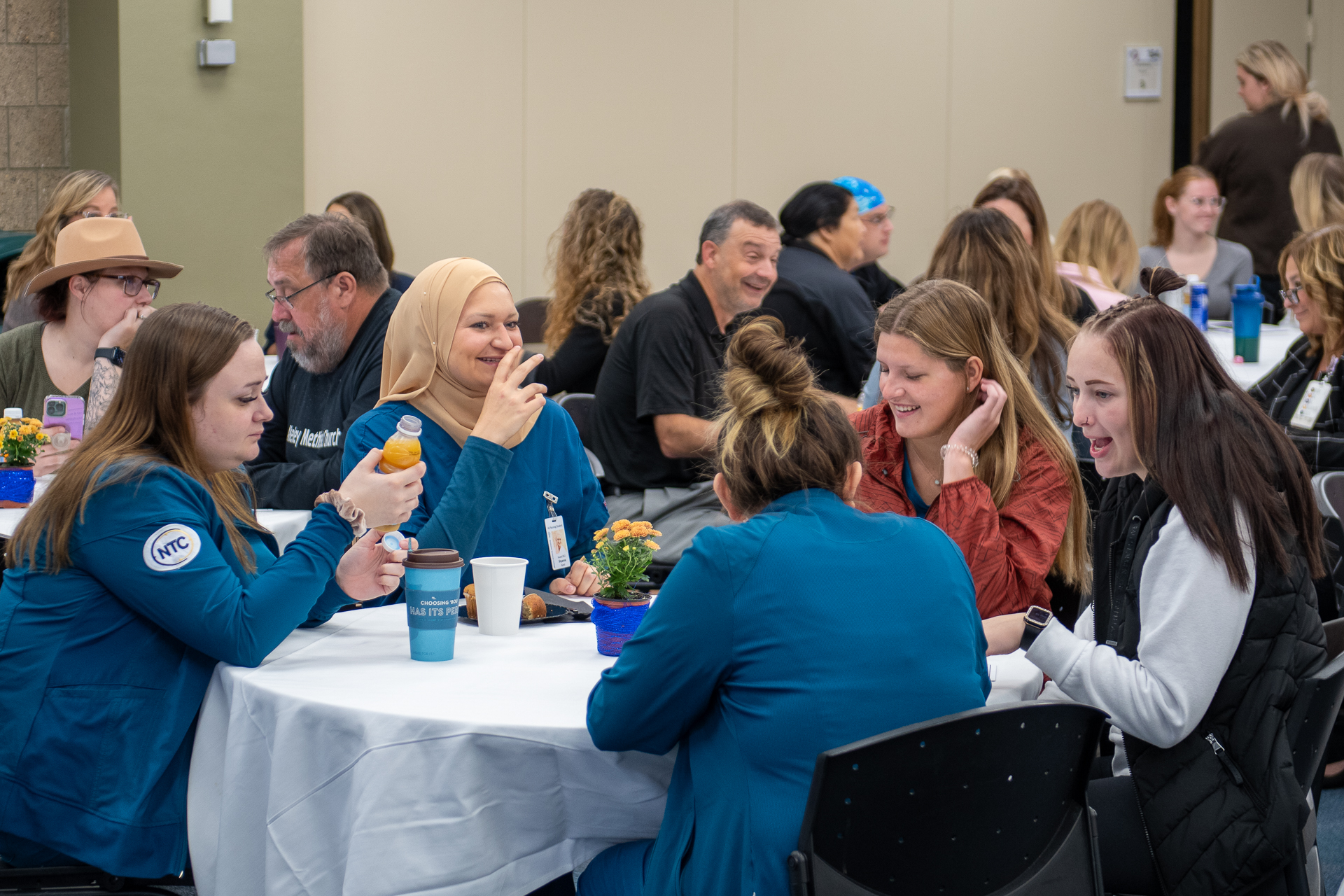 In a packed room of students, families, faculty, staff and donors, Northwest Technical College awarded $65,750 to 50 NTC students at the Sept. 19 scholarship recognition breakfast in the NTC commons area.
The Bemidji Career Academies Scholarship, established to support Bemidji High School students who graduate from one of its 15 unique career academies and then enroll at NTC, was awarded to five local Bemidji students. It was one of 12 unique scholarships awarded to students representing a wide range of academic programs. The NTC Foundation has raised over $500,000 in support of hundreds of students since 2017.
"The NTC Foundation has been key to a number of initiatives to improve student success," said Henoc Preciado, interim head of staff for NTC, said. "The Foundation helped renovate the Student Success Center and built Rosie's Room, an area where students can study and collaborate on projects together."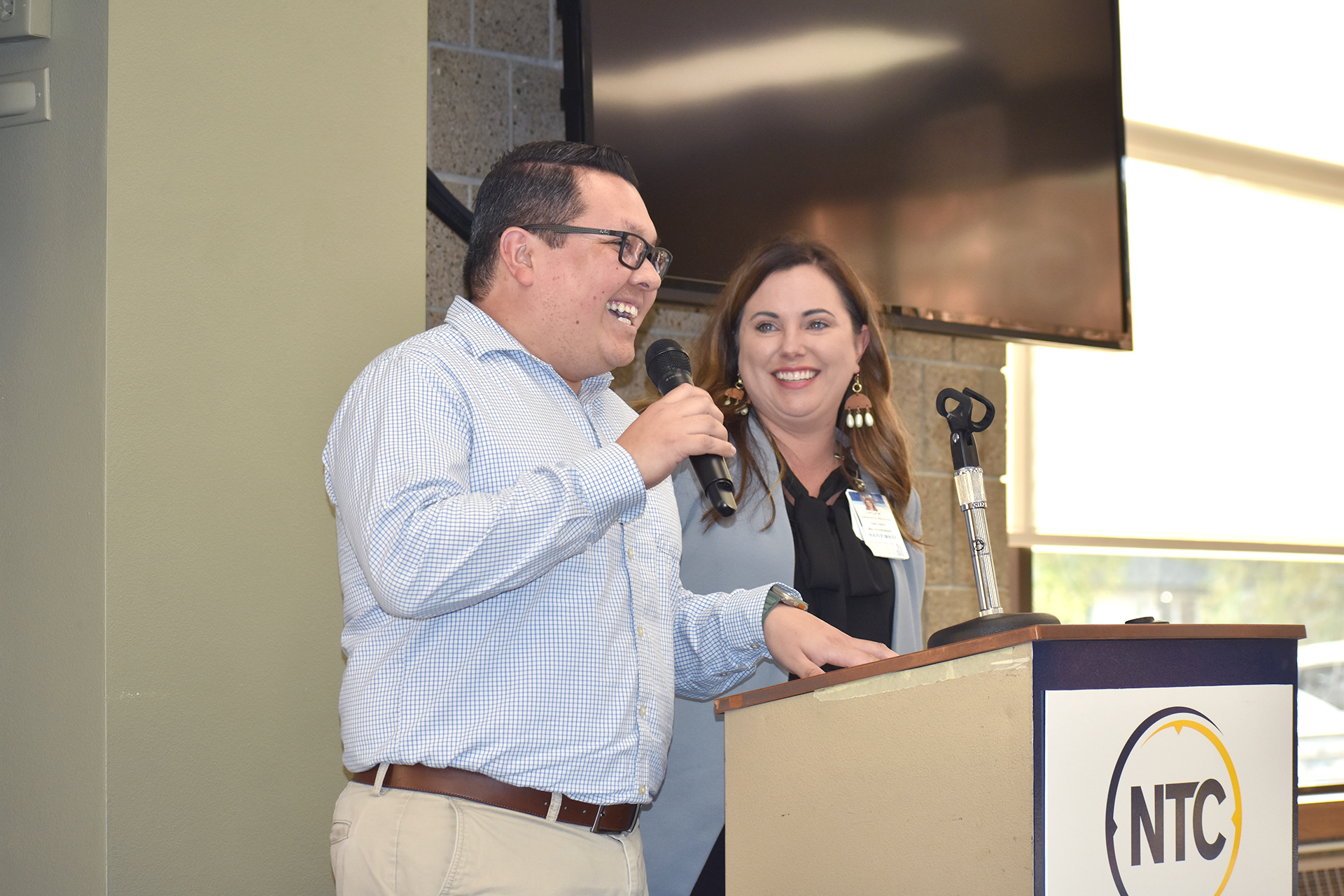 Kayla Winkler, chair of the NTC Foundation, continued with additional examples of the work the NTC Foundation has done in recent years in support of NTC students.
"We've grown our donor base and continue to work toward a genuine alumni donor base," she said. "We have held four successful Day of Giving fundraisers supporting the NTC Closet where students can access clothing and other items for themselves, the campus food pantry and created emergency funds to help students navigate unforeseen financial challenges."
NTC President John Hoffman stressed the impact of scholarship support for NTC students and commended the donors who make those opportunities available.
"For the half of our students who are the first-generation college students, it is changing the trajectories of their families and our communities forever," he said. "I'm just so thankful."
Scholarship Recipients
Northwest Technical College Foundation General Scholarship
Tia McMonigal
Sarah Pilbeam
George W. Neilson Foundation Scholarship
Alexia Adkins
Margaret Basweti
Lilee Bock
Beatrice Bundi
Zachary Danelski
Tanner Gundermann
Corey Kuhlman
Cheyann Mathney
Katie Masurka
Joanna Meyer
Damacline Oganga
Samantha Pereria
David Schober
Dissan Ssekisambu
Oliver Stroeing
Carson Swanson
Jaret Swedberg
Mirabel Tamukong
Uran Family Scholarship
Leah Christensen
Tennille Popelka
Fred Breen Scholarship
Tatianna Falk
Keala Hand
Josiah Meade
Claire Nelson
Tricia Port
Ryan Young
Sanford Health Bemidji Scholarship Fund
Alexia Adkins
Lilee Bock
Leah Brouse
Jazmine Dirks
Megan Doubek
Kassidy Ennen
Heather Hopkins
Inez Sigana
Delta Dental of Minnesota Foundation Scholarship
David May
Bemidji Career Academy Scholarship Fund
Alexia Adkins
Lilee Bock
Olivia Ethier
Kaine Norton
Emily Thompson
Paul Bunyan Communications Scholarship
Samantha Pereira

Otter Tail Power Company Scholarship

Sarah Rose
Mitch Webb
Mississippi Headwaters Blood Bank Scholarship

Heather Hopkins
Paul Bunyan Vintage Auto
Nathan Keiser
Sandy Johanning Award for Compassion
Megan Doubek
Taylor Graftaas
Erin Shypulksi