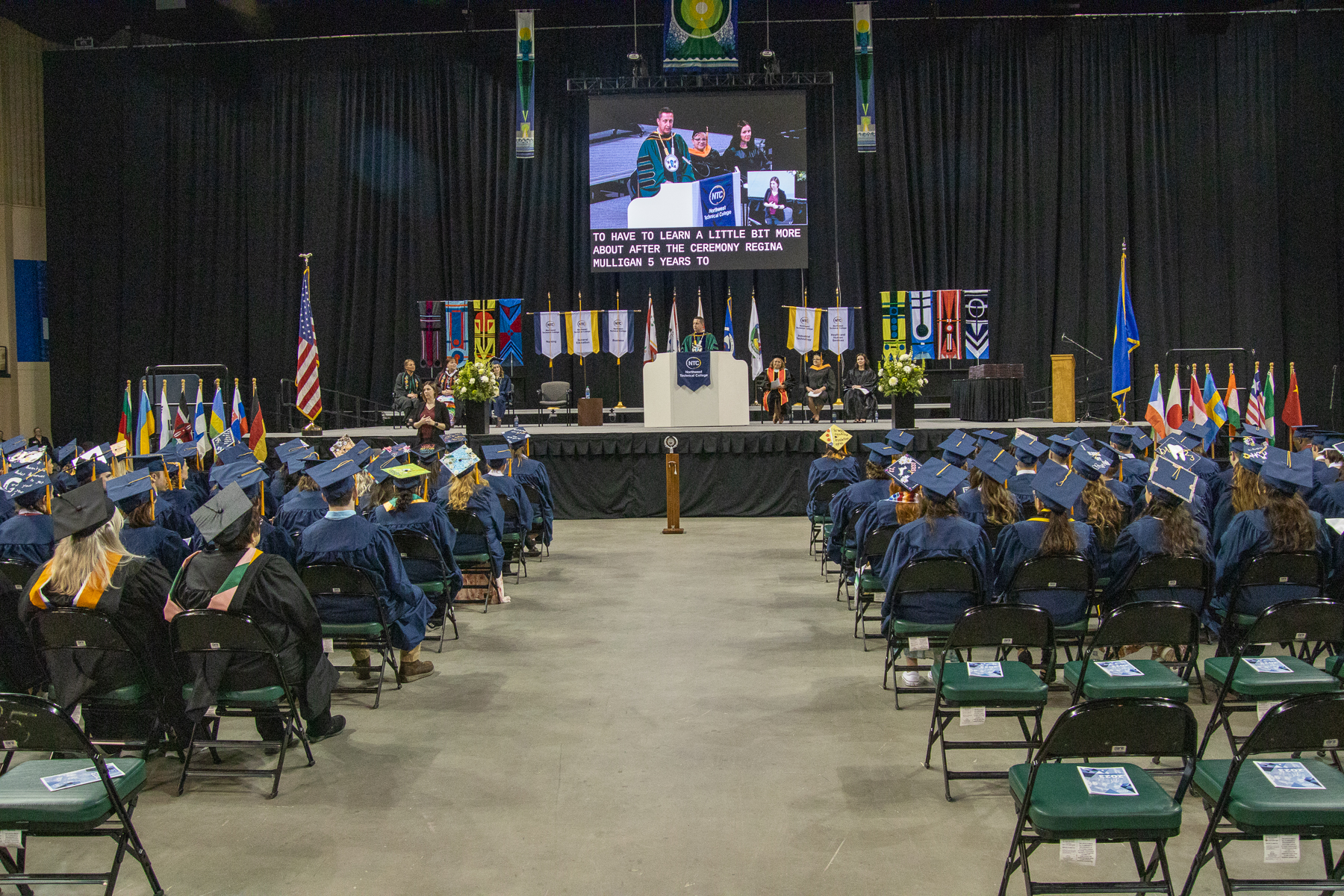 218 Northwest Technical College graduates were celebrated during Commencement at Bemidji's Sanford Center on May 5.
The ceremony kicked-off with a performance of the national anthem by Christian Breczinski, advising and accommodations coordinator at NTC.
Following a traditional Ojibwe honor song rendered by Eyabay, a nationally-renowned drum group from the Red Lake Nation, Executive Vice President and Senior Academic Officer Dr. Ketmani Kouanchau welcomed all attendees to Northwest Technical College's commencement ceremony.
Northwest Technical College awarded 79 associate of science degrees, 47 associate of applied science degrees, 86 diplomas and 40 certificates to the graduating class of 2023.
Download the Commencement Booklet.
President John L. Hoffman
President John L. Hoffman congratulated the class of 2023 and shared stories of graduates who had overcome unique challenges on the way to their academic goals, including experiencing personal loss, selfless service to their campus community, persistence towards degree completion and being an uplifting peer to those around them.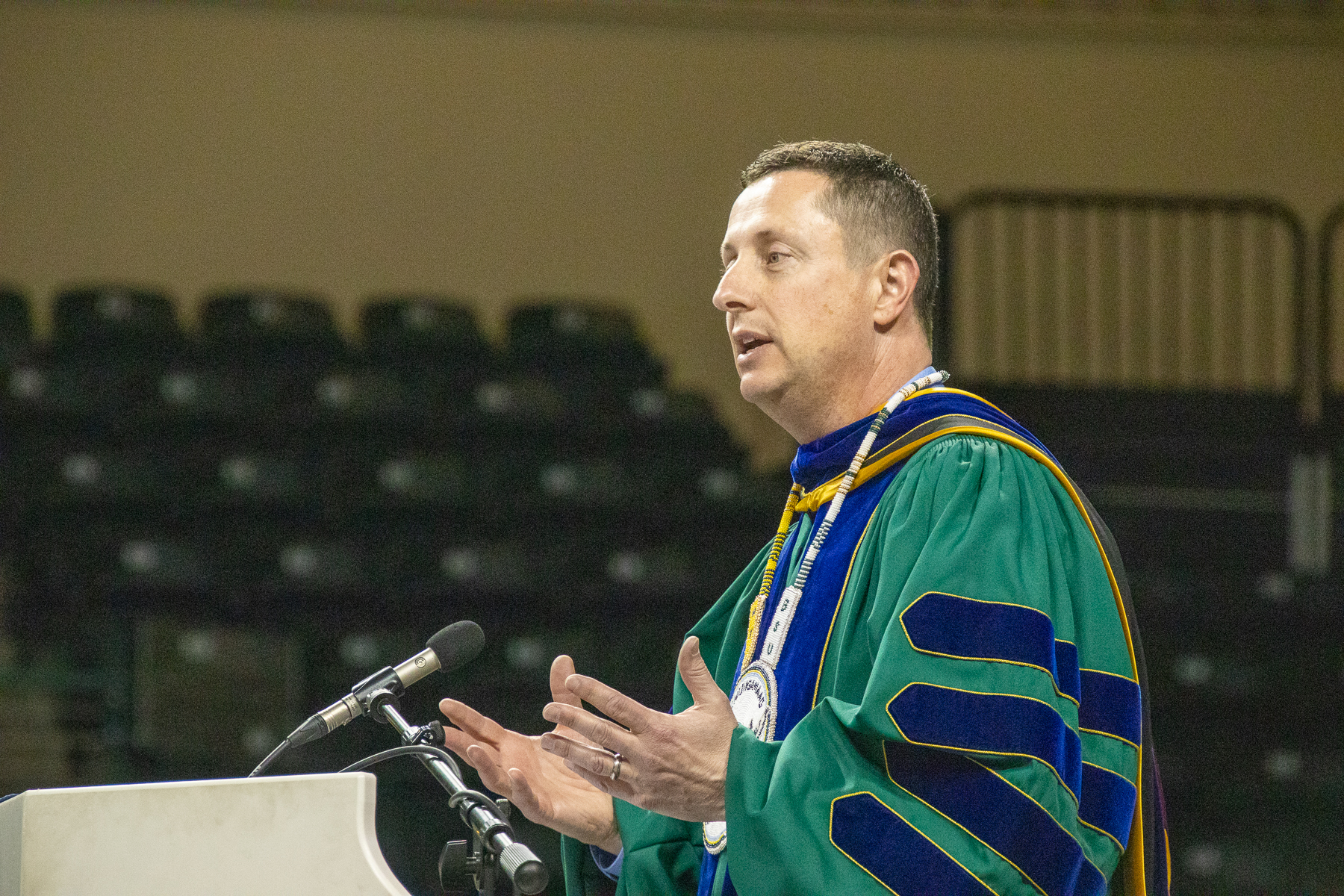 Hoffman quoted Johnetta Cole, the first African-American president at Spelman University, who said that education serves two purposes: to teach a new understanding about the world and to use that understanding to make the world a better place.
Hoffman said that while the next step for graduates is finding employment that is fulfilling and secures a livelihood for themselves and their families, their NTC educations extend far beyond simply opening career opportunities.
"It's about well-being in the ways you lead your lives. It's about using what you have learned to fix the wrongs you see in your work and communities and taking the lead to create a better future for yourselves, your families and your communities."
Distinguished Minnesotan Tuleah Palmer
Tuleah Palmer delivered the commencement address as NTC's 39th Distinguished Minnesotan Award recipient.
Palmer, a 2000 graduate of applied psychology of Bemidji State University who currently serves as president and CEO of the Blandin Foundation in Grand Rapids, began her address by reminding graduates about the importance of the day.
"Today is an extraordinary day for you and the people who love you, and it is also an important day in the history of Bemidji State University and northern Minnesota," she said.
Palmer recognized that many of this years' graduates had far from a traditional college experience, juggling online learning, caring for family and other challenges related to the COVID-19 pandemic. Despite this, they overcame those challenges to become university graduates.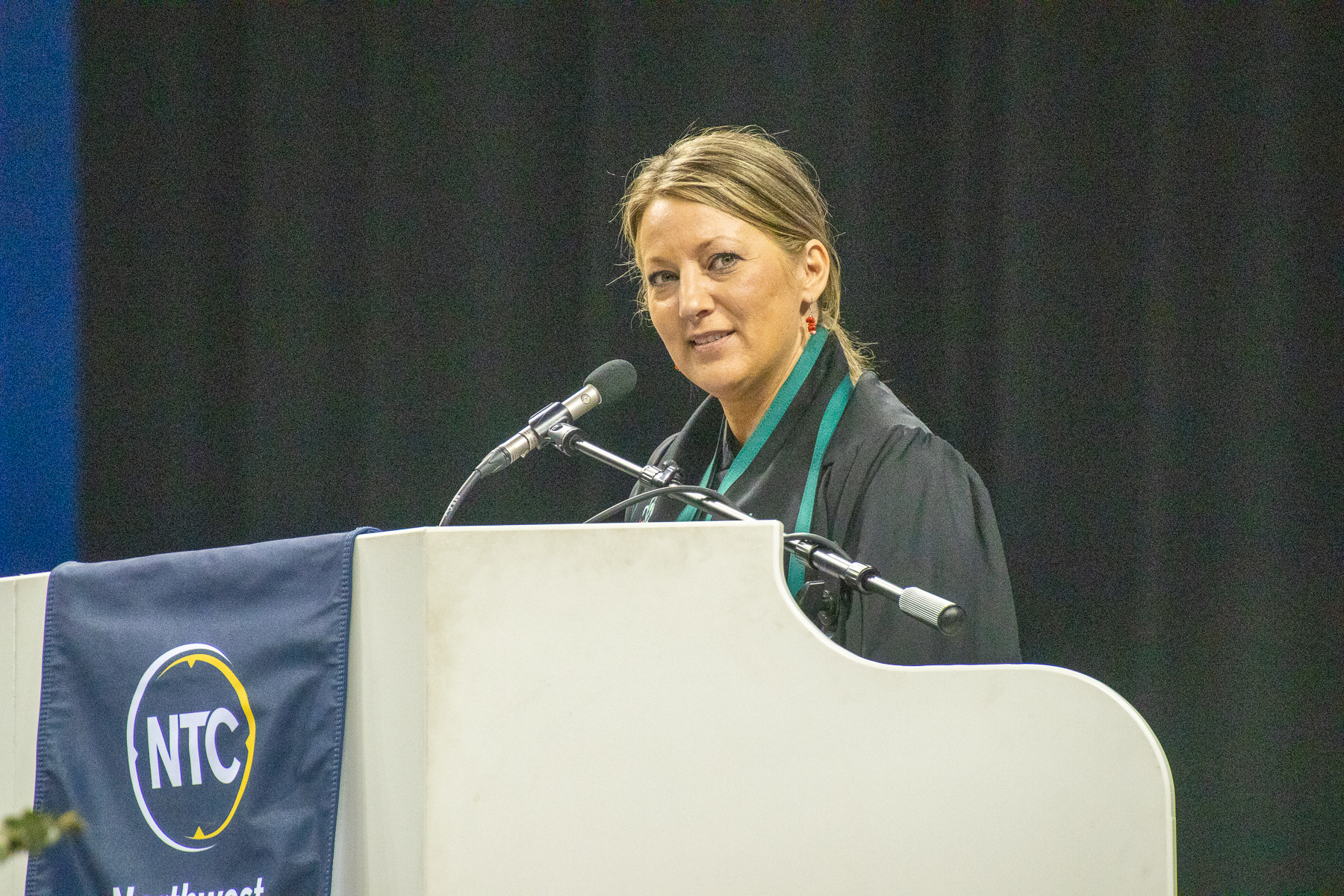 "What you are today, and what makes this day so extraordinary, is that you are who we are becoming, a better version of us," she said. "You did not give up. You are strong, adaptive and agile. You have grit and guts. You are determined, and you have finished what you have started."
Palmer concluded her remarks by empowering graduates to show gratitude to those in their lives who helped them get to this point in their lives, and pay that support forward to others in their own lives.
"Take some time to call the people who believed in you and thank them. Let them hear your voice and share your joy. Call someone you know who should be believed in and believe in them and encourage them, help them with an application and be the philanthropist that's in each of us," she said. "When you learn, teach. When you get, give. Today is a story that will live forever in your life. May you always remember how strong you are, how loved you are and how powerful you are."
Read more about Tuleah Palmer's Distinguished Minnesotan Award.
Student Speakers
Alyx Johnson, a nursing graduate from Bemidji, provided remarks on behalf of this years' graduates.
Johnson, the recipient of the George W. Neilson Foundation, Fred Breen, Mississippi Headwaters Blood Bank Scholarships and NTC Dean's List member, began her address by recognizing the support this year's graduates have received on the way to their academic goals.
"We have all come from different walks of life, but we share one thing in common – our determination to pursue a higher education and to create a better future for ourselves and families," she said. "We should not forget about the support we have received from our family, friends and instructors. They have helped us get to this day and we should express our heartfelt gratitude toward them."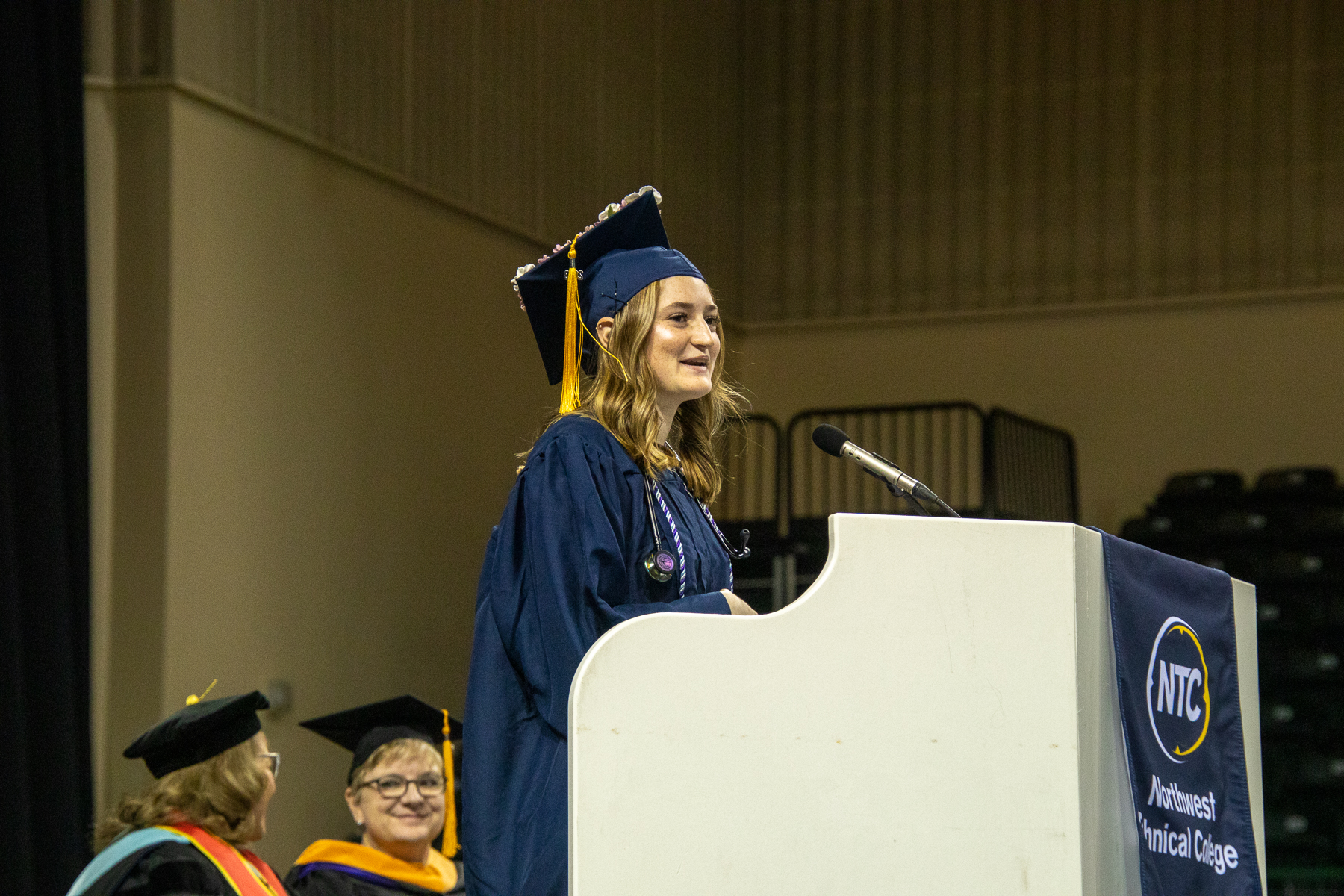 She concluded her address by empowering her classmates to use their NTC educations to make the world around them better as they begin their careers.
"Today we stand here as graduates. Yesterday we were students. Tomorrow, we move out into the world away from NTC equipped with the skills and knowledge to pursue our dreams," she said. "Let's use our education to make a positive difference in the world."