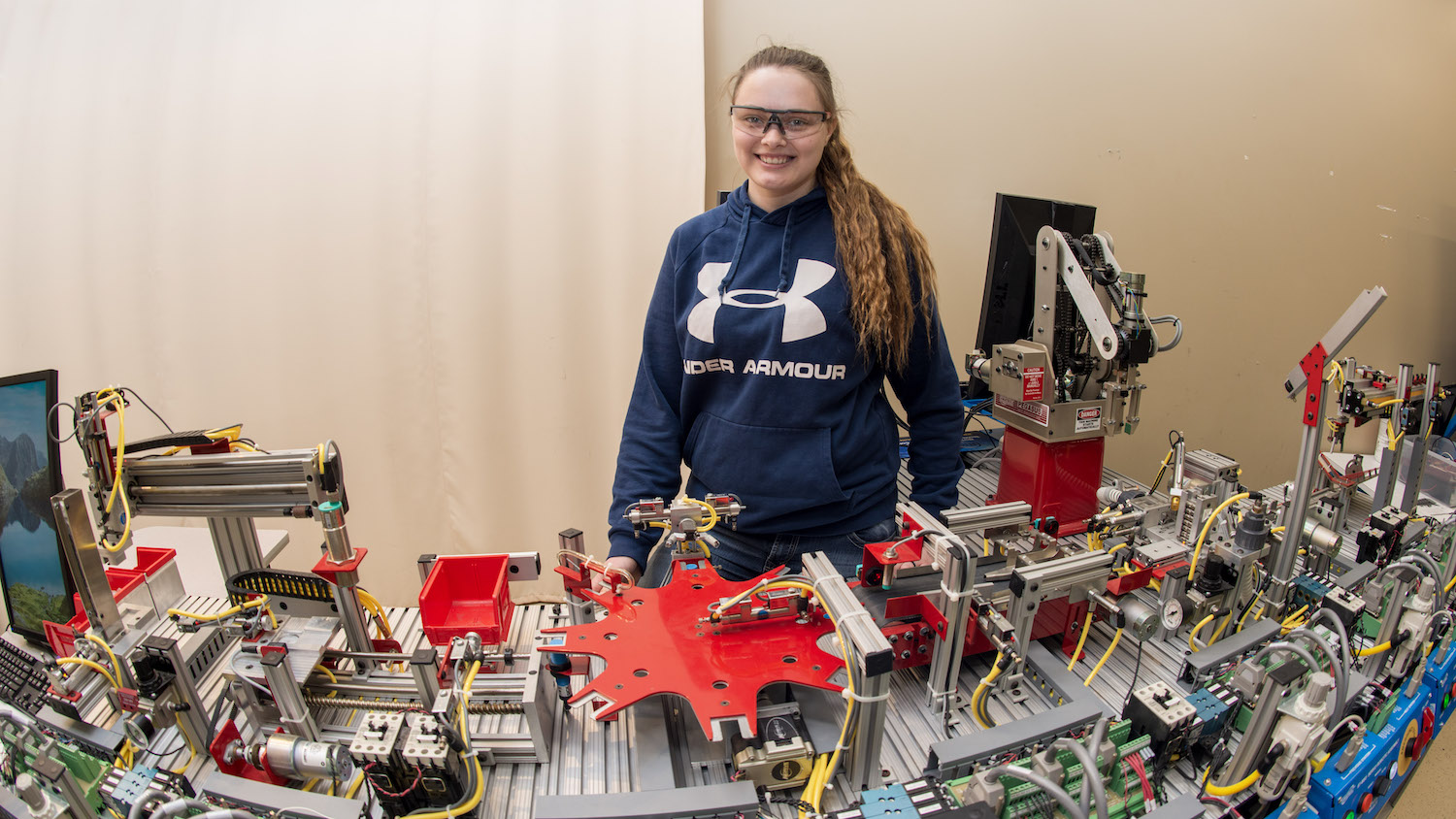 NTC electrical construction student Kylee Humphrey is finding promising career opportunities in NTC's cutting-edge curriculum, industry partnerships and support from faculty and staff.
The second-year electrical student began her education studying early childhood education at a college out of state. After that first year, however, she decided to make a change and return to her hometown of Cass Lake, a 20-minute drive east from Bemidji. There, she found Northwest Technical College's electrical construction program.
"I wanted to pursue the electrical field because it was hands-on," Humphrey said. "I also wanted a job in high demand with greater job security."
The U.S. Bureau of Labor Statistics estimates there will be nearly 80,000 open electrician jobs each year over the next decade, largely to replace workers who retire or otherwise exit the industry. The average annual wage for electricians in Minnesota was nearly $70,000 as of 2021.
Classroom lectures help students understand concepts like electrical theory, alternative energy sources and cost estimating, but frequent lab experiences teach the practical skills needed for residential and commercial electrical work.
"The program is unique because we spend two hours working in a lab for each lecture hour," Humphrey said. "Not only do we study specific aspects like blueprints and diagrams, but we get to do hands-on learning as well."
NTC's industry partnerships provide students part-time employment and internship opportunities with local electrical contractors. Humphrey recently completed a two-month internship with Bessler Electric in Bemidji.
"I was working on something different every day," Humphrey said. "I applied my skills to installations and various wiring systems."
Humphrey is thankful for the support of her instructors and the learning environments they create for students from all walks of life.
"My professors have been very supportive and care about student success," Humphrey said. "I have noticed that I am one of few women in the program, and in the industry in general, but I have found mentorship and welcoming environments at NTC."
About Electrical Construction
Electrical construction is where you'll learn to build, install, maintain and repair electrical systems that provide heat, light and power to residential, commercial and industrial structures. You will also venture into green energy technologies and sustainable residential electricity so you're prepared to work in emerging energy careers.
Contact
Link