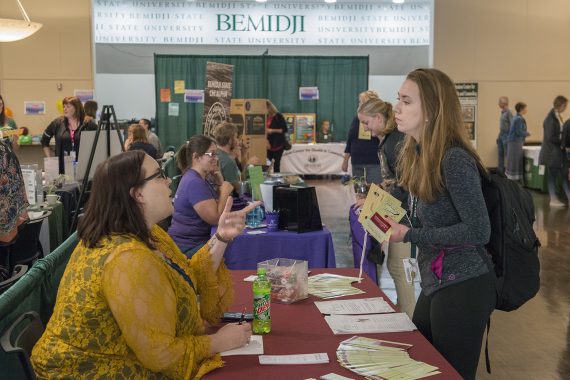 Northwest Technical College is seeking vendors and display-booth participants for its annual All-Campus Health Fair and Vaccination Clinic on Wednesday, Oct. 5.
The event will be held from 8 a.m.–1 p.m. in the Beaux Arts Ballroom of Bemidji State's upper Hobson Memorial Union.
The event encourages healthy lifestyle choices in a relaxed and engaging atmosphere. Prospective vendors may use the fair to promote their organization or services to students, staff and faculty, but vendor booths are not intended for recruitment or sales. Booths are available at no cost to participants, and instead, event organizers request that vendors donate a door prize with a $25 minimum value for attendees, which will be distributed by event coordinators throughout the fair.
Vendors will be provided with one four-foot table and two chairs and may hand out coupons, advertisements and giveaways. Vendors are encouraged to offer interactive and inviting display booths.
Due to space limitations, applications for booths will be collected and reviewed on a rolling basis by the planning committee until the application deadline of Sept. 23.
CONTACT:
Jay Passa, health education coordinator, BSU Student Center for Health and Counseling; (218) 755-2080, Jay.Passa@bemidjistate.edu
LINKS:
All Campus Health Fair and Vaccination Clinic Registration
Student Center for Health and Counseling