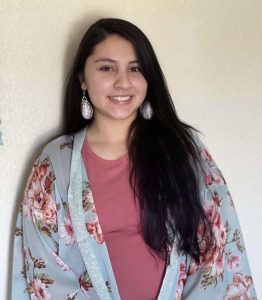 Northwest Technical College second-year student Mariah Reyes, a double major in healthcare administration and medical coding, has been awarded a $500 Mark M. Welter World Citizen Award.
The annual award is given to 20 students from the Minnesota State system of colleges and universities who understand the importance of secondary education while demonstrating a commitment to the health of the planet and its communities.
A member of the Leech Lake Band of Ojibwe and from Cass Lake, Minnesota, Reyes currently works full-time at Cass Lake-Bena High School as a Home School Advocate. Pursuing multiple degrees at Northwest Tech, Reyes intends to work at Cass Lake Indian Health Services after graduation to better serve and impact her home community.
Tyler Peterson, NTC's student success center director, nominated Reyes for her commitment to her education while working full-time and raising a family.
"Mariah Reyes is such an excellent candidate for this award. She's a full-time mother, a full-time student and a full-time employee. Even with all of this going on, she has maintained a 3.55 GPA," he said. "Obviously, raising a two-year-old daughter comes with a lot of expenses including food, clothes, diapers, medical bills, etc. This award would not only benefit her and her family, but it will help her achieve her goal to better her tribal community."
About Mark M. Welter
Dr. Mark M. Welter taught history in the Robbinsdale Area School District for nearly 30 years and was also an adjunct history professor at St. Cloud State University in Minnesota. Throughout his life Welter has advocated for a collaborative approach to solving global issues.
A LeadMN initiative, the Mark M. Welter World Citizen Award is bestowed upon students who share some or all of the following beliefs:
All people are of a common species who share a common home.
The world shares common problems (pollution, terrorism, challenges) but views them through differing cultural and religious value perspectives.
All citizens of planet Earth mutually share an interconnected, fragile biosphere.
All people – all cultures, all creeds, all colors and all countries – contribute to the world's shared knowledge.
Our world is interdependent.
No one nation, people, religion or creed can unilaterally deal with contemporary challenges of pollution, population, poverty, pandemics and peace.
Contact
Links
2021-N-026