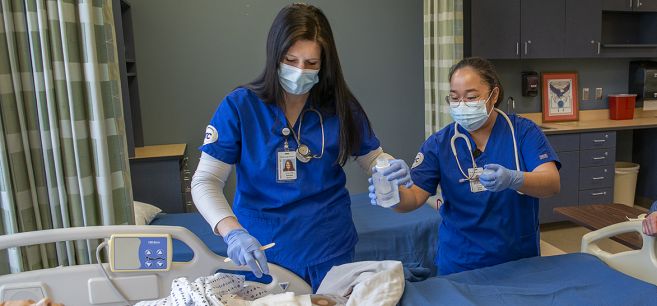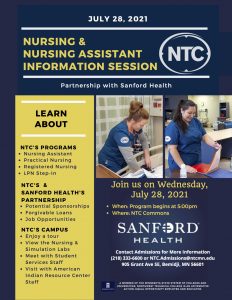 Prospective students interested in Northwest Technical College's nursing programs can meet with representatives from the college's nursing program and Sanford Health of Bemidji during an information session on July 28 from 5-7 pm.
During the event, attendees will receive an overview of the nursing programs and curriculum, tour campus and visit with student services. Additionally, representatives from Sanford Health will detail potential sponsorships, forgivable loans and job opportunities for students.
According to the Bureau of Labor Statistics' Occupational Outlook Handbook, employment in the healthcare sector is projected to grow 15% from 2019 to 2029, adding about 2.4 million new jobs, much faster than the average for all occupations.
Calendar
July 28, 5-7 p.m. – Nursing Information Session
Location: NTC Café, NTC Campus. The session will also be available on Zoom.
About Nursing at NTC
At Northwest Technical College in Bemidji, students can obtain a variety of credentials in nursing, including a certified nursing assistant certificate, a diploma in practical nursing, and associate's degrees in nursing — a step-in program for Licensed Practical Nurses that can be completed in seventeen months and a nursing generic track program that can be completed in two years.
Graduates of the ACEN accredited programs, both diploma and associate's degree, are eligible to apply for licensure as a licensed practical nursing or registered nurse, respectively. Each credential at NTC builds on the one before it, and all offer job opportunities in the Bemidji region, and in the state of Minnesota.
For more information, contact the NTC Office of Admissions at admissions@NTCMN.edu, call (218) 333-6600 and ask for admissions or visit https://www.ntcmn.edu/admissions/visit-campus/.
Contact
Links
2022-N-001