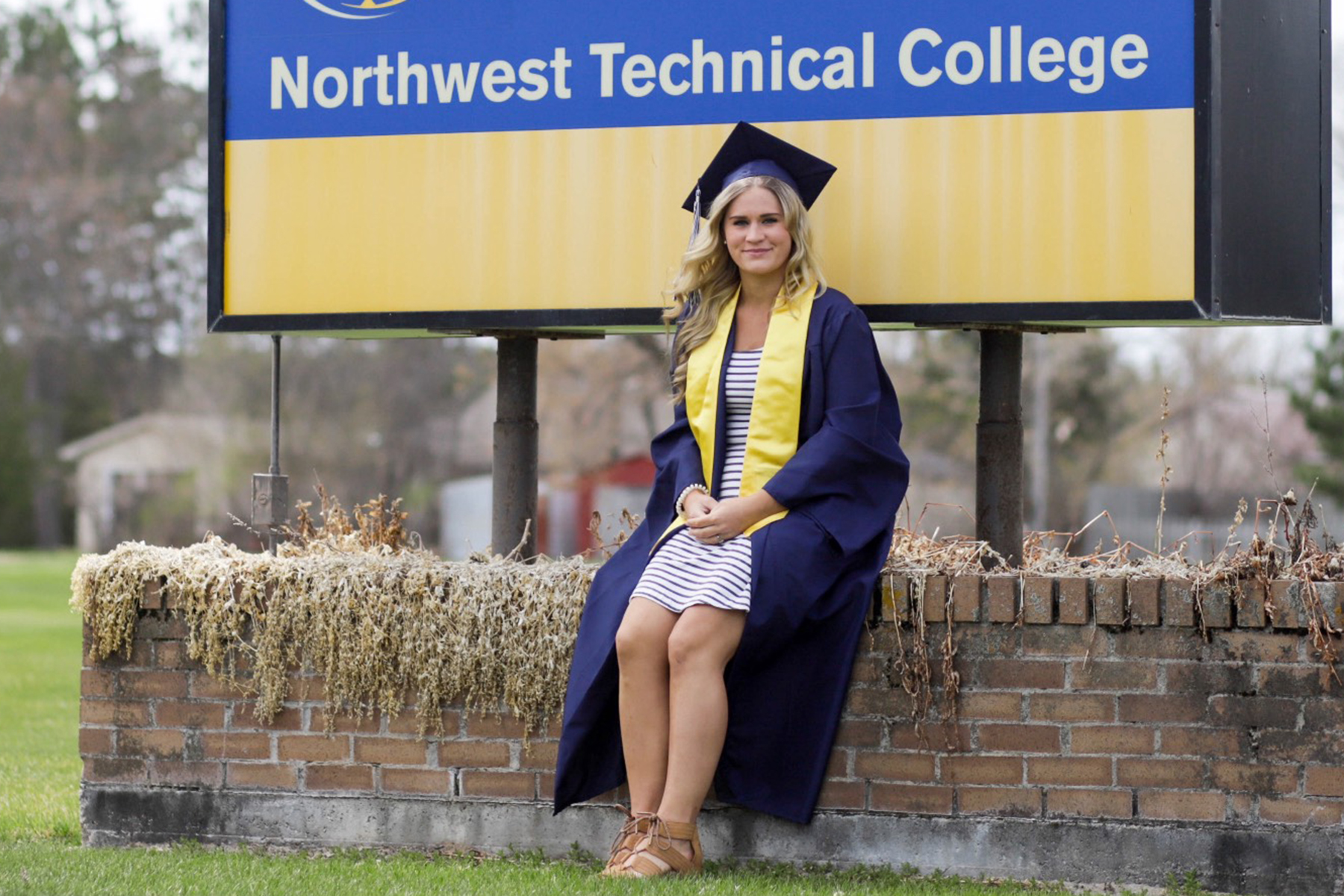 Northwest Technical College graduate Tessa Solo didn't always envision herself as a teacher. Now, with an associate of applied science degree in child care and education, she is learning how to be a teacher in a global pandemic.
"I never had any intentions of working with kids," she said. "But there were a couple elementary teachers who made a huge impact on me and if I can make even the slightest positive impact on a child's life I want to do that."
Born and raised in Williams, Minn., Solo went to work at Marvin Windows & Doors after graduating high school in 2017. She then attended Northland Community and Technical College in Thief River Falls, Minn., where she earned a degree in liberal arts, but was still unsure of what she wanted to do with her future.
"I moved back home and started doing daycare with my sister after I had finished my first semester of college," Solo said. "I loved taking care of all the neighborhood kids so I called Northwest Tech to see what programs they had to offer and Early Childhood Education sounded right up my alley."
Solo started at NTC in the fall of 2018 and during the spring semester of her first year she decided to apply for a lead teacher position at the Head Start program in Grand Rapids, Minn.
"I didn't think they were going to hire me because I hadn't completed my degree yet, but I ended up doing my internship with them and they hired me full-time once I received my degree," Solo said. "I applied for a job that I didn't think I was ever going to get, but with a little hard work my tables had turned."
Starting a new career can be daunting regardless of a pandemic, but Solo said her experience has revealed new ways of teaching and learning for both teachers and students.
"I think going through the pandemic has only made me better as an early childhood professional," she said.
Solo credits NTC's small class sizes and dedicated faculty for leading her to a path of success. Heather Sutherland, Solo's mentor and early childhood education faculty member at NTC, was instrumental in helping Solo persevere toward her dream job.
"I loved the one-on-one time that I got with Sutherland, she is the person who pushed me all the way till the end," Solo said. "On the days I wanted to quit, she was the one telling me that it would all be worth it in the end, and she was right."
Contact
Links
2021-N-044