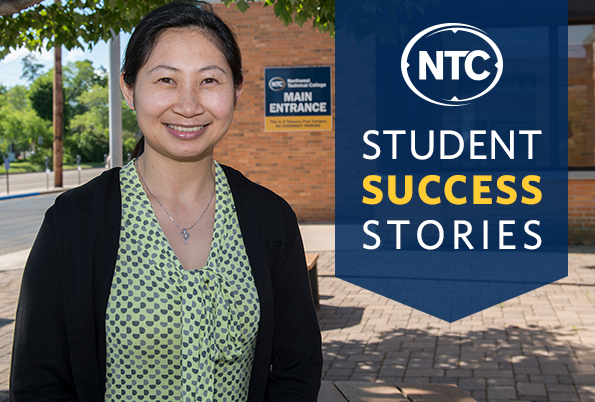 Northwest Technical College senior Na Zhao has overcome a number of challenges while pursuing her nursing degree. With the the help of NTC faculty and staff, she is achieving her career dreams while raising two young children and working two part-time jobs.
"With everything NTC has done for me I am certain I will be able to actualize my dream and excel at being the best nurse I can be," she said.
Moving to the United States from Guizhou, China in 2013, Zhao enrolled in NTC's generic nursing track program to begin her path towards becoming a registered nurse.
"I have always dreamt of being a nurse and NTC is doing everything they can to help me achieve this dream," she said. "The learning environment has been nothing short of fantastic. The teachers and staff have been great at working with me when my schedule has been difficult."
With English as her second language, Zhao has found an inventive way to surmount the language barrier in her career field by using repetition and translation tools.
"Medical terminology is the most difficult so I translate all the materials and terminology to Chinese," she said. "Translating everything allows me to relate the terms to a language I readily understand and helps me memorize the material more easily. I also listen to my nursing lecturers videos at least twice to fully understand the material."
During the 2018-2019 academic year, Zhao travelled to China for two weeks after losing her mother. With the support of NTC's faculty and staff she did not fall behind on her school work.
"I am very grateful for the help of all of the friends, teachers and NTC employees who gave me mental support and helped me with my schoolwork during this time," she said.
With perseverance, passion and positivity Zhao is on track to graduate in May 2021 with an associate of science degree in nursing. She recently received NTC's Outstanding Nursing student Award at this year's second annual Student Achievement Day. Last year she received the Most Improved Health Sciences Student Award.
"Na is a wonderful student, friend and mother to two beautiful young boys," Tyler Peterson, student success center and achievement day coordinator, said. "She exemplifies the NTC spirit. We are grateful to have her as a student and excited to see her achieve her dreams of becoming a registered nurse!"