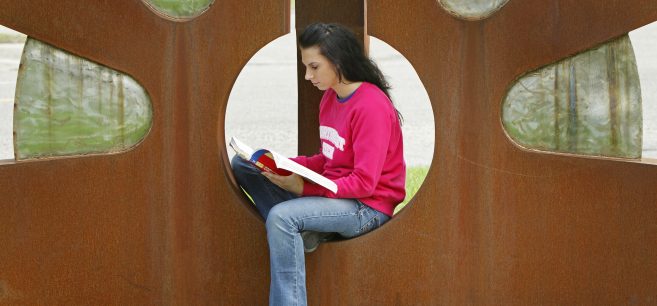 Northwest Technical College and Bemidji State University are joining Advanced Minnesota, a regional consortium of college customized training providers, to reinvigorate their education programs and support northern Minnesota employers.
As members of the consortium, which also includes five Minnesota State two-year colleges in the Northeast Higher Education District, BSU and NTC will develop a shared catalog of non-credit courses and training opportunities for business and industry partners.
"We are excited about the capacity and sustainable model that Advanced Minnesota brings to our region," BSU and NTC President Faith C. Hensrud said. "I know Advanced Minnesota is also really pleased about the potential this partnership provides as BSU and NTC faculty and staff, have significant professional credentials to help meet the incumbent workforce needs of business and industry."
Advanced Minnesota is one of eight regional customized training providers offered by the Minnesota State system of colleges and universities operating as Minnesota State Workforce Solutions. While the organization offers training, it will focus on training for the health care, safety and health, emergency services (FIRE and EMS), professional non-profit management and commercial truck driving industry sectors.
"Our colleges and universities are uniting our efforts to better serve the Bemidji area and the greater Northern Minnesota region," Trent Janezich, executive director of Advanced Minnesota, said. "The outcome of that will be increased efficiency and more importantly, increased capacity in our offerings to business and industry. At the end of the day, our model is to talk to businesses about their incumbent workforce training needs and develop programming to meet their needs."
Alexia Theis, a sophomore pre-nursing student at BSU, took the Trained Medication Aide course through Advanced Minnesota's customized training program and said the class gave her thorough insight on how medications work and a better understanding of the partnership between nurses and doctors.
"The course allowed me to gain so much knowledge in the world of pharmacology," she said. "As a pre-nursing student I feel that this course should almost be a prerequisite to the nursing program along with the CNA course. Nursing isn't always hands on, sometimes it's working with medications and understanding side effects and that behaviors aren't always the person but what you've given them. The TMA class also teaches you how to advocate for your resident or patient."
By joining the consortium, BSU and NTC will allow Advanced Minnesota to significantly expand its reach, which had focused on the approximately 12,000 members of the workforce in the Northeast Higher Education District's service area. Sarah Behrens, coordinator of school and industry partnerships at NTC, has established several new partnerships which connect Bemidji's workforce needs with Advanced Minnesota's training solutions.
"We've recently just partnered with North Country EMSE, a first-responder education entity here in Bemidji," she said. "We're using their services to conduct some health care training opportunities. As we cast our net into the region, we're hoping to recruit more partners and partner-instructors."
Other local partners include PotlatchDeltic, the Minnesota Department of Transportation and Beltrami County.
Training through Advanced Minnesota is highly flexible and is based on the specific needs of industry partners. All courses are taught by qualified and experienced instructors, including faculty from both BSU and NTC. If location is an issue, Advanced Minnesota can bring training directly to a work site.
"We conduct training on-campus, on site or at a neutral location," Janezich said. "We'll go wherever we need to, to make our customers happy."
In addition to Bemidji State and Northwest Technical College, Advanced Minnesota partner schools include Hibbing Community College, Itasca Community College, Mesabi Range College, Rainy River Community College and Vermilion Community College.
Contact
Links
2021-N-017
First published: Oct. 26, 2020