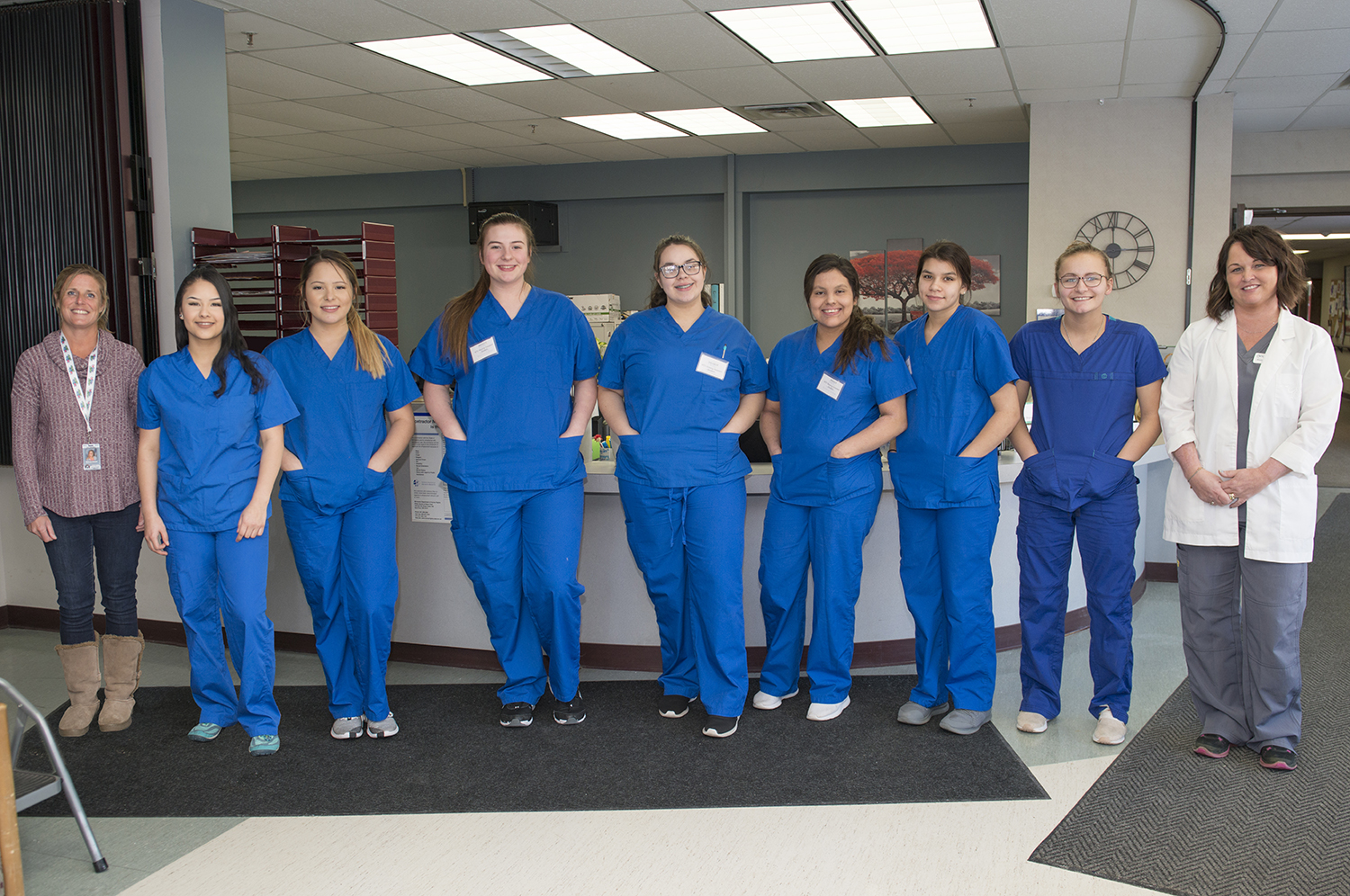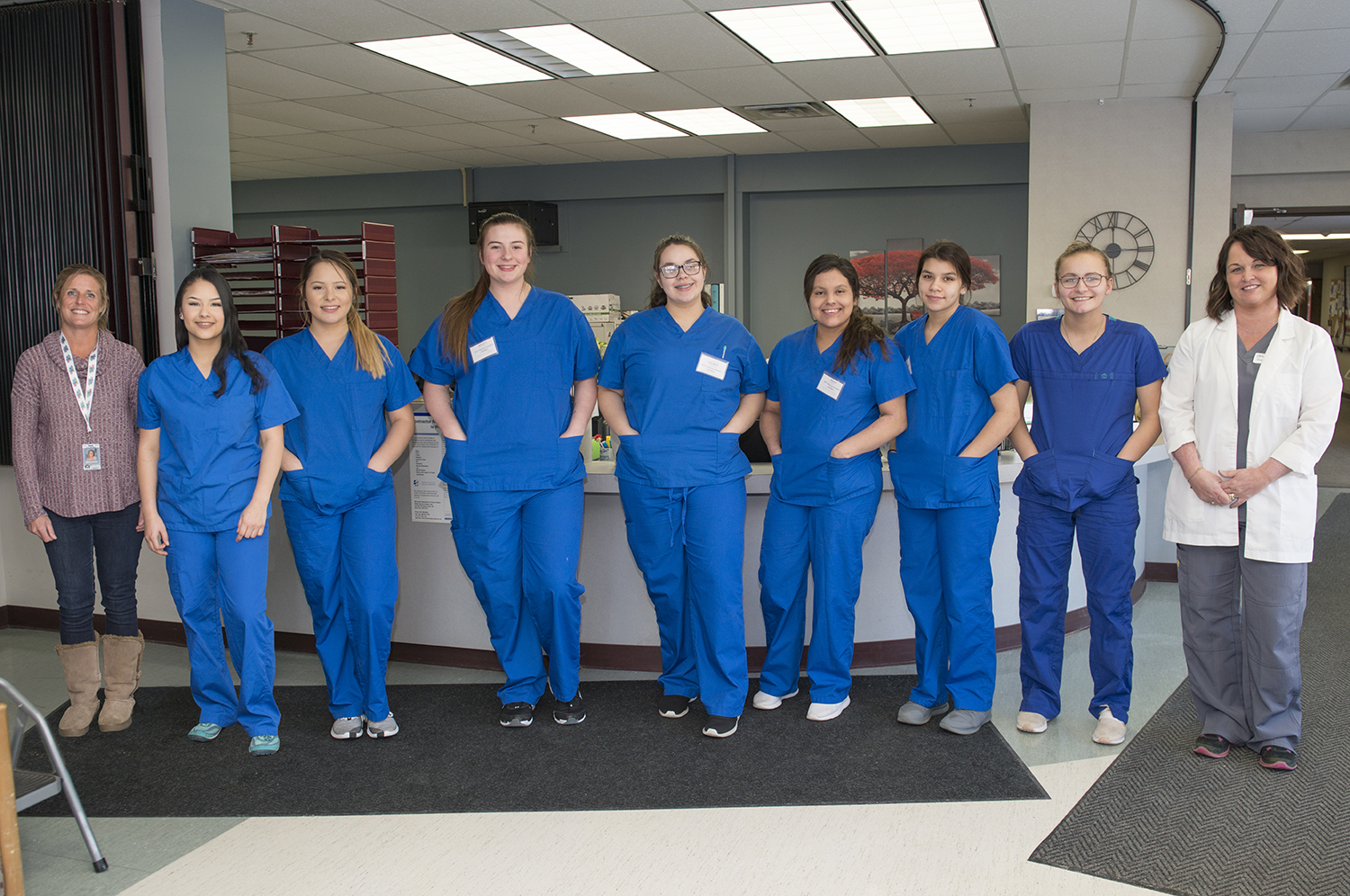 Thirteen Cass Lake-Bena high school students have completed a nursing assistant course taught by Northwest Technical College faculty. The course was offered as part of the Sanford CARES partnership, which launched in June 2019. Sanford CARES, which stands for Collaborative Alliance for Regional Healthcare Educational Services, aims to address the Bemidji community's continued need for skilled health care employees through a partnership between Bemidji High School, NTC, Bemidji State University and Sanford Health.
After Cass Lake-Bena High School students began requesting options to take nursing assistant courses at their high school, Melissa Jenson, the district's nurse, reached out to NTC. Conversations between Cass Lake-Bena and Michele Brielmaier, NTC's dean of health & human services, led to a course taught at the high school by an NTC faculty member.
"It's been really smooth working with Cass Lake-Bena High School to deliver the course," Sarah Behrens, NTC's coordinator of school and industry partnerships, said. "It's beneficial for NTC to support schools within the area and help local students discover whether they'd like to pursue careers in health care."
The course, open to Cass Lake-Bena juniors and seniors, included lectures, labs and clinical experiences led by NTC nursing faculty member Shelley Cloose. Area health facilities also participated in the course through equipment donations and presentations to the students.
For completing the course, students earned three college credits and qualified to take the Minnesota Department of Health's certification exam. Students who pass the exam are placed onto the state's nursing assistant registry.
Cloose said she is grateful for Sandy Thole, NTC nursing lab assistant, who provided the curriculum and necessary paperwork associated with nursing assistants for the Minnesota Department of Health.
"Teaching high school students has been a big learning curve, having to balance lecture and skills while keeping them all engaged," Cloose said. "I have been so impressed with the students' strong interest in pursuing careers in health care and how they've maintained their class commitments while still being involved with all of their high school activities like college fairs, blood drives and sports."
Cass Lake-Bena senior Avery Matthews said that taking a college level course in high school makes learning the material more convenient and comfortable. Matthews currently works at an assisted living center in Bemidji as a health aid and said that the NTC class has helped her with the terminology used at work. She hopes to move to the Duluth area upon graduation to further her education.
"College is intimidating," Matthews said. "This course makes for a good transition."
While several of the 13 students who took the class have future plans which include college, two are planning to continue their educations at NTC.
Friends and families joined the students at a Jan. 23 ceremony recognizing each of the 13 students who successfully completed the course.
NTC and Cass Lake-Bena plan to continue the partnership and offer the course again in the fall.
Contact
2020-N-034