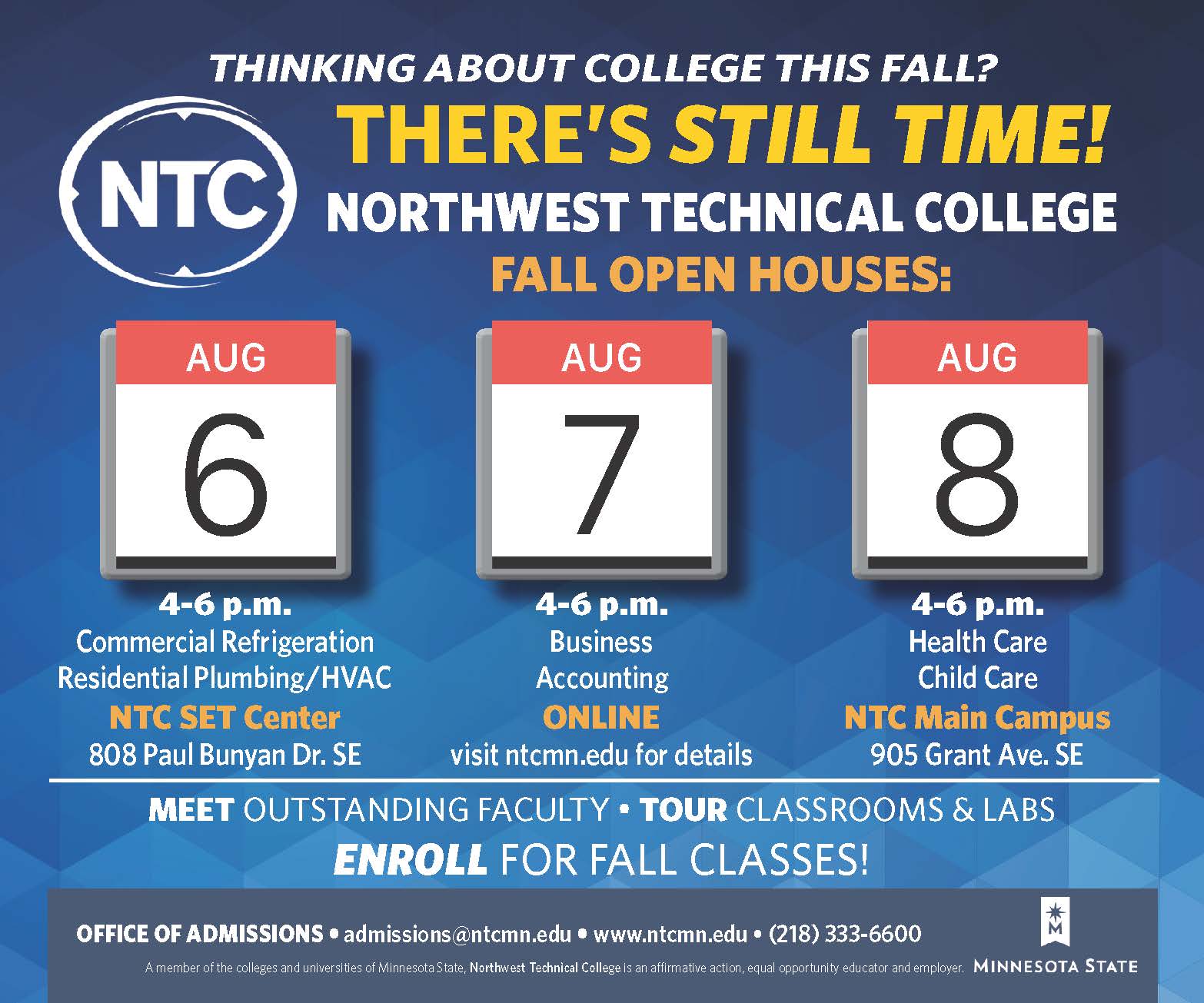 Northwest Technical College in Bemidji will host a series of open houses on August 6, 7 and 8. These academic program showcases will allow visitors to meet with college faculty, tour classrooms and labs, learn more about financial aid and the admissions process, apply for scholarships, and enroll for fall classes.
NTC will feature different programs and faculty on each of the three days, and visitors are encouraged to attend the events matching the programs they are interested in exploring. All three programs will be held from 4–6 p.m.
For those considering college but who may need additional financial support, NTC is offering $2,500 Workforce Development Scholarships to qualified applicants in nine academic programs during the Aug. 7 and Aug. 8 open houses.
Workforce Development Scholarships are available for qualifying students who are interested in pursuing credentials in the following programs:
Automotive
Community Health Worker
Dental Assisting
E-Merging Computer Technology
Early Childhood Education
Engineering Technology
Medical Coding
Nursing (LPN)
Young Child Education
Dozens of scholarships are still available for Fall 2019. Additional information is available at http://minnstate.edu/stories/wds.
August 6 — Building Trades
On August 6, the college will showcase its commercial refrigeration and residential plumbing / HVAC (heating, ventilation and air conditioning) programs from 4-6 p.m. at the NTC Sustainable Energy Technologies Center, located at 808 Paul Bunyan Drive SE.
NTC's diploma program in residential plumbing/HVAC provides students with a unique opportunity to learn two trades in a single collaborative program that also incorporates emerging energy efficiency and green technologies. Plumbing professionals are in-demand profession in Minnesota, and NTC offers a convenient path to get students into the workplace quickly.
Commercial refrigeration is NTC's newest academic program, added in fall 2018 in direct response to industry demand. Commercial refrigeration is rated as a five-star, in-demand profession by the state of Minnesota, and the state expects demand for refrigeration professionals to increase by 10 percent over the next several years.
In both residential plumbing/HVAC and commercial refrigeration, NTC offers an education that can lead directly to employment in a high-paying, in-demand technical field.
August 7 — Business
On August 7, NTC will feature its online business and accounting programs from 4-6 p.m. Rather than hosting an on-campus event, NTC will host a virtual open house, inviting students interested in these programs to join faculty online to learn more about these programs.
Northwest Technical College's online programs in business and accounting are being increasingly recognized for quality and affordability. In 2018, its online associate's degree program in management was ranked sixth nationally by TheBestColleges.org and Best Colleges tabbed NTC's administrative assistant program as the third best in the country earlier this year. Overall, NTC's online programs — delivered in partnership with Distance Minnesota — have been ranked among the best in Minnesota by SR Education Group.
NTC offers a broad array of credentials — including certificates, diplomas and associate's degrees — in accounting, administrative assistant, computer support, general business, human resources, management & entrepreneurship, and in sales, marketing & management. Students interested in NTC's associate of applied science in e-merging computer technology program may qualify for $2,500 Workforce Development Scholarships.
Click here to attend the virtual open house
Meeting ID: 595 067 8253
Note: The link will not work until 4 p.m. on Aug. 7.
August 8 — Child Care & Health Care
NTC's Child Care and Health Care career paths will be in the spotlight from 4-6 p.m. on August 8. Interested students who attend the open house, which will be held at the main NTC campus at 905 Grant Ave SE, are invited to join NTC faculty, staff and administrators for an ice cream social.
The Child Care and Health Care career paths include programs in early childhood education, young child education, community health worker, dental assisting, health care support — which includes medical coding and health care administrative support programs — health sciences-broad field and nursing.
Students interested in NTC's community health worker, dental assisting, early childhood education, medical coding, nursing (LPN) or young child education programs may qualify for $2,500 Workforce Development Scholarships.
NTC's medical coding program was ranked third nationally on the list "Best Online Colleges for Medical Billing and Coding Degrees" compiled by Online Colleges earlier this year.
NTC's nursing programs — nursing assistant, practical nursing, LPN step-in track, and nursing generic track — are not accepting new students for fall 2019. However, anyone interested in learning more about these programs is invited to attend the open house and learn about enrollment opportunities beginning with the Spring 2020 semester.
Office of Admissions
For more information about Northwest Technical College's fall open houses, contact the Office of Admissions at (218) 333-6600 or admissions@ntcmn.edu.
---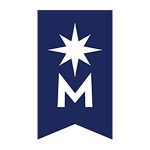 Northwest Technical College, located in northern Minnesota's lake district, has prepared students for fulfilling careers in high-demand fields for more than 50 years. The college's accessible, affordable, hands-on programs also help the region's employers meet their ever-growing need for a highly skilled workforce. NTC serves more than 1,000 students with an excellent education, an open-enrollment policy and affordable tuition. Students may pursue nearly 40 degree, diploma and certificate programs in six distinct career paths. Classes are offered on campus, online, or as a combination of both. NTC is a member of the Minnesota State system of colleges and universities. For more, visit ntcmn.edu.