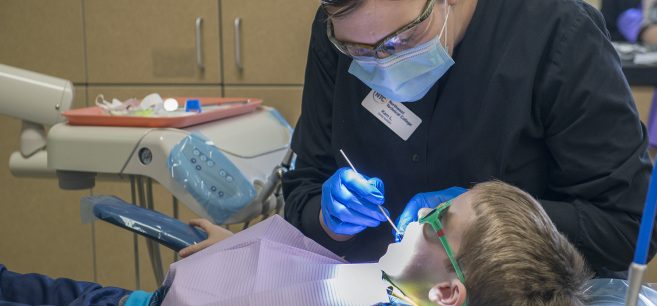 Those interested in learning about the high-demand careers in dental assisting can explore Northwest Technical College's educational opportunities at a March 5 open house.
NTC's dental assisting lab will be open from 1-3 p.m. for meetings with faculty, where participants can learn about the program and career opportunities available to dental assisting graduates. The program's state-of-the-art labs, which were refitted last spring with new training stations, also will be open for tours.
Students who already have been admitted to NTC's dental assisting program for Fall 2019 may also attend the open house and register for fall classes. NTC admission advisers will be available to answer questions and help with applications.
Dental assistants are in tremendous demand in both Minnesota and North Dakota, and NTC has developed a strong reputation among dentists in the upper Midwest for training highly skilled, professional assistants.
Contact
Links
Northwest Technical College, located in northern Minnesota's lake district, has prepared students for fulfilling careers in high-demand fields for more than 50 years. The college's accessible, affordable, hands-on programs also help the region's employers meet their ever-growing need for a highly skilled workforce. NTC serves more than 1,000 students with an excellent education, an open-enrollment policy and affordable tuition. Students may pursue nearly 40 degree, diploma and certificate programs in six distinct career paths. Classes are offered on campus, online, or as a combination of both. NTC is a member of the Minnesota State system of colleges and universities. For more, visit ntcmn.edu
---
2019-N-P-005