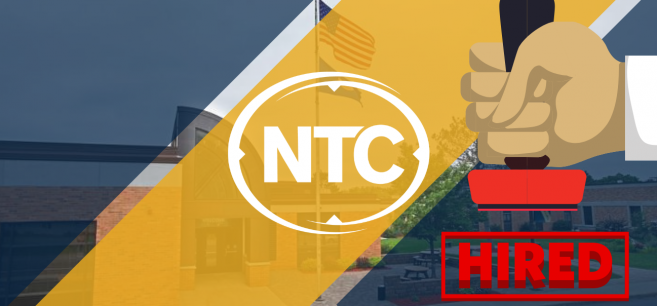 Northwest Technical College recently welcomed three new employees that will work to ensure NTC students have access to the best resources available to stay on track towards achieving their goals.
Tyler Peterson has been hired as the student success center director, Tia Miles has been hired as an admissions representative and Sarah Behrens has been hired as the coordinator of school and industry partnerships.
These positions were created as a result of NTC's 2018-2023 strategic planning meeting where goals were set to improve and increase student success through retention, graduation rates and job placement. They will also directly increase NTC's responsiveness to workforce needs by creating partnerships with local industries and offering tools for student success.
Student Success Center Director
The goal of the Student Success Center is to foster an environment that enables students to be successful both in the classroom and in the workplace. Peterson will build on NTC's existing Student Success Center by increasing the resources offered to students, including tutoring, proctoring exams, library assistance, academic coaching, career services and academic advising.
"Student success at NTC is not just about good grades and GPAs," Peterson said. "Student success is about achieving goals, finding purpose and meaning in our academic programs and recognizing the value of learning that directly relates to career ambitions."
Peterson earned his bachelor's degree in business administration and MBA at Bemidji State University.
Admissions Representative
As a new NTC admissions representative, Miles will work to recruit students to NTC, help them choose and register for classes and decide on a career choice for their future. Along with recruitment and advising, Miles will help with international student admission, scholarships and NTC's social media. Her goal is to connect with students and help them along their academic pathway.
"I have a passion for education and Bemidji," Miles said. "Technical education is extremely valuable and needed, especially in our community. I hope to help students in fulfilling their career goals and bettering their futures."
Miles earned a bachelors degree in English and a minor in mass communications at Bemidji State University. She earned her masters in communication studies at Mankato State University, located in Mankato, Minn.
"My advice to students is – don't be afraid to ask for help when you need it," Miles said. "Take advantage of the resources you have at your disposal while you can."
Coordinator of School and Industry Partnerships
As coordinator of school and industry partnerships, Behrens will grow relationships between NTC, high schools and industries in the region to prepare students to enter the workforce after graduation.
Behrens will be working with a Perkins grant to help achieve this goal. Perkins is a federally funded grant working with 13 consortium schools and districts to support technical education. Within the grant, a project was written to specifically strengthen the alignment of programs of study with the Career Academies at Bemidji High School.
"I chose NTC because it provides education and training that is affordable and applicable to the needs of the community," Behrens said.
Behrens earned her bachelor's degree in land use with an emphasis in environment and resources from Metropolitan State College in Denver, Colo. She then earned a masters degree in educational psychology with an emphasis in assessment from the University of Colorado. She is currently working on earning a doctorate degree in K-12 leadership and administration from St. Cloud State University in St. Cloud, Minn.
Contact
Links
Northwest Technical College, located in northern Minnesota's lake district, has prepared students for fulfilling careers in high-demand fields for more than 50 years. The college's accessible, affordable, hands-on programs also help the region's employers meet their ever-growing need for a highly skilled workforce. NTC serves more than 1,000 students with an excellent education, an open-enrollment policy and affordable tuition. Students may pursue nearly 40 degree, diploma and certificate programs in six distinct career paths. Classes are offered on campus, online, or as a combination of both. NTC is a member of the Minnesota State system of colleges and universities. For more, visit ntcmn.edu
---
2019-N-014