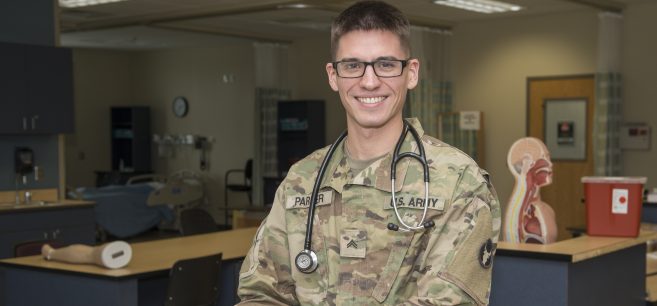 Born and raised in Bemidji, Sebastian Parker has found success in a nursing career after graduating from Northwest Technical College with high hopes for continuing his education and career path in the future.
After Parker graduated from Bemidji High School in 2013, he joined the military as part of the Army National Guard.
Upon completing basic training, Parker was ready to enter the workforce. Led by his passion for health care and helping others, he began working as a phlebotomist at Sanford Health in Bemidji. When thinking about the next step to continue his career in the medical field, Parker was drawn to NTC's two-year nursing program.
"There are so many opportunities for variety and advancement in the nursing field," said Parker. "The two-year nursing program is what really interested me in NTC. I wanted to get my nursing degree in two years, start working as a nurse and then pursue my four-year nursing degree."
Upon starting the nursing program at NTC in the fall of 2016, Parker found that it was a natural fit for him and the nursing staff encouraged him any way they could.
"The nursing staff at NTC is very good. They are really knowledgeable and personable. I could always go to them with anything and they would help me," said Parker. "Brenda Henriksen was a great teacher. The way she taught really clicked for me."
Now that Parker has obtained his two-year nursing degree, he plans to expand his medical experience by pursuing a four-year nursing degree at Bemidji State University next fall and applying it to his military career.
"Right now I am in the Army National Guard as a tank mechanic. My hope is to become an army medic and eventually, after I get my four-year nursing degree, to become a nurse in the National Guard. Probably a combat flight nurse," said Parker.
This would replace his work as a tank mechanic in the Army National Guard, where he goes to drill one weekend a month throughout the school year, and two weekends a month in the summer.
NTC has prepared Parker for a long and successful career in the nursing industry. This fall he is working as a nurse in the
Telemetry Department at Sanford Health in Bemidji, working with acute care patients with cardiac instability.
"Overall, the nursing staff is the reason I succeeded at NTC. They prepared me and made me confident for my career," said Parker.
Nursing

At Northwest Technical College in Bemidji, students can obtain a variety of credentials in nursing, including a certified nursing assistant certificate, a diploma in practical nursing, and associate's degrees in nursing — a step-in program for Licensed Practical Nurses that can be completed in one year, and a nursing generic track program that can be completed in two years. Graduates of both associate's degree programs are eligible to apply for licensure as a registered nurse. Each credential at NTC builds on the one before it, and all offer job opportunities in the Bemidji region. For more information, contact the NTC Office of Admissions at admissions@NTCMN.edu, call (218) 333-6600 and ask for admissions or visit https://www.ntcmn.edu/admissions/visit-campus/.
2019-N-11