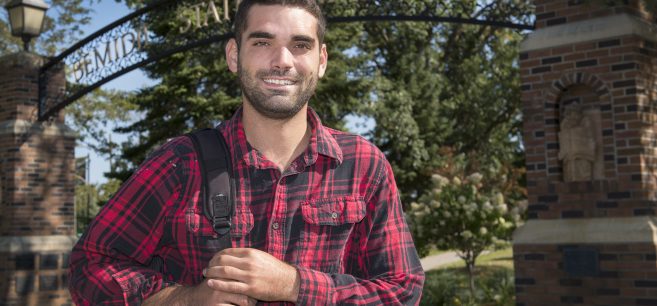 After spending three years working construction with his grandfather in France and Switzerland, Bemidji native Jon Barcenas decided to match his passion for the environment with his skill in construction by pursuing a career in sustainable environment technology at Northwest Technical College.
"When I came back from Europe and saw that NTC had the program, I thought it was a good opportunity for me to be a part of that industry at a higher level," he said.
While working in Switzerland, Barcenas had the opportunity to work with what he called "avant-garde" companies that used newer, sustainable technologies on large-scale projects managed by his grandfather. Starting as a rock laborer, Barcenas was eventually able to work with radiant heat panels that used hot and cold water circuits to detect and control building temperatures.
"The possibilities of getting different technologies to work together making a more healthy and better quality building fascinated me," he said. "It was really interesting to see how my work could impact other people who were going to occupy the buildings on which I was working and it inspired me to study renewable energies."
In addition to his experience and interest in working with sustainable technologies, Barcenas' decision to pursue his secondary education came from the encouragement of his co-workers overseas who saw his potential.
"They really encouraged me to go to school and gain access to the more responsible, decision-making roles of the industry and it became a lifestyle choice," he said. "I am glad that I went through the experience of working in construction because I think it gave me a good foundation to be successful on the managerial side of the business, overseeing the people who are fulfilling the labor portion of the work."
After graduating from NTC in 2013, Barcenas moved back to France, where he has dual-citizenship, and worked for a promotion company building residential, luxury ski-stations. There, he was able to witness and be involved in construction projects from negotiation to completion which inspired him to go back to school and obtain his four-year degree. He is now a senior at Bemidji State University studying project management with an emphasis on construction and facilities management. He is also pursuing a design minor.
"I had a vision of being a virtual reality project manager," he said. "Using computer software to help people visualize their ambitions and then showing those concepts to professionals who can make it come to fruition would streamline a sometimes confusing process. I want to limit the confusion there."
Barcenas' NTC experience has him on a path to a bright future preparing him for success at BSU. As a student employee in the Bemidji State Sustainability Office, Barcenas has used his technical experience to benefit sustainability projects on campus.
"We did a presentation at the end of the 2017 school year to President Hensrud, Vice President for Finance and Administration Karen Snorek, and Facilities Administrator Travis Barnes explaining some of the solar potential that BSU might have," he said. "We were able to estimate what type of solar system we could install and where, as well as give general estimates on how the systems could offset electricity use and carbon emission. NTC taught me how to have tact when working with renewable systems and it also gave me a better ability to explain how the systems work and the impact if installed."
Barcenas is on track to graduate in 2019 and hopes to secure employment in Minneapolis or Duluth. His path to a dream career and a bright future, following in the footsteps of his grandfather, started with his decision to attend NTC.
"There were definitely people at NTC who were extremely helpful to my success and even though I had my grandfather as an example for the better part of my life, I never imagined that I would do something that was similar to what he was doing."
---
Building Trades at NTC
While Northwest Technical College no longer offers sustainable environment technology, its Building Trades career path includes degree, diploma and certificate options in commercial refrigeration, electrical construction and residential plumbing/HVAC. Each credential at NTC builds on the one before it, and all offer job opportunities in the Bemidji region. For more information, contact the NTC Office of Admissions at admissions@NTCMN.edu, call (218) 333-6600 and ask for admissions or visit https://www.ntcmn.edu/admissions/visit-campus/.