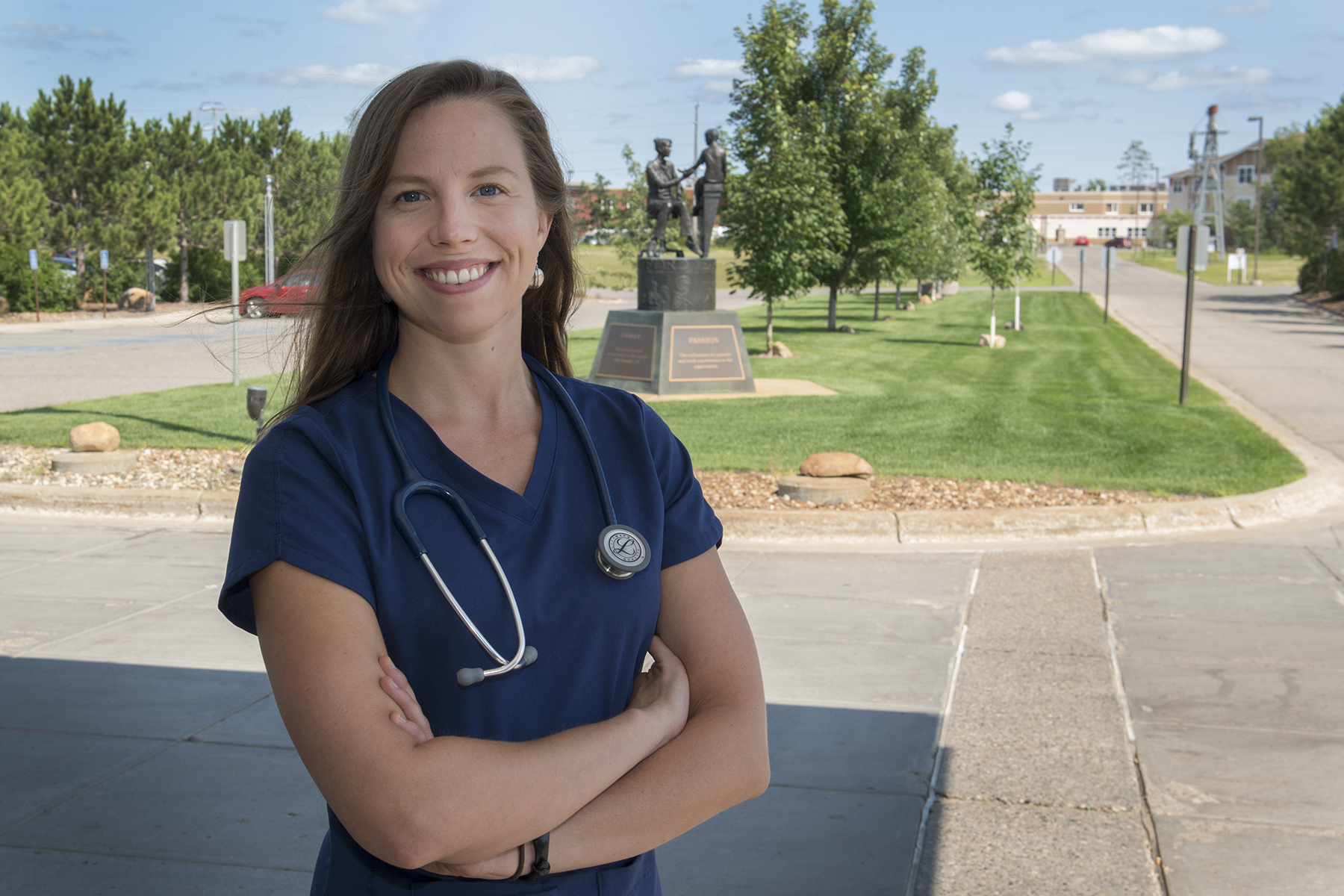 For some, suffering a serious injury while skiing can be a life-changing event with far-reaching negative consequences. For Northwest Technical College alumna Katie Houg, however, it set her on a path toward a career in health care.
"I needed some pretty serious surgery, and that experience transformed how I viewed health care professionals," she said. "Especially nurses — they were the ones who guided my care. So I went back to school to become a nurse."
Her desire to pursue a new future led her to NTC. Describing herself as someone who had "been a student for way too long" after exploring majors ranging from biochemistry to English, she wanted to get into the workforce quickly.
"I chose NTC because they have an accelerated program for nursing," she said. "You can get into the field faster. Doing the traditional four-year track was not going to be beneficial to the needs that I had."
Once enrolled, she quickly found a home in the college's nursing program. She loved the small, intimate classes and the one-on-one support she received from NTC's faculty.
"One of the things I liked about NTC is that it's small," she said. "Instead of sitting in a big lecture hall where the sounds of the teacher talking and the PowerPoint kind of wash over you, you're 10 feet away from your instructor. They bring their experience to the table in a way that's fairly personal."
As a non-traditional student who was returning to school, she also found support amongst her fellow nursing students. She said that support was critical for her success in the program.
"At a tech school, everyone isn't 18," she said. "There are people from all stages of life. For me as a non-traditional student in the setting, I found camaraderie with people who were under 21 and people who were over 50. Everybody in that program vouched for each other and supported each other inside and outside of the classroom, which is really cool."
Houg's NTC experience has her on a path to a bright future. This summer, she started work as an inpatient telemetry nurse at Sanford Hospital's cardiac floor. She's also working towards a bachelor's degree in nursing from Bemidji State with an eye toward a future as a nurse practitioner.
"I'm going to learn a lot really fast in the next year," she said. "This will prepare me for whatever the next step is. You can do a lot while being a nurse: you can be a bedside nurse in the ICU or you can be a teacher or you can be a nurse educator with patients. There are so many options."