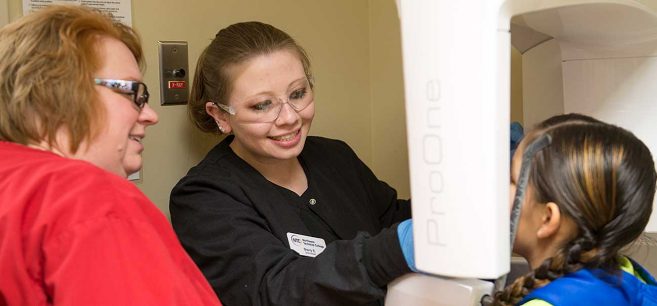 Anyone interested in learning more about high-demand careers in dental assisting can explore educational opportunities available at Northwest Technical College at a July 9 open house.
NTC's Dental Assisting lab will be open from 2-4 p.m. for meetings with faculty, where participants can learn about the program and career opportunities available to Dental Assisting graduates. The program's state-of-the-art labs, which were refitted this spring with new training stations, also will be open for tours.
"This is an opportunity for anyone interested in Dental Assisting to stop by and explore our program," said Michele Brielmaier, the college's director of nursing and health services. "We want people to come to campus, tour our lab and join us for a conversation about what's possible at NTC and in the dental assisting profession."
Students who already have been admitted to NTC's Dental Assisting program for Fall 2018 may also attend the open house and register for fall classes. NTC admission advisers will also be on hand to answer questions and help with applications.
Dental assistants are in tremendous demand in both Minnesota and North Dakota, and NTC has developed a strong reputation among dentists in the upper Midwest for training highly skilled, professional assistants.
NTC trains students in labs featuring the same technology Dental Assistants would use on the job. New training stations were installed this spring through a $91,700 grant-funded partnership with Bemidji's Northern Dental Access Center.
Julie Dokken, director of NTC's dental assisting program, said the labs help NTC train Dental Assistants who have the necessary skill to immediately find employment upon graduation in jobs that average around $35,000 per year to start.
"There are currently more job openings for dental assistants than there are graduates, and our program has a 100-percent placement rate," she said. "Given this workforce shortage, our work to educate dental assistants is more important than ever. We provide our students with experiences on the equipment they can expect in their workplace."
NTC students used the new lab equipment during the program's 2018 Give Kids a Smile event, which provided nearly 60 children with free screenings. NTC has been participating in Give Kids a Smile for more than 15 years, providing its students with invaluable experience in a live clinical setting working side-by-side with professional dentists.
Bemidji's Northern Dental Access Center has a close relationship with NTC's Dental Assisting program and recognizes the quality of education that its students receive.
"NTC is our primary pipeline for dental assistants," Jeanne Edevold Larson, the center's executive director, said. "We've hired dozens of their graduates over the years. It's an important partnership that helps us provide care to people most in need."
---
2019-N-L-019
Northwest Technical College
is an open, inviting technological learning organization. For more than 40 years, the college has valued life-long learning and the worth and dignity of all people. The college serves 900 students with a high-quality education, an open-enrollment policy and affordable tuition. NTC offers nearly 60 degree, diploma and certificate programs in areas such as business, health, human and protective services and environmental and industrial technology. Classes are offered on the Bemidji campus, online, or as a combination of both. NTC is a member of the Minnesota State system of colleges and universities.