Five retiring Northwest Technical College employees with a combined 125 years of service to the college or Distance Minnesota were recognized, along with 10 employees reaching length-of-service milestones and the college's annual employee award winners, at an April 27 celebration on campus.
The five retiring faculty members are:
Margo Curb-Aitken, full-time faculty, supervisory management and office administrative assistant; 16 years
Cheryl Harms, full-time faculty, practical nursing; 13 years
Gary Sorenson, full-time faculty, accounting; 41 years
Pamela Stowe, full-time faculty, child care & guidance; 20 years
Teresa Theisen, online consortium system director, Distance Minnesota; 35 years
NTC's annual employee Awards of Excellence include the Spirit of NTC, Outstanding Contribution, Excellence in Teaching and Distinguished Service awards. This year's winners are:
Spirit of NTC Award— Grace Ferdinandt, financial aid coordinator
Outstanding Contribution Award — Lisa Hanson,
Excellence in Teaching Award — Julie Beevor, full-time faculty, nursing
Distinguished Service Award — Pam Stowe, full-time faculty, child care & guidance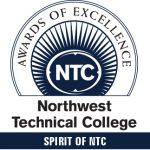 The Spirit of NTC Award recognizes an individual whose positive attitude and infectious enthusiasm embody the Spirit of NTC through active support of students, student-athletes, co-workers and community members.
Ferdinandt was recognized for creating enthusiastic, thorough and professional experiences with NTC students. She received special notice for helping the college coordinate its Welcome Days for new students in August and January.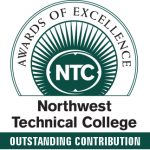 The Outstanding Contribution Award is given to an individual who has gone above and beyond expectations to contribute in areas of student success, civic engagement, diversity, sustainability and/or public service.
Hanson was noted for outstanding efforts in support of NTC's nursing and allied health programs. She provides timely, professional service for all students seeking admission into the programs, and she was noted for helping foster an enjoyable work environment for others on her team.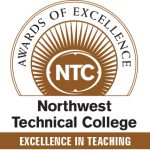 The Excellence in Teaching Award is given to a faculty member who has demonstrated teaching excellence through evidence of exceptional learning outcomes and quality student advising.
Beevor, who has been with NTC for only four years, was honored for the energy and determination she brings to her students while serving as a professional role model for prospective nurses. She also was noted for putting in extra effort to ensure that NTC students have realistic experiences in the college's simulation and nursing labs.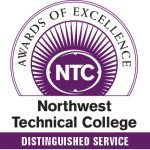 The Distinguished Service Award is presented to a faculty or staff member who has been at NTC for at least five years with an ongoing record of superlative performance and professional excellence combined with significant personal impact in the areas of student success, civic engagement, diversity, sustainability and/or public service.
Stowe, who is retiring after 20 years as the founding faculty member of NTC's child care program, was honored for her outstanding contributions to each student who has come through the program over the last two decades. She was recognized for her dedication to the college and for the relationships she's built with her students and with the program's advisory board.
The 10 NTC employees recognized with Years of Service awards were:
30 Years— Carsha Lapp, full-time faculty, sales, marketing and management
25 Years— Jeff Brower, full-time faculty, plumbing; Judy Rinkenberger, accounting officer; Sheila Lapp, full-time faculty, accounting, office administrative assistant and dental assisting
15 Years— Linda Erickson, full-time faculty, general education
10 years— Alicia Carley, full-time faculty, biology; Sandra Johanning, full-time faculty, nursing; Kari Kantack Miller, student success advisor
5 years— Charles Boyer, building utilities mechanic; Scott Tadlock, Distance Minnesota student success coach
Northwest Technical College, located in northern Minnesota's lake district, is an open, inviting technological learning organization. For more than 40 years, the college has valued life-long learning and the worth and dignity of all people. The college serves 900 students with a high-quality education, an open-enrollment policy and affordable tuition. NTC offers nearly 60 degree, diploma and certificate programs in areas such as business, health, human and protective services and environmental and industrial technology. Classes are offered on the Bemidji campus, online, or as a combination of both. NTC is a member of the Minnesota State system of colleges and universities. For more, visit ntcmn.edu.
---
2018-N-L-015