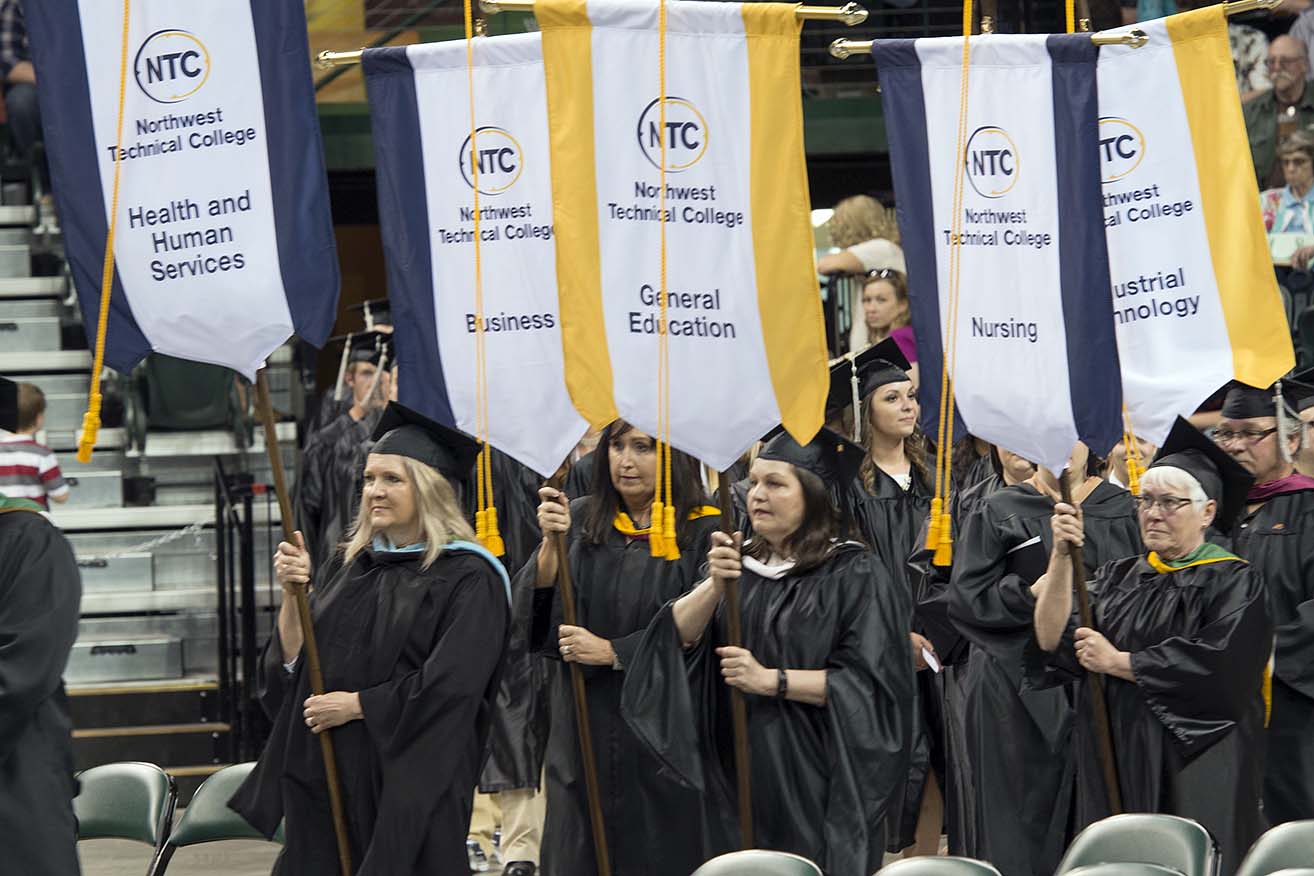 More than 200 students have been invited to celebrate the completion of their degrees, diplomas and certificates from Northwest Technical College during the school's commencement May 4.
The ceremony will begin at 7 p.m. at the Sanford Center, located at 1111 Event Center Drive in Bemidji.
Commencement ceremonies at Northwest Technical College are free and open to the public; no tickets are required. Seating in the Sanford Center is general admission. There are approximately 1,000 parking spots at the Sanford Center available at no charge.
Commencement on Facebook Live
Commencement will available via Facebook Live on NTC's Facebook page (http://www.facebook.com/NorthwestTechnicalCollege) beginning at 7 p.m. Central time. Live videos from friends and people or pages being followed appear in a user's news feed, and notifications may be enabled to provide a reminder to view the broadcast. Live videos also can be found on the Facebook Live Map (http://www.facebook.com/livemap).
Guest Seating
Commencement guests should enter the building through Gate 2, which leads onto the main concourse.
Seating in the lower sections of Sections U, V and W is reserved for visitors with hearing impairments or other disabilities. Visitors needing accommodations in these sections may be accompanied by one guest.
Concessions will be available behind Section U. Parking and assembly information is available on the Commencement website.
Commencement Speakers
NTC's Commencement address will be delivered by Jerry Bauerly, a retired entrepreneur and executive who currently serves as board chair of Sentry Bank. He also is a member of the Board of Directors of Granite Equity Partners, a St. Cloud-based private investment and holding company. He co-founded Bauerly Brothers, a Sauk Rapids, Minn.-based supplier of asphalt, concrete and other construction materials in 1968, and served Minnesota District 18B and, later, 17B, in the House of Representatives for four terms between 1987-94.
Roger Moe, a member of the Minnesota State Colleges and Universities Board of Trustees, will also provide remarks at commencement. Moe, currently president of National Strategies, Inc., spent 32 years as a member of the Minnesota Legislature, including 22 as Senate Majority Leader. Gov. Mark Dayton appointed Moe to the Board of Trustees in December 2016 to fill a vacancy. His term ends on June 30, 2020.
Links
Northwest Technical College, located in northern Minnesota's lake district, is an open, inviting technological learning organization. For more than 40 years, the college has valued life-long learning and the worth and dignity of all people. The college serves 900 students with a high-quality education, an open-enrollment policy and affordable tuition. NTC offers nearly 60 degree, diploma and certificate programs in areas such as business, health, human and protective services and environmental and industrial technology. Classes are offered on the Bemidji campus, online, or as a combination of both. NTC is a member of the Minnesota State system of colleges and universities.
---
2018-N-L-014