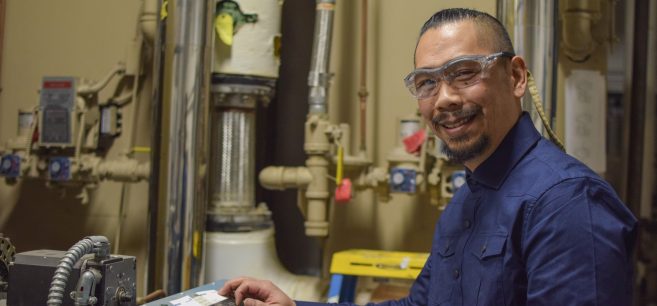 After 20 years serving in the military as an aircraft mechanic, Don King is preparing for his next career with a degree from Northwest Technical College.
When the second Gulf War began, King was in his second year in the elementary education program at Bemidji State University. The military asked him to re-enlist and he jumped at the chance.
"My decision to go back into the military helped me decide that I do like the education side of things, but elementary education was not the right age group," he said.
King is one of the last two students at NTC who are pursuing a facilities management degree.
Facilities managers are the people who plan and manage the buildings, grounds and systems of businesses and institutions. Often working behind the scenes, as a group they are involved in a broad array of activities: planning, management, finance, design, and building operations issues. This program provides students with a foundational education addressing the multi-disciplinary nature of the field, thereby allowing for diverse job opportunities. The core of the Facilities Management curriculum addresses gaining the basic technical knowledge of heating, cooling, construction, codes, processes, systems, business management and accounting principles. NTC is discontinuing the program at the end of this semester.
"I have to have my feet in a little bit of everything to keep a building running," King said. "What I love most about this career is there's always something different to do — I'm not strictly doing just one thing."
King was a technical instructor in the military, and having known how technical schools operate he felt comfortable enrolling at NTC. He was an aircraft mechanic, at the rank where he inspected other people's work before the aircraft was cleared for flight.
"I'm very meticulous with the work I do and for what needs to be done," he said. "There's no room for cutting corners. There's a lot of carryover for what I did in the military and for what I can do in this career."
King is confident that there is no lack of jobs for this particular career field, and he knows the completion of a few additional certifications — such as the boiler certification he is currently pursuing through NTC's Optivation custom training unit — will lead to plenty of opportunities for him in the Bemidji area. Those opportunities will not only help King reach his professional goals, but also to reinforce his family ties to the region.
"As an aircraft mechanic, I worked very long hours. It was hard work, but what made it amazing was the camaraderie," he said. "Going to war brings out the some of the best things in people — and some of the worst things — but I tend to focus on the better things. Like any job that you do, it's the people that make it worth your time or not."
His wife and kids travelled along with him from Nevada to Florida to North Carolina while he served in the military. King said, at first, they hadn't considered retiring in his wife's hometown of Bemidji, but that he has come to enjoy being surrounded by family and friends.
"You don't appreciate something until later," he said.
King would like to encourage more people to further their education at Northwest Technical College and believes more high school students in particular should consider technical career fields.
"If I were to ever go into a teaching field, it would be at this age group right now," he said. "It's pretty cool to teach someone your job and how to do it right, and then see it click with them."