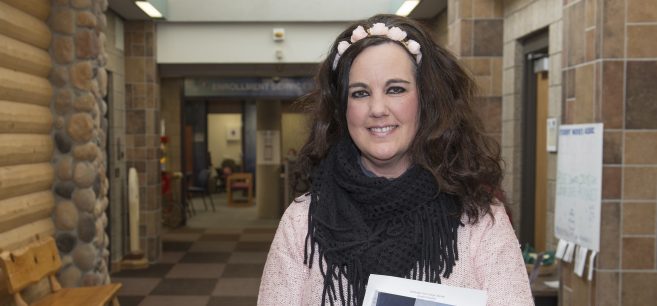 At 43 years old, Kari Kuechenmeister is proud to be enrolled at Northwest Technical College on a path to complete her associate's degree in Health Sciences Broad Field.
"Everything just kind of clicked. I'm 43 and I've finally decided what I want to do with my life," she said. "It just took a while."
Health Sciences at NTC
At Northwest Technical College in Bemidji, students can obtain a variety of credentials in nursing, including a certified nursing assistant certificate, a diploma in practical nursing, and associate's degrees in nursing — a step-in program for Licensed Practical Nurses that can be completed in one year, and a nursing generic track program that can be completed in two years. Graduates of both associate's degree programs are eligible to apply for licensure as a registered nurse. Each credential at NTC builds on the one before it, and all offer job opportunities in the Bemidji region. For more information, contact the NTC Office of Admissions at admissions@NTCMN.edu, call (218) 333-6600 and ask for admissions or visit www.ntcmn.edu/admissions/visit-campus/.
For about 20 years, Kuechenmeister was a receptionist and did office work in various fields before she was hired as a patient care assistant in Bagley, Minn. She fell in love with health care and decided to return to school and further her education. A scholarship from the NTC Foundation helped encourage her, and she's now enrolled in NTC and hopes to gain admission into one of the college's nursing programs in Fall 2018.
NTC's 60-credit associate of science degree program provides a broad general education base that allows students to select a concentration area through 14 technical electives, selected with the counsel of an academic adviser. Students gain a strong professional foundation with college-level courses in writing, public speaking, biology, chemistry, algebra, statistics, general psychology, sociology and other general courses. All coursework is helpful for gaining acceptance into a baccalaureate program or to pursue an additional associate's degree. Students also have the flexibility to complete coursework online or on campus. Online students have access to daytime technical support and online tutorials and training.
This semester, Kuechenmeister is taking 12 credits online while working full-time. She admits that, at first, she was unsure about taking all of her courses online. But with support from NTC's instructors, she's flourished.
"It just took some getting used to," she said. "I do find that most teachers, whether it's on the websites or in class here, they're always very helpful and they tell you, 'Ask us for questions, don't hesitate to email us.' Because they don't want us to fail."
Kuechenmeister's education is being supported by a $1,000 George W. Neilson Foundation scholarship awarded by the NTC Foundation. Kuechenmeister is one of 32 NTC Foundation scholarship recipients this year, and one of 20 recipients of a Neilson Foundation scholarship that specifically supports first-year NTC students.
She said she was surprised to learn she had won, and that it reinforced a message she has worked hard to pass on to her three children.
"I'm always harping on my kids to apply for scholarships so I decided I should take my own medicine and apply," she said.
Kuechenmiester completed her first semester at NTC with a 3.51 grade-point average, helping reinforce that she made the right decision to return to school.
"My grades in high school weren't that great; I was probably a C student," she said. "So ending the first semester with a 3.51, I was very happy with that. My teachers are, too—they definitely have helped me."
For anyone considering whether they should follow in her footsteps and return to school, Kuechenmeister's advice is not to be afraid.
"I was hyping myself up for more than it needed to be," she said. "Try NTC; it's a good stepping stone for people coming back. If I can do it, anybody can do it, really. It's just that simple."