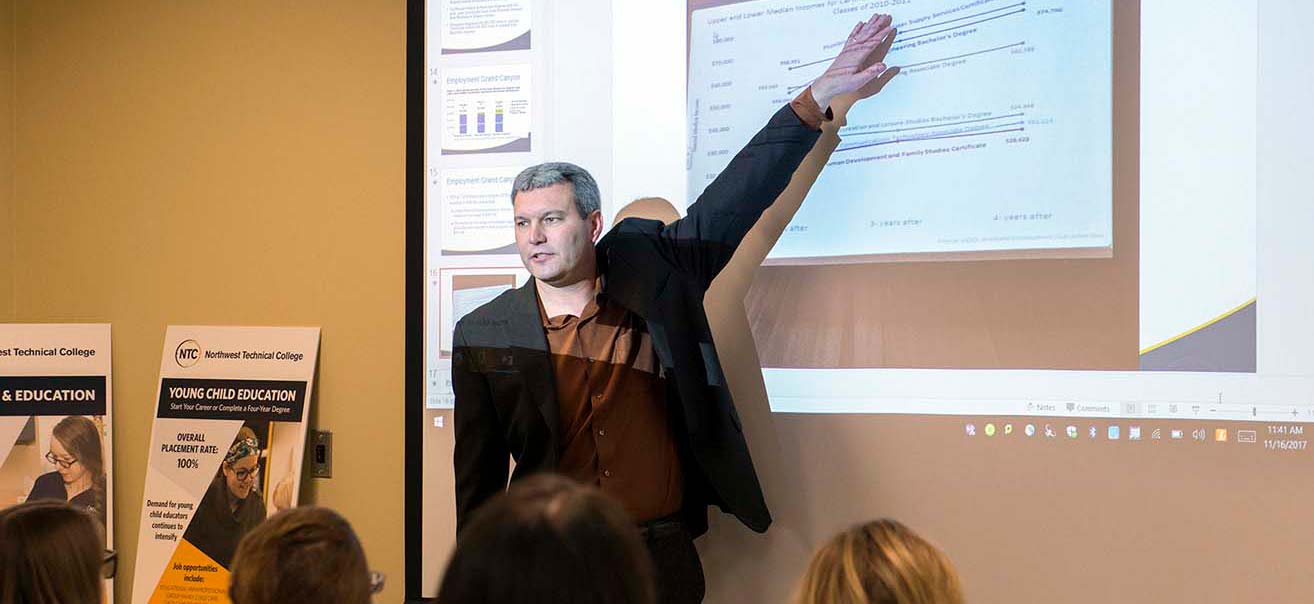 Around three dozen primary and secondary school counselors heard about north-central Minnesota's skills gap and how technical education can help close that gap at a meeting of the Northwest Regional Counselors Association at Northwest Technical College.
Darrin Strosahl, NTC's vice president for academic affairs, opened the presentation with an overview of Minnesota's current workforce. He called the perceived shortage of skilled employees an "employment Grand Canyon" and compared a student's path from high school into the workforce with an explorer in the canyon.
"It's so immense, and when you look at it there are different levels and layers and it branches out in different directions," Strosahl said. "How do you know what career you should pursue? How do you find out what you're good at, especially if you don't have a chance to get your hands on it?"
He shared data from a study by Bemidji's George W. Neilson Foundation which showed nearly 77 percent of Northwest Minnesota employers were unable to find qualified candidates for positions, and nearly two in three rated the state's shortage of skilled employees as "severe." Nearly half had posted jobs and received no applicants.
Strosahl emphasized Northwest Technical College's desire to work with school counselors to promote technical education, inform students of the careers paths it could open for them, and help the state's employers address its shortage of workers.
He also was keen to combat the stigma that careers requiring technical education are low-paying. Survey data he shared showed that, due to the salaries attainable and the generally lower cost to obtain the degree, holders of associate's degrees tend to have around $5,500 more annual discretionary income than those with bachelor's degrees.
"Those folks are owning their own trucks and boats and cabins," Strosahl said. "When you talk about savings and earnings potential, an associate's degree has great value."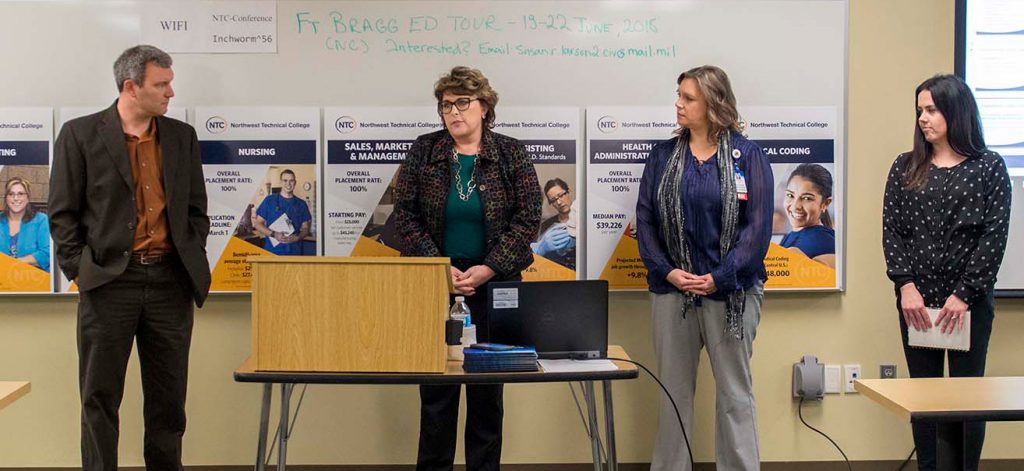 Counselors also heard from Sanford Health's Kim Olson, director of education and academic affairs, and Michelle Lindholm, clinical educator, both NTC alumna, and Sarah Martinka, general manager at Bemidji's Chester Berg Toyota.
Olson gave an overview of Sanford's recent expansions in the Bemidji area and the need for employees created by that growth. She said Sanford would employ certified nursing assistants at a rate of 100-150 per year if they could, along with an equal number of licensed practical nurses and around a dozen medical coders — positions that can be filled by graduates from NTC's nursing and health care programs.
"At the end of the day we have to take care of our patients, and we need good people to do that," Olson said.
Martinka shared her recent experiences trying to fill two positions — one for a receptionist and one for an automotive service technologist. She described the receptionist position as "basically a minimum-wage job," and shared data from the Minnesota Auto Dealers Association showing wages for service technicians in the state's non-metro dealerships at median salaries ranging from $45-75,000 per year.
She said the dealership had 52 applications for the receptionist position, and around 75 percent of them held bachelor's degrees.
That service technician's job?
"We had four applicants."
Northwest Technical College, located in northern Minnesota's lake district, is an open, inviting technological learning organization. For more than 40 years, the college has valued life-long learning and the worth and dignity of all people. The college serves 900 students with a high-quality education, an open-enrollment policy and affordable tuition. NTC offers nearly 60 degree, diploma and certificate programs in areas such as business, health, human and protective services and environmental and industrial technology. Classes are offered on the Bemidji campus, online, or as a combination of both. NTC is a member of the colleges and universities of Minnesota State.
---
2018-N-L-007