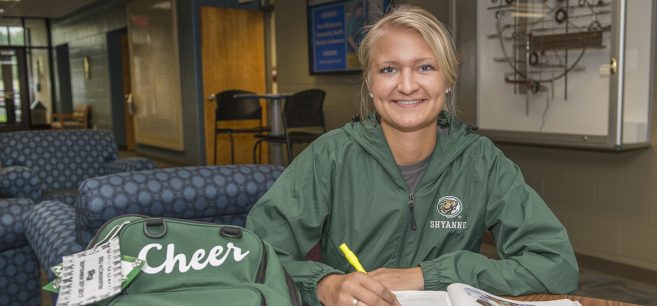 Northwest Technical College is helping Shyanne Kaml pursue her dream of a career in nursing. In her first year in NTC's associate degree program in nursing, she finds herself overwhelmed at times but believes NTC is only challenging her to work harder.
After graduating from Bemidji High School, Kaml completed her certified nursing assistant credentials and found employment as a nursing assistant at Bemidji's Havenwood Care Center, Retirement and Assisted Living Facility. There, she developed a passion for health care that has led her to NTC.
Nursing at NTC
At Northwest Technical College in Bemidji, students can obtain a variety of credentials in nursing, including a certified nursing assistant certificate, a diploma in practical nursing, and associate's degrees in nursing — a step-in program for Licensed Practical Nurses that can be completed in one year, and a nursing generic track program that can be completed in two years. Graduates of both associate's degree programs are eligible to apply for licensure as a registered nurse. Each credential at NTC builds on the one before it, and all offer job opportunities in the Bemidji region. For more information, contact the NTC Office of Admissions at admissions@NTCMN.edu, call (218) 333-6600 and ask for admissions or visit ntcmn.edu/visit.
"I really enjoyed it—the people, the workforce and helping people in general—and I wanted to continue," she said. "That's when I decided to come to NTC and get into nursing."
NTC's associate of science in nursing is a 64-credit program that can be completed in two years by students with no previous nursing experience. Graduates are eligible to apply for licensure as a registered nurse after completing the program, and the curriculum includes foundational courses needed to pursue a bachelor's degree in nursing at Bemidji State.
NTC's two-year program will allow Kaml to finish her degree and seek employment as quickly as possible.
"I'll get it and then go straight into the workforce," she said of her nursing degree. "Then, I'll get my generals and complete my four-year degree."
While she's unsure where she'd like to complete her bachelor's degree, she knows what specialty she'd like to pursue. Through her experience with a family member who suffers from a psychiatric disorder, Kaml wants to specialize in psychiatric nursing where she can assess, diagnose and help treat others who have similar conditions.
Kaml is currently taking a developmental psychology course at NTC, where she explores the influences of biological, cognitive and psychological factors that can influence a pattern of change throughout a person's life.
"I love learning how the mind works and how different influences mold the way we develop," she said.
While she's pursuing her education, Kaml is taking full advantage of the unique opportunities NTC students have to become involved with clubs and organizations at Bemidji State University. She came across a Facebook post regarding cheer tryouts and commented that she wished she was able to join as an NTC student. After learning she was able to participate, she tried out and is now a member of both the football and hockey cheer teams at BSU.
"I tried out and made the team," she said. "I was excited because I never thought cheering would be a possibility after high school."
Through cheerleading, Kaml is forming her own personal bridge between NTC and BSU.
"Being involved with both of the campuses has led me to meet a lot of people," she said. "I've made new friends and I've built new connections. I also have new people to study with."
Some of Kaml's teammates on the BSU cheer teams are nursing students at BSU, and she has been studying with them to gain new insights into her coursework.
"We obviously have different classes and instructors, but we're still learning similar things," she said. "It's interesting to discuss what we are all learning and bounce ideas back and forth."