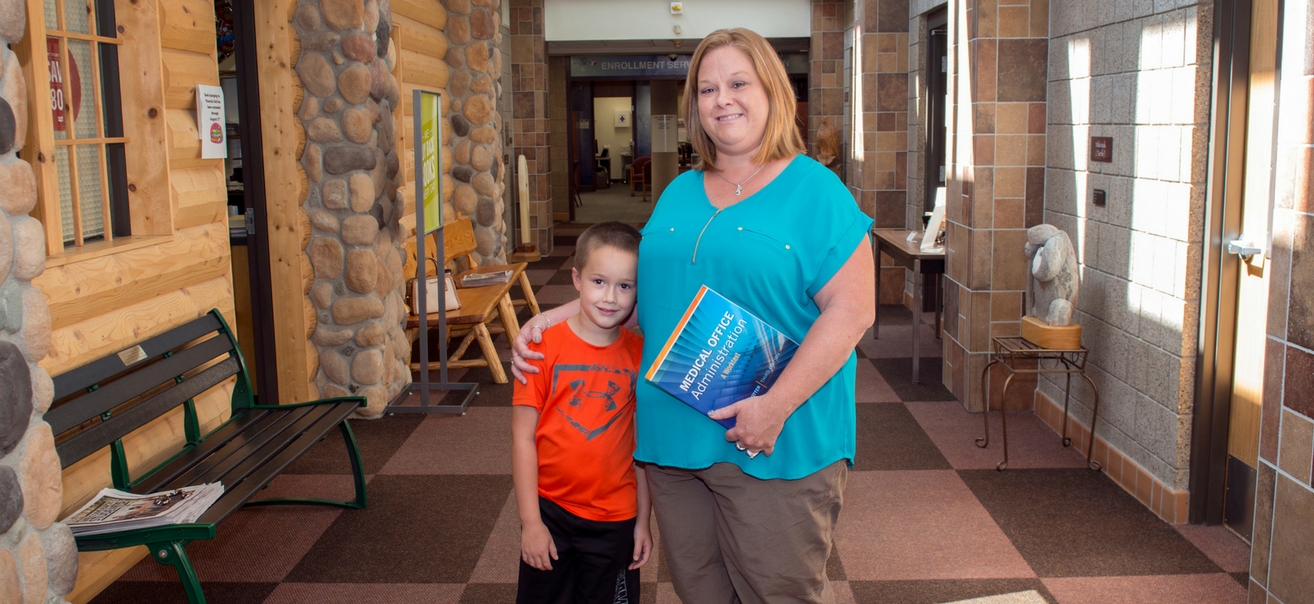 Next May, Amanda Foster will graduate from Northwest Technical College with a certificate in medical coding in hand, determined to find her "forever job."
Foster, who had been a stay-at-home mother of two for five years, didn't want to settle for any ordinary job after her son, Tristen, started kindergarten last fall.
"I checked out different jobs and opportunities within the area, and I wasn't quite satisfied," she said. "That's when I decided to make a change to better myself and looked into the programs at NTC."
Foster had always found the medical field to be interesting, but had never pictured herself as a nurse. As she was researching the programs at NTC, Foster discovered the college's health care support degrees and certifications.
Medical Coding at NTC
At Northwest Technical College in Bemidji, students can obtain a certificate, diploma or associate of applied science degree in medical coding. Each credential builds on the one before it, and all offer job opportunities in the Bemidji region. For more information, contact the NTC Office of Admissions at admissions@NTCMN.edu, call (218) 333-6600 and ask for admissions or visit ntcmn.edu/visit.
NTC's medical coding programs provide training teach students how to classify procedures and diagnoses related to medical trauma using nationally recognized coding systems. Medical coders are critical for patient account management, medical billing and insurance claims and processing.
Last fall, NTC health care support students were encouraged to attend a seminar on coding, hosted by Beltrami Electric. Foster attended and was introduced to the medical coding profession. After that brief introduction, Foster decided that medical coding is what she wanted to do for a career.
"It looked interesting and fun," she said. "I always have been good with numbers, and coding is remembering numbers. It's easy for me—the numbers just stick."
In addition to enjoying work that has clicked with her, Foster says the flexible work environments and endless job opportunities found in medical coding are also appealing. Her dream is to one day work for the Mayo Clinic.
Now in her second year at NTC, on track to graduate with her health administrative diploma and medical coding certificate, Foster finds herself in a place that a few years ago she never thought possible.
"I never thought that I'd do this," she said. "Just to realize how much I love school from day to day amazes me."
That's not to say the transition from stay-at-home mom to full-time student has been easy. Being out of school for 15 years, Foster said that getting organized, forming effective study habits and using proper grammar techniques were difficult to reestablish once she started courses at NTC. She was able to redevelop these skills with the help of Dawn Dahl, an adjunct faculty member at NTC. Dahl helped her build the reading and writing foundations that have helped Foster find success at NTC.
"Amanda is one of those people who shows up at every class with a positive attitude, really listens, takes advice and feedback, and tries to do her best," Dahl. said. "She's kind of a dream student."
While Foster is excited at the prospect of graduating from college in May, she says she's content to continue her education at NTC.
"It's so welcoming here and when you ask for help, everyone is willing to help you," she said. " I love being in school. You meet so many new people and all the staff and the professors are great. This is my routine now, and I'd be okay with it staying my routine for a while longer."
Northwest Technical College, located in northern Minnesota's lake district, is an open, inviting technological learning organization. For more than 40 years, the college has valued life-long learning and the worth and dignity of all people. The college serves 900 students with a high-quality education, an open-enrollment policy and affordable tuition. NTC offers nearly 60 degree, diploma and certificate programs in areas such as business, health, human and protective services and environmental and industrial technology. Classes are offered on the Bemidji campus, online, or as a combination of both. NTC is a member of the colleges and universities of Minnesota State.