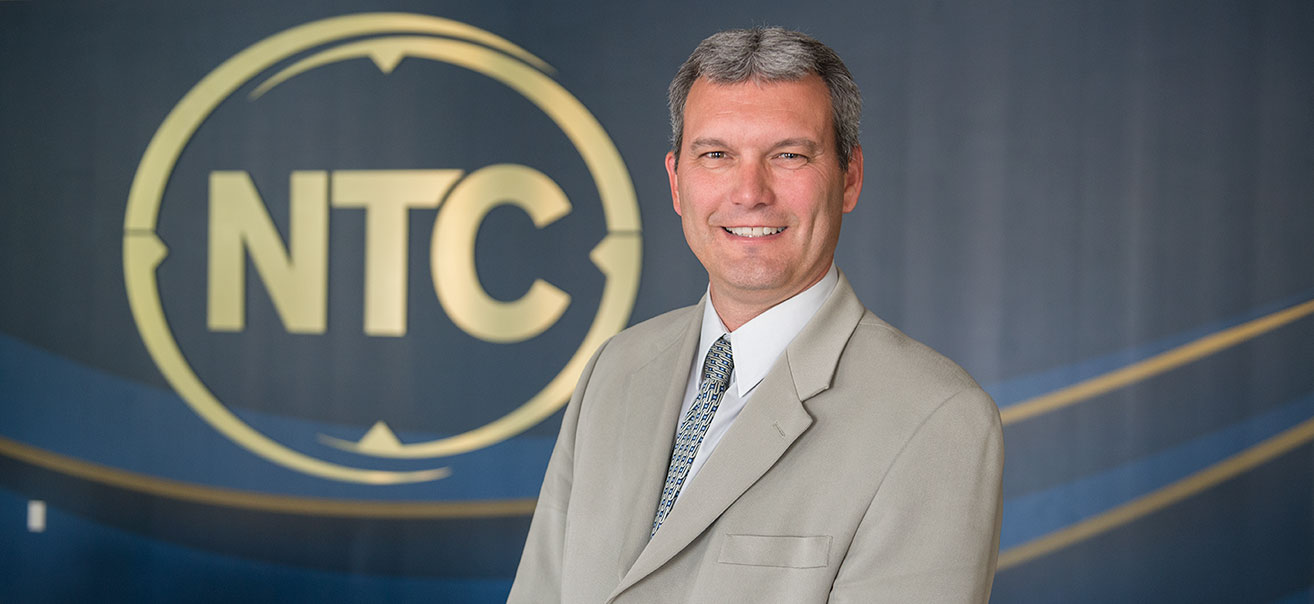 The old real estate adage, "it's all about location, location, location," played no small part in Darrin Strosahl's decision earlier this year to join Northwest Technical College as its new academic vice president.
Darrin Strosahl Profile
Education:
bachelor of science in vocational agricultural education; University of Minnesota
master of science in educational leadership; Winona State University
Background:
Dean of Skilled Trades and Industries, St. Cloud Community & Technical College
Superintendent, Foley Public Schools, Foley, Minn.
Superintendent, Kingsland Public Schools, Spring Valley/Wykoff, Minn.
Principal & athletic director, Martin County West High School, Sherburn, Minn.
Admin assistant & athletic coordinator, John Marshall High School, Rochester, Minn.
Vocational agricultural educator, John Marshall High School
Various private sector positions and internships
Professional Memberships:
Board of Directors, Minnesota Transportation Center
Board of Directors, Minnesota State Advanced Manufacturing Center of Excellence
Workforce and Training Committee, Minnesota Medical Manufacturing Partnership
Strosahl, who joined President Faith Hensrud's administration after a two-year stint as academic dean of the skilled trades and industry division at St. Cloud Community and Technical College, comes from a farm background and was attracted by NTC's sharp focus on technical education and its unique Minnesota north woods setting.
"My passion lies in technical education," he said. "I looked at this job and at NTC, and I felt like I could help. Everyone wants to work at a job where they feel like they're helping and contributing — where what you are doing matters. I looked at NTC and thought 'boy, this would just be perfect.'"
Strosahl's hire was announced in May, just a few days before NTC celebrated its Class of 2017 at its annual Commencement ceremony, and he started work on June 5. The past few months have been a whirlwind as he has learned the ins and outs of his new role.
"This summer, I've spent a fair amount of time meeting people — that would include staff, faculty, community business owners, other community leaders," he said. "I'm trying to listen and learn about the Bemidji area, about the college and about Bemidji State University. The main focus has been to get familiar with everything and everyone.
"I've also focused on our faculty, to make sure we have the faculty we need for our courses," he said. "And the rest of the time has been learning the background about advisory committees, curriculum and programs, how we recruit students, how we serve students and how we retain students."
Strosahl's complete focus on all aspects of the college stems his nearly two decades of experience as a secondary school administrator in Minnesota. He started as an administrative assistant and athletic coordinator and spent 12 years as a principal and athletic director before moving into superintendent roles, first at Kingsland Public Schools in Spring Valley/Wykoff and then at Foley Public Schools in Foley.
Before moving into administration, Strosahl was a vocational agricultural educator at John Marshall High School and held several positions and internships in the private sector.
With a summer of prep work under his belt, Strosahl is ready to continue Northwest Technical College's forward momentum and help set the groundwork for a strong future. And he doesn't plan to start slowly.
"My goal for this year is to add two new programs," he said. "We need to serve students and allow them to come to NTC and get skills that will lead them to a high-paying, in-demand job. That's why we're here."
While providing the education students need to succeed, Strosahl also is keen to focus on Northwest Technical College's role in the Bemidji region as a one-stop source for high quality technical education.
"I see how much potential there is for a technical college to do a great job and serve our students," he said. "At the same time, NTC is beneficial to Bemidji — and the greater area — because students with a technical education gain a high level of skill and can fill jobs that are needed in our local communities."