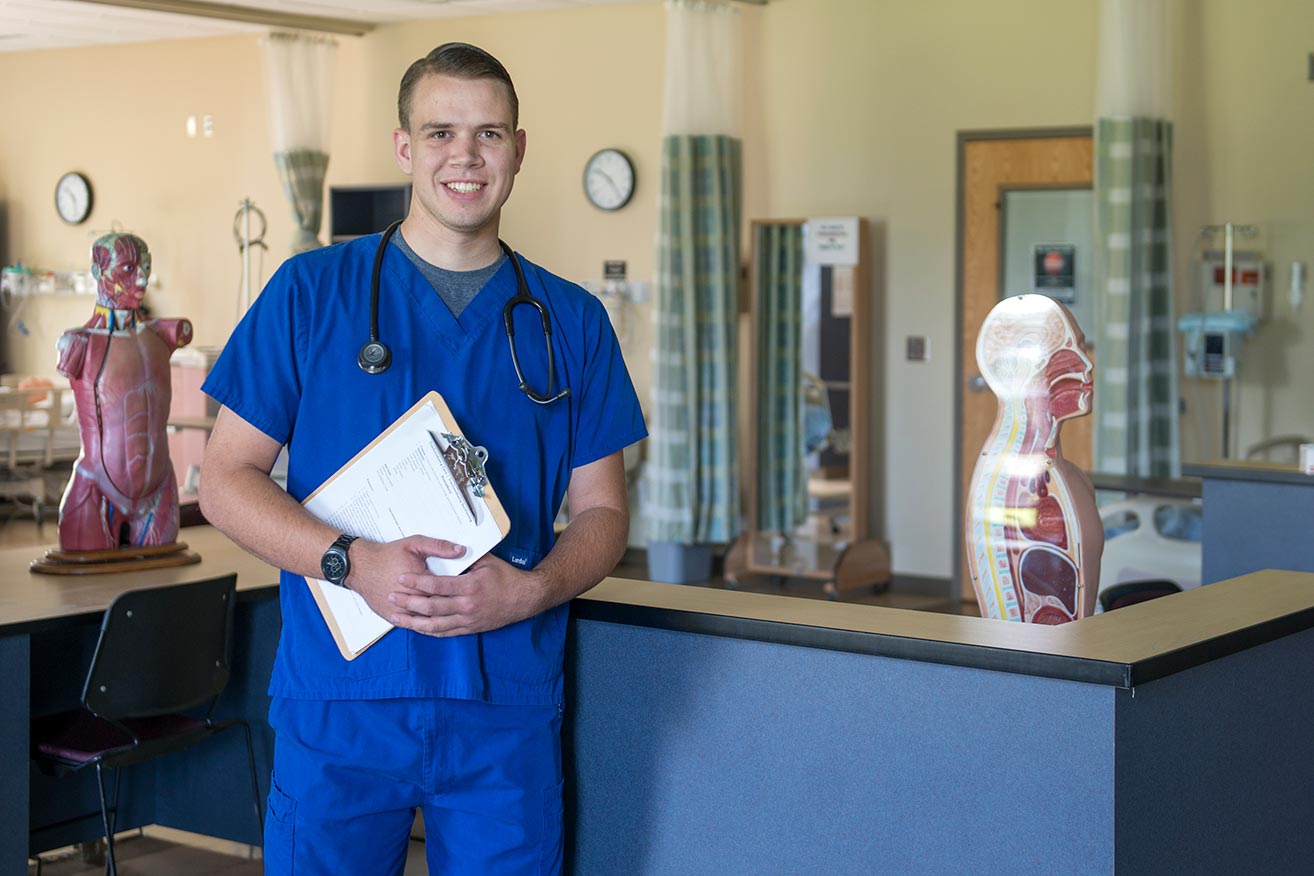 This fall, Matthew Snyder is retaking Anatomy & Physiology at Northwest Technical College, despite not having too much difficulty with the course his first time around.
Nursing at NTC
At Northwest Technical College in Bemidji, students can obtain a nursing assistant certificate, a diploma in practical nursing and an Associate of Science degree in nursing. Each credential builds on the one before it, and all offer job opportunities in the Bemidji region. For more information, call (218) 333-6600 and ask for Admissions.
"I got a B in the class," he said. "But I enjoyed the class so much that I decided to take it again. I really enjoyed the professor, and I felt like there was still more I could learn."
Snyder, 21, is working toward his diploma in practical nursing, allowing him to work as a Licensed Practical Nurse, and is on track to graduate in spring 2019 with his two-year Associate of Science degree in nursing, allowing him to become a Registered Nurse.
But that wasn't his initial expectation when he first moved to Bemidji in January 2016. That's when the Rochester, N.Y., native moved to Bemidji to enroll at Bemidji State University as a pre-med student.
Snyder soon realized he did not want to wait eight years to begin providing patient care. He instead decided to go into nursing, transferring from BSU to NTC so he could more quickly begin helping others.
"I've actually completed my Certified Nursing Assistant training, of course, so I've gotten to work already in a nursing home as a CNA, which was awesome," he said.
Snyder dreamed as a boy of becoming a doctor and considered nursing as an option as he got older. But as he finished high school, he found himself doubting whether he would be able to successfully get into the medical field.
"It was after graduation that I decided I really wanted to attempt it and really try to get into medicine," he said. "That's when I took my ACTs and started applying to schools."
In his search for a post-secondary institution, Snyder sought out an affordable college in a nice town that also could provide the faith component that was important to him as someone who had traveled to New Zealand and Honduras with his family on Baptist missionary work.
He considered options in New York, where he grew up, and also applied to Minot State University. But BSU responded quickly, and he connected with the campus on the lake and everything Bemidji has to offer.
"It just seemed like a good fit," Snyder said.
Despite finding the pre-med program an imperfect match, he said he enjoys Bemidji, has joined Northwoods Baptist Church and is comfortable at NTC.
"I like the smaller classes at NTC for sure," said Snyder, who was homeschooled, "and also the subject matter. When I was at BSU, I was still doing the general education credits, so I had larger classes, obviously. But I've enjoyed (BSU and NTC) both."
He hopes this fall to become a student worker in the NTC nursing labs and also a peer tutor.
After earning his associate degree, Snyder plans to both work and continue his education toward a four-year's RN degree at BSU, a master's in nursing and, ultimately, a doctorate, earning him the ability to work as a nurse practitioner.
"Eventually, I would like to open a clinic in Honduras," he said. "My specialty, what I would like to focus on, is childhood malnutrition, working as a nurse practitioner in pediatrics, focusing on the amount of malnutrition that they have, ways to diagnose and treat children with malnutrition more successfully.