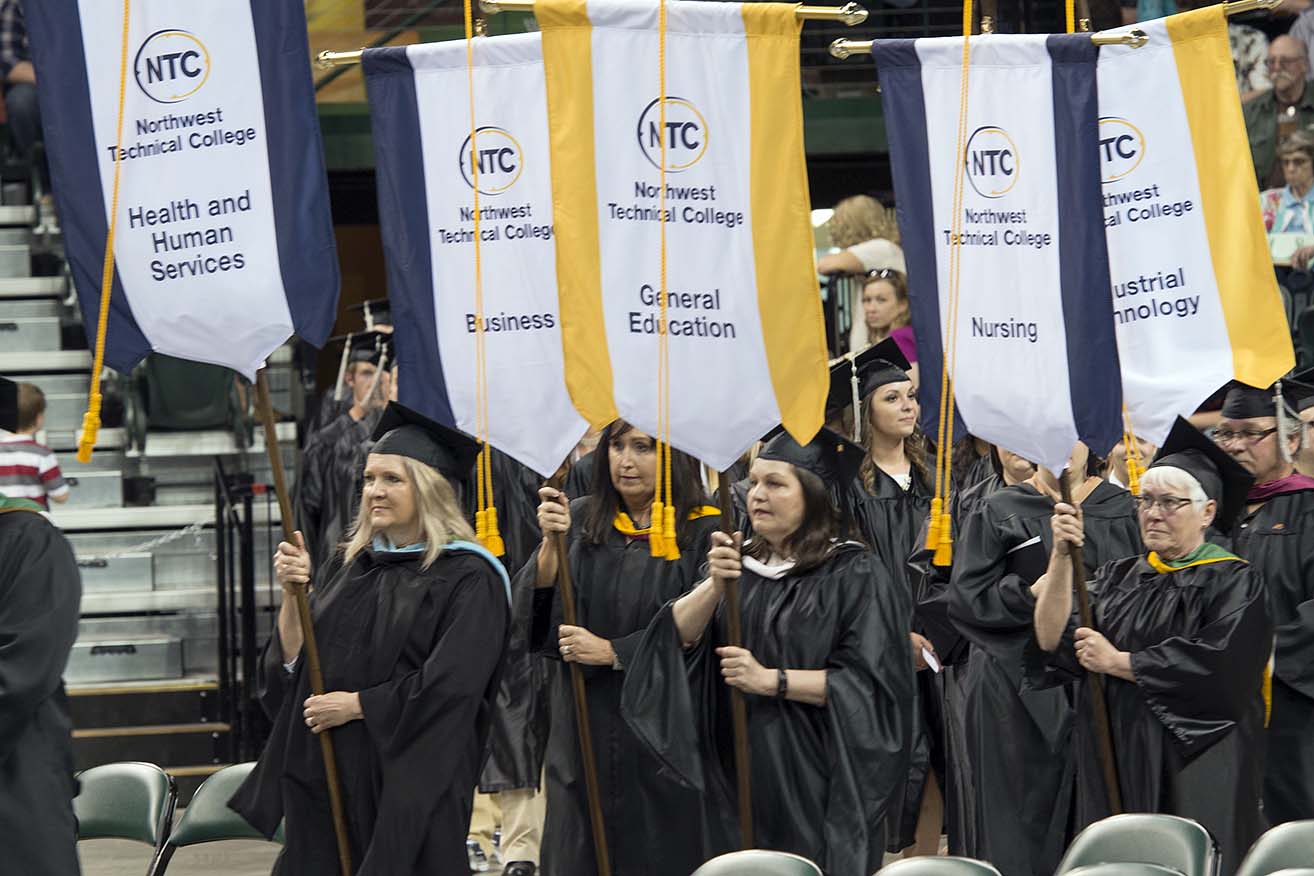 Northwest Technical College celebrated 233 new college graduates in front of a crowd of family, friends and supporters at its annual Commencement ceremony May 5 at Bemidji's Sanford Center.
NTC's Class of 2017 included:
64 recipients of associate of science degrees;
49 recipients of associate of applied science degrees;
63 diploma recipients; and
59 certificate recipients.
Seventy-three students graduated with honors, and 10 graduated as members of the Phi Theta Kappa International Honor Society.
Honor Graduates have a cumulative grade point average of at least 3.5 and are enrolled in 12 or more credits. Members of the Phi Theta Kappa International Honor Society requires completion of 12 semester hours of coursework toward an associate's degree with a grade point average of at least 3.5.
Dr. Faith C. Hensrud, president of NTC and Bemidji State University, told the gathered graduates that they had made her, their instructors and their families proud.
"By completing your degrees, diplomas and certificates, you have demonstrated your understanding of the value of higher education," she said. "You will find that if you keep an open and curious mind, your education will never be finished. In fact, your future learning will only be accelerated by all you have accomplished at Northwest Technical College."
She also encouraged graduates to embrace traditional values of hard work and a lifetime pursuit of knowledge, and to recognize that today's commencement ceremony was just the first step on a long journey into their futures.
"You almost certainly will not be handed everything you want on day one," she said. "But hard work and increasing experience can and will earn you higher pay, greater autonomy and additional responsibility.
"Congratulations on your achievement. Be just as proud of yourselves as we and your families are of you. Seize the opportunities that await you. Society is counting on you. Remember that employers do not hire skills. They hire people able to work with others and deliver on their responsibilities. Be prepared to continue learning throughout your careers – and stay flexible as the demands of your chosen field evolve because of changing technology and market demands."
Addressing the Graduates
Roger Moe, Minnesota State Board of Trustees
Roger Moe greeted NTC graduates on behalf of the Minnesota State Board of Trustees, Chancellor Steven Rosenstone and the faculty and staff at the state's colleges and universities.
"Celebrations like this give me a chance to be inspired by graduates like you," he said. "Commencement is a tangible reminder to me and my fellow trustees of the things we believe in."
"You carry the mission of this great university with you no matter where you go," he said. "Faculty and staff, and all of us on the Board of Trustees, will never stop expecting great things of you as alumni.
"We first expect you to become great leaders in your field, to contribute to the quality of life that keeps our nation and Minnesota strong. And we expect you to become someone who supports and encourages students who come after you in search of a brighter future."
Mary Miller, Sanford Health
NTC's Commencement address was delivered by Mary L. Miller, executive director of clinic operations for Sanford Health of Northern Minnesota.
She graduated from NTC in 1979 as a licensed practical nurse, and she later received her associate of arts degree in liberal arts from Bemidji State University.
"This school is very important to Sanford Health, as an employer, and community member," she said. "When you look at the growing campus of Sanford Health, know that we see Northwest Technical College as an integral part of our success and future growth. We would not have been able to construct the buildings, or care for the patients or bill for our services to the level we are able without this marvelous Bemidji educational institution that I call 'my school.'"
She encouraged NTC graduates to be the kind of person who goes the extra mile — to be the employee who helps a parent with a grumpy toddler, who comforts patients who are in pain, who lends a voluntary hand to unload a truck.
"These folks are leaders — the most important kind, as they can raise the level of a workforce just by doing what comes naturally," she said.
"Are you a leader?" she asked the graduates. "You can be. We all can be. It is the choice you make."
Northwest Technical College, located in northern Minnesota's lake district, is an open, inviting technological learning organization. For more than 40 years, the college has valued life-long learning and the worth and dignity of all people. The college serves 900 students with a high-quality education, an open-enrollment policy and affordable tuition. NTC offers nearly 60 degree, diploma and certificate programs in areas such as business, health, human and protective services and environmental and industrial technology. Classes are offered on the Bemidji campus, online, or as a combination of both. NTC is a member of the colleges and universities of Minnesota State.
---
2017-N-L-017