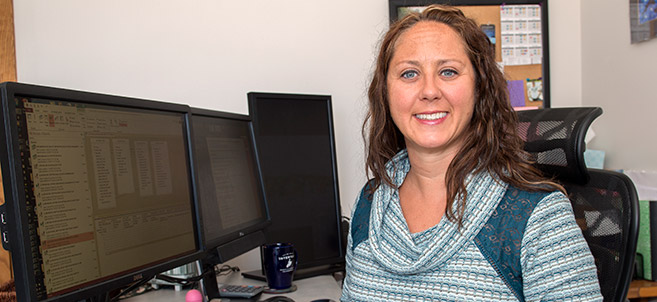 Northwest Technical College alumna Jennifer Theisen has worked as an application developer analyst at Bemidji State University for three years, bringing in the skills learned from her time as a student at the college.
With that experience, she helps NTC fulfill its unique mission to provide hands-on, technical training to the Bemidji region and beyond.
Theisen's career in tech started with a student job at NTC's help desk, where she was able to gain knowledge and experience in the technological world on her way to a degree in computer support administration. The flexible schedule allowed her to hold a full-time job in addition to attending school, and Theisen says students looking to begin their own careers should consider NTC.
"I'd absolutely recommend NTC. Everyone was friendly, it was a nice, small campus and it is a great hands on learning experience," she said. "It takes up less time than a four-year degree. You can get right into the job field with a higher wage than just coming off the street. And you have a good base for your education if you want to take it to BSU to get a bachelor's degree or master's or any further degree from there."
In her position at BSU, Theisen works with the university's student ID system, running reports, troubleshooting problems, generating reports, grading tests and coding. She says her days are driven by data and problem solving.
One of her favorite parts of her job at BSU is being able to work not only with the faculty and staff, but also with students. She also enjoys the variety and excitement she finds in her work.
"It's never the same day," she said. "There is always something interesting and exciting going on — there are always new processes," she said. "Even when you think you might be done creating a program or developing a process or something, something changes. So one day a program might work just fine and the next day somebody may have changed a requirement so you have to go back and re-write. You may see it as just a program, but to me it's a million different pieces put together in one package, which is exciting.
"It comes down to making sure people can do their jobs — whether that's compiling data or creating another system," she said.
Theisen's love for computer programming began when her father bought her a Texas Instruments computer and a programming book when she was just three years old.
"During the day, when he was at work and I was at home, I'd type programs into the computer. If it didn't work, my dad would come home after work and help troubleshoot," she recalls. "He would help me see what kind of creativity you can bring into it — the program might have squares flying across the screen, so he would teach me that if you changed certain parameters, you could change what happens. So that's what got me started."
She hopes to instill her own early love for computer coding into others through Bemidji's Girls Who Code club, which she founded in 2015. Girls Who Code is a national non-profit that seeks to close the gender gap in technology fields by introducing middle- and high-school aged girls to computer programming. The club was featured in "It's Your World," a collection of stories featuring people making a difference in the world around them, written by Chelsea Clinton, daughter of President Bill Clinton.