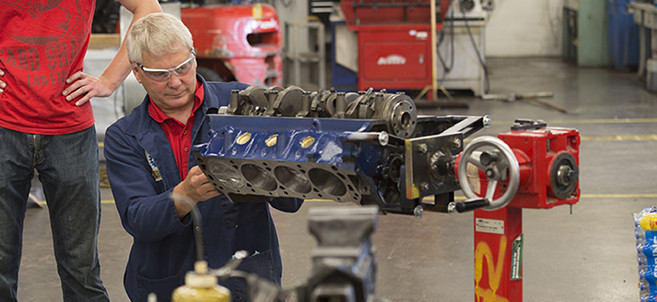 Paul Nelson, instructor in Northwest Technical College's high-performance engine machining program, is one of three finalists competing for Specialty Equipment Market Association's North American Council of Automotive Teachers Education Foundation Award.
The Education Foundation Award recognizes the automotive technology instructors who develop curricula focusing on parts available in the aftermarket — custom parts intended to modify a "stock" vehicle as purchased from a dealer — inspire their students and elevate the quality of future industry professionals. The award is open to automotive instructors at public or private secondary schools, post-secondary schools or training center in the United States or Canada.
Nelson has been teaching at NTC since 1993 and has been in the aftermarket automotive industry since 1979. At NTC, he teaches advanced engine machining techniques including computer-numeric controlled machining of engine blocks, setup and operation of engine dynamometers, and manual lathe and mill operations.
Nelson is joined by Jordan Engelhardt, Lyons Township High School in La Grange, Ill., and Brian McDonnell, Great Southern Tier Board of Cooperative Educational Services Coopers Education Center in Painted Post, N.Y., as finalists for the award.
"Too often these boots-on-the-ground champions go unrecognized," said Doug Evans, association board chairman. "But every day, every class, they are shaping the next generation of automotive enthusiasts and employees."
Nelson says NTC's high-performance engine machining program focuses nearly exclusively on aftermarket parts and modifications.
"Everything we do is related to the automotive aftermarket," he said. "That is my background, and that is where my students get the performance parts they need to do the work expected of them in the program."
Those expectations Nelson places on his students help prepare them for a profession where knowledge of the aftermarket can lead to opportunities after graduation.
"Any time we can expose students to what the aftermarket is all about, we expose them to employment opportunities nationally," Nelson said.
Nelson and the other two semifinalists received air transportation and hotel accommodations to attend the 2016 SEMA Show, Nov. 1-4 in Las Vegas. At that show, one winner will be selected to receive free registration to the July, 2017, North American Council of Automotive Teachers Education Foundation annual conference in Warren, Mich.
Each contest entrant was asked to submit a video that demonstrated their use of aftermarket products in the classroom, their aftermarket curriculum and the passion of the students in the program. Instructors at any public or private secondary or post-secondary school or training center in the United States or Canada were eligible.
About Paul Nelson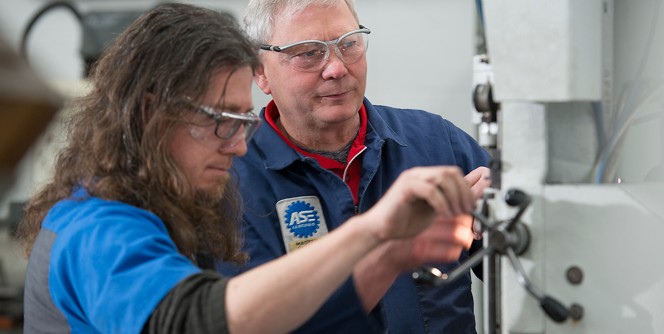 After he graduated from NTC in 1979, Nelson and his wife moved to Colorado, where he spent three years managing an engine machining shop. In the early 1980s, the couple moved back to Minneapolis, where Nelson had a job with the NAPA Genuine Parts Company. After 10 years managing shops and performing outside sales, he opened his own engine machining shop in Superior, Wis. Three years later, Nelson returned to NTC to join the automotive faculty.
"Every job I have had prepared me to teach in this program," Nelson said. "When my students get their dream job working in a performance engine field, we call that 'living the dream.' Well I have been living this dream for 38 years."
As a semifinalist, Nelson is in the running for a significant industry-led award for the second consecutive year. In 2015, he won the fifth annual Aftermarket Champion Technician competition, sponsored by German auto part manufacturer MAHLE. For winning that competition, which spotlights talented and forward-thinking engine technicians and specialists, Nelson won an all-expenses-paid trip to the 2015 NASCAR Spring Cup Series Champion's Week event in Las Vegas.
About the Specialty Equipment Market Association
Specialty Equipment Market Association members make, buy, sell and use all kinds of specialty parts and accessories to after-market vehicle modifications of all types. The association sponsors an annual trade show in Las Vegas where manufacturers share a broad array of automotive accessories including restyling accessories, engine parts, restoration supplies, street-rod components and safety enhancements, among many others.
About the North American Council of Automotive Teachers Education Foundation
The North American Council for Automotive Education Foundation provides scholarships and grants to teachers, schools and students of automotive and related technologies. The foundation hosts an annual conference during the third full week of July which provides opportunities for instructors from automotive, diesel and collision programs to obtain training and network with peers and industry representatives.
Contact
Paul Nelson, high-performance engine machining faculty, Northwest Technical College; (218) 333-6638, pnelson@bemidjistate.edu
Zane Clark, senior director of education; Specialty Equipment Market Association; (909) 978-6743, ZaneC@sema.org
Links
Northwest Technical College, located in northern Minnesota's lake district, is an open, inviting technological learning organization. For more than 40 years, the college has valued life-long learning and the worth and dignity of all people. The college serves 900 students with a high-quality education, an open-enrollment policy and affordable tuition. NTC offers nearly 60 degree, diploma and certificate programs in areas such as business, health, human and protective services and environmental and industrial technology. Classes are offered on the Bemidji campus, online, or as a combination of both. NTC is a member of the colleges and universities of Minnesota State.
---
2017-N-R-003