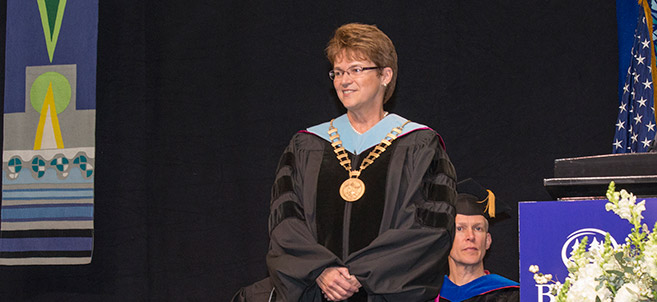 During her inauguration on Friday as president of Bemidji State University and Northwest Technical College, Dr. Faith Hensrud challenged the schools to build a bridge to the future through transformative teaching and service to students and the Bemidji region.
Hensrud evoked the event's theme of "Building Bridges, Transforming Lives" as she pledged to join with colleagues, students, alumni and community members to set and achieve ambitious goals.
"Each one of us, faculty, staff — and you students, above all — carry a torch for our highest ideals that we must one day pass on to others who will be counting on our efforts," she said.
Minnesota State Chancellor Steven Rosenstone formally invested Hensrud with her responsibilities as president, and Elise Bourdeau, a trustee for the system of colleges and universities, administered the oath of office.
About 500 people attended the 90-minute ceremony in the BSU Gymnasium, which was dressed up with a platform stage, flags, flowers, banners and large video screens.
The Bemidji Fire Department Honor Guard presented the colors, the university's Bemidji Choir and Wind Ensemble performed, and the Cedar Island drum group concluded the ceremony with an honor song.
The academic ritual of inauguration dates to the Middle Ages, Dr. Rosenstone said. He described it as "a celebration of community and solidarity" and praised Hensrud as a leader of "integrity, authenticity and courage."
"For those of us who know Faith Hensrud and have the privilege of working with her, today is a moment of great pride," Rosenstone said.
Among ceremony participants who expressed support for the new president were BSU alum and Bemidji Mayor Rita Albrecht, NTC Foundation President Lori Paris and faculty leaders from both schools.
BSU Student Senate President Kayley Schoonmaker and NTC Student Senate Vice President Charity Johnson used their combined speech to champion cooperation between the university and college.
"Don't ever let our institutions stop growing together," Johnson said. "Keep us moving forward, together. The world is changing, and we must embrace the need to change with it, together."
Hensrud, who previously was provost and vice chancellor of academic affairs at University of Wisconsin-Superior, became president of BSU and NTC on July 1. She succeeded Richard Hanson, who retired after six years in the role.
Hensrud grew up in the small town of Copper City in Michigan's Upper Peninsula, and she pointed to her background as testament to education's life-changing potential. She alone among seven siblings has earned a four-year degree, and her parents did not complete high school.
"The journey from Copper City, Michigan, to today's inauguration as your president cannot be measured in years or miles," Hensrud said. "My ability to span that distance is owed in large part to the educational opportunities that were afforded to me, combined with a certain grit that I believe is shared by many of our students."
Both schools must maintain high academic standards, she said, while seeking distinction in their north woods location, leadership in sustainability, and connection to the American Indian experience.
Along with attracting more students, Hensrud said, BSU and NTC must intensify efforts to ensure that students stay in school and graduate.
She emphasized the opportunity to increase American Indian enrollment, which is now less than 5 percent at both NTC and BSU, and do more to partner with tribal colleges and communities.
"We emphatically seek to build bridges to diverse peoples through recruitment and support of American Indian students, other students of color, and international students, as well as diverse faculty, staff and administrators," Hensrud said, "by appreciating our individual differences and insisting on mutual respect and by continuing to build campus cultures that promote and celebrate diversity in all forms."
She described both the university and college as the "indispensable stewards" of "a precious planet."
"Earth's uncertain future rests on our ability to overcome waste, destruction, intolerance and greed," Hensrud said, "and instead foster understanding, innovation, respect, compassion and justice. This, and nothing less, is our calling."