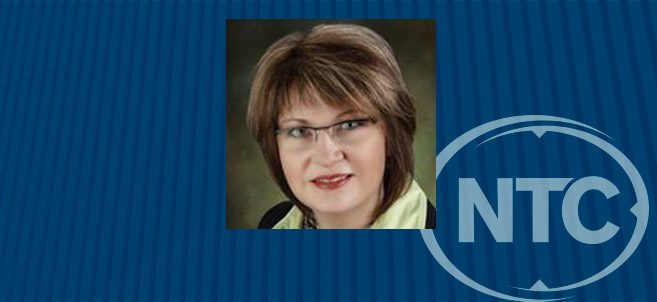 Paula Langteau will join Northwest Technical College as interim dean. She comes to Bemidji with nearly three decades of higher education experience, gained at two-year and technical colleges in Wisconsin and Georgia.
"I'm excited to have Paula joining our team here in Bemidji," said Dr. Faith Hensrud, president of NTC and Bemidji State University. "She has done an exceptional job during her 13 years leading the University of Wisconsin-Marinette, and she's the right person to serve as Northwest Technical College's interim dean."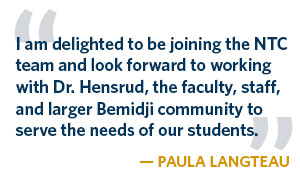 For more than a decade, Langteau has led the University of Wisconsin-Marinette, one of 13 two-year institutions that collectively form the University of Wisconsin Colleges. There, she oversaw all aspects of campus operations, including academic, financial and administrative affairs and student support services. Under her leadership, the college started an on-campus housing program and has seen significant growth in international student enrollment, while overall enrollment has grown 10 percent over the last three years. She also was instrumental in the college's The Legacy Wall Campaign, which helped triple scholarship funds available to its students.
"I am delighted to be joining the NTC team and look forward to working with Dr. Hensrud, the faculty, staff, and larger Bemidji community to serve the needs of our students," Langteau said.
Langteau will begin her work at NTC on Sept. 12.
About Paula Langteau
Paula Langteau was campus executive officer and dean of the University of Wisconsin-Marinette from 2004-2015 and is currently on leave from her position as senior special assistant to the chancellor of the University of Wisconsin colleges.
Prior to those roles, Langteau spent five years at Nicolet Area Technical College in Rhinelander, Wis. as dean of instruction and dean of teaching and learning, and 12 years at Georgia Perimeter College in Decatur, first as an associate professor of English and as a faculty development specialist and director of the college's Center for Teaching and Learning.
Langteau has a bachelor's degree in English from Eureka College and a master's degree in English from Ball State University, and she is pursuing a doctorate in higher education management from the University of Pennsylvania. She also attended the Institute for Educational Management at the Harvard University Graduate School of Education.
Langteau will succeed Bob Griggs, BSU/NTC vice president of innovation and extended learning, who served as interim dean of the college for the last two years. He joined the BSU administration in 2000 as dean of distance learning and summer session, and held a variety of other roles before assuming the NTC interim dean role in 2014. In July, Griggs announced his departure to accept the presidency at Southeast Technical Institute in Sioux Falls, S.D., where he begins work on Sept. 1.
Northwest Technical College, located in northern Minnesota's lake district, is an open, inviting technological learning organization. For more than 40 years, the college has valued life-long learning and the worth and dignity of all people. The college serves 900 students with a high-quality education, an open-enrollment policy and affordable tuition. NTC offers nearly 60 degree, diploma and certificate programs in areas such as business, health, human and protective services and environmental and industrial technology. Classes are offered on the Bemidji campus, online, or as a combination of both. NTC is a member of the colleges and universities of Minnesota State.
---
2017-N-L-003