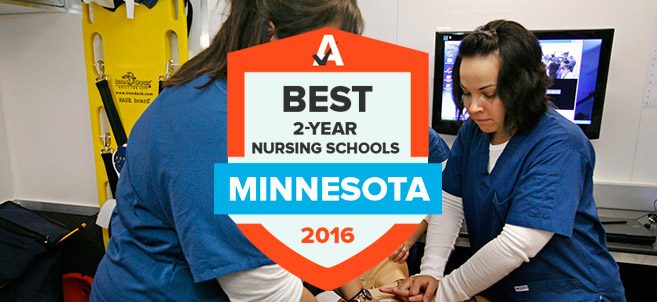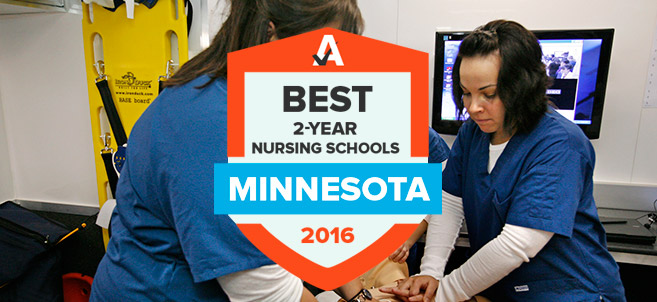 Northwest Technical College ranked second in "Best 2-Year Nursing Schools Minnesota 2016," a ranking of all Minnesota two-year college nursing programs by San Francisco-based web site Accredited Schools Online.
NTC's nursing programs received a score of 94.50 on the ranking's normalized 100-point scale, ranking it second behind Pine Technical College (96.50). The ranking made note of NTC's low student-to-teacher ratio of 17:1, tied for second-lowest of the 20 ranked institutions, and the graduation rate for its nursing program.
Students in Northwest Technical College's nursing programs gain knowledge and experience in state-of-the-art simulated clinical settings and in direct, supervised clinical environments. NTC nursing programs offer multiple entry and exit points with options to stack credentials while working toward an associate of science degree. Associate's degree graduates can transfer to Bemidji State University and complete a bachelor of science in nursing. Experienced faculty help students choose the right path to meet their goals in online and on-campus coursework.
Methodology
Accredited Schools Online ranked nursing programs in Minnesota by comparing three equally weighted criteria: student-to-faculty ratio, in-state tuition and graduation rate. Additional factors for each school's ranking included number of programs available and whether the school was a public, not-for-profit institution. Scores were then normalized on a 100-percent curve. Ties were broken based on lowest average net price for full-time, first-time undergraduate students paying in-state tuition. Net price is the average cost of tuition and expenses after accounting for grants and scholarships received. When necessary, Accredited Schools Online broke remaining ties based on lowest in-state tuition rates.
About Accredited Schools Online
Run by admitted data geeks, Accredited Schools Online helps students and families navigate the steadily increasing number of options in today's higher education marketplace. The site also compiles information about accreditation and accrediting agencies, the importance of the accreditation process and recent news related to accreditation issues. For more, visit http://www.accreditedschoolsonline.org.
Contact
Links
Northwest Technical College, located in northern Minnesota's lake district, is an open, inviting technological learning organization. For more than 40 years, the college has valued life-long learning and the worth and dignity of all people. The college serves 900 students with a high-quality education, an open-enrollment policy and affordable tuition. NTC offers nearly 60 degree, diploma and certificate programs in areas such as business, health, human and protective services and environmental and industrial technology. Classes are offered on the Bemidji campus, online, or as a combination of both. NTC is a member of the Minnesota State Colleges and Universities system. For more, visit http://www.ntcmn.edu/.
---
2016-N-L-011