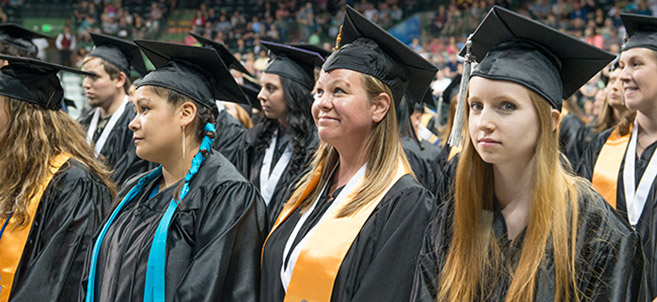 Northwest Technical College celebrated 341 new college graduates in front of a crowd of family, friends and supporters at its annual Commencement ceremony, held at Bemidji's Sanford Center.
NTC's Class of 2016 included:
73 recipients of associate of applied science degrees;
97 recipients of associate of science degrees;
79 diploma recipients; and
92 certificate recipients.
25 students graduated with honors, and 118 graduated as members of the Phi Theta Kappa International Honor Society.
Honor Graduates have a cumulative grade point average of at least 3.5 and are enrolled in 12 or more credits. Members of the Phi Theta Kappa International Honor Society requires completion of 12 semester hours of coursework toward an associate's degree with a grade point average of at least 3.5.
Dr. Richard A. Hanson, presiding over the 49th and final Commencement ceremony following a four-decade career, spoke to NTC graduates for the last time before his upcoming retirement in June. He reminded graduates that while Commencement marked the end of their time at NTC, it marked the beginning of so much more.
"This isn't the end of anything. This is the beginning of the rest of what you're going to do," he said. "We fully expect that out of this group will come great leaders, great nurses, great business people, great manufacturers. There's no doubt in my mind because of all the talent you have. As you move forward and as you come across the stage today, remember this is just the start. Tomorrow is the rest of your life."
Addressing the Graduates
NTC's Class of 2016 was addressed by Jay Coles, a member of the Minnesota State Colleges and Universities Board of Trustees, with a commencement address delivered Bill Blackwell, Jr., executive director of Bemidji State University's American Indian Resource Center. Lori Paris, director of the Northwest Technical College Foundation, welcomed the Class of 2016 into the family of NTC alumni.
Coles brought greetings to the Class of 2016 from the system and its board of trustees.
"Today you are a tangible reminder to me and my fellow trustees of the things we believe in," he said. "We believe in the power of higher education to help people create a brighter further for themselves, their families and their communities. We believe in the extraordinary education our faculty and staff offer our students inside and outside of the classroom. And graduates of Class of 2016, we believe in you."
Bill Blackwell, Jr.
Bill Blackwell, Jr., executive director of the American Indian Resource Center, addressed graduates as this year's commencement speaker. He spoke of the value of education and the many ways it can change how graduates can engage with the world.
"I believe in the impact education has, and the impact it's had on me," he said. "Education opens doors. If not for education, I would not be in front of you today."
He said people might tell graduates that they were different now that they had a college degree – but that the difference wasn't in how they had changed, but in how the world changes to welcome them.
"You are the same person you are," he said. "What your degree does is show potential employers that you are goal oriented, you can finish what you start, and you have the potential to be successful. Doors that were locked to you can now be open."
Finally, he asked NTC's graduates to embrace their new status, not only as new college graduates but as potential role models to others.
"You are role models now. Whether you realize it or not, now you are a person who has gone to college," he said.