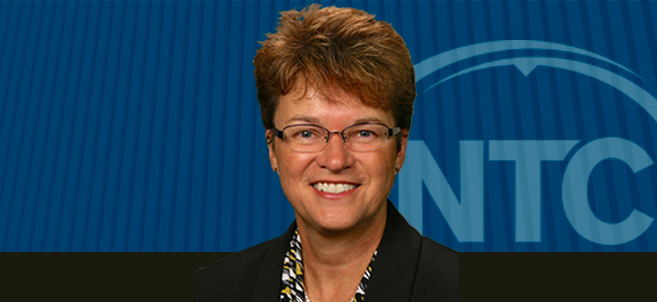 The Minnesota State Colleges and Universities has announced that Dr. Faith Hensrud, provost and vice chancellor for academic affairs at the University of Wisconsin-Superior, has been confirmed as the president-elect of Northwest Technical College and Bemidji State University.
Chancellor Steven A. Rosenstone's nomination of Hensrud was approved by a vote of the system's Board of Trustees at its April 20 meeting. She will assume the presidency of both the university and college on July 1.
"Faith Hensrud is a tested leader with a unique range of experiences, having served at both a technical college and a comprehensive university," said Steven Rosenstone, chancellor of Minnesota State Colleges and Universities. "She has the support of students, faculty, and staff at Bemidji State and NTC. She has the support of stakeholders in the community. I am delighted that Dr. Hensrud will be the next president of Bemidji State University and Northwest Technical College."
Hensrud was in attendance at the Board of Trustees meeting and spoke prior to the board vote.
"As I have learned about Bemidji State University and Northwest Technical College over the past several months, I have been very impressed with the faculty of both institutions," she said. "It's clear that your passion and commitment to your students is very high. I look forward to working with you to ensure that our students have an exceptional learning experience."
She said her commitment to student success comes from her own experience as a first-generation college student.
"I understand the challenges that our students face as they consider whether or not they belong at a particular college or university," she said. "I also understand first-hand the transformative role that higher education can play in the life of a student and a community.
"I look forward with anticipation to moving into the Bemidji community to begin this very exciting journey."
Hensrud will be introduced to both campuses and to the Bemidji community at a pair of open public forums on April 25. Those events are:
• 8:30 a.m. – Bemidji State University, Beaux Arts Ballroom
• 10 a.m. – Northwest Technical College, Room 328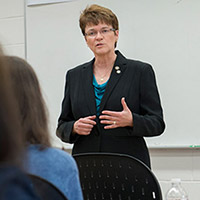 Faith Hensrud visited with NTC faculty, staff and administrators during her March 23 visit to Bemidji. Click for more photos.
Hensrud has been provost and vice chancellor for academic affairs at the University of Wisconsin-Superior since 2012 and has been at the university in a variety of roles since 1995.
As provost, Hensrud serves as the university's chief academic officer, oversees a budget of $13 million and manages 130 faculty in 12 academic departments. She also oversees the Lake Superior National Estuarine Research Reserve, the Lake Superior Research Institute and the Transportation and Logistics Research Center and Great Lakes Maritime Research Institute.
Before being named to her current post in 2012, Hensrud served as interim provost and vice chancellor for academic affairs and dean of faculties from 2010 to 2012; as associate vice chancellor for academic affairs and outreach from 2006-10; as leader of distance education and continuing education programs and activities from 2002-06; and as an associate professor since 2006. She joined the University of Wisconsin-Superior in 1995 as a lecturer in its Department of Business and Economics.
Hensrud is a U.S. Army veteran, serving on active duty with the 24th Transportation Battalion at Ft. Eustis, Va., from 1986-89 and as a member of the U.S. Army Reserve from 1989-2000.
She holds a bachelor's degree in human adaptability from the University of Wisconsin-Green Bay, a master's degree in management from the College of St. Scholastica and a doctorate in educational policy and administration from the University of Minnesota.
Hensrud will succeed Dr. Richard A. Hanson, who in Aug. 2015 announced his intention to retire after a six-year presidency. Hanson became president of Northwest Tech and Bemidji State in July 2010.
Hanson's tenure in Bemidji has included leadership of Bemidji State's first-ever comprehensive fundraising campaign, Imagine Tomorrow, which is set to conclude in June after five years with an initial goal of $35 million for scholarships and academic investment. He also has placed renewed emphasis on international recruitment and education abroad, and championed BSU's distinction as a north woods campus that offers residential students a transformative college experience.
In addition, he has strengthened the connections between Bemidji State and Northwest Technical College, fostering greater academic collaboration in addition to efficiencies gained from dual responsibilities for many administrators and staff. He initiated a comprehensive review of the college in August 2014, known as "reinvention," that produced streamlined academic programs aligned directly with workforce needs in northern Minnesota.
CONTACT
* Scott Faust, director of communications and marketing, Bemidji State University and Northwest Technical College; (218) 755-2986, sfaust@bemidjistate.edu