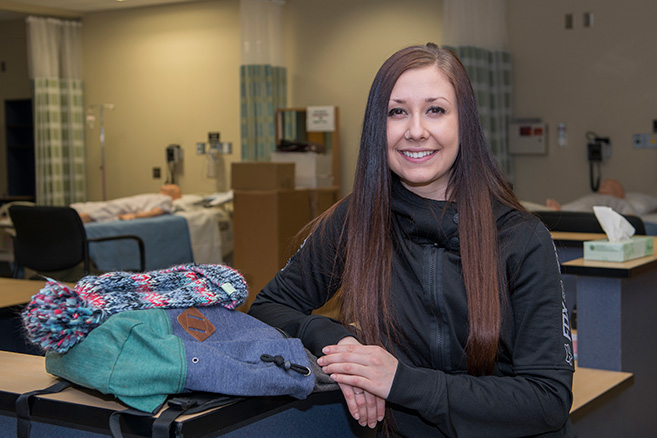 After spending several years working in a variety of jobs after high school, Bemidji native Megan Treat made the decision to return to school and continue her education. As she was exploring her options, her interest in medicine and family connections led her to Northwest Technical College.
"My mother introduced me to the idea of attending NTC, because she herself attended NTC," Treat said.
Her mother, Barb, was in NTC's dental assisting program and transferred to Bemidji State University to finish her four-year degree.
Treat said she also was drawn to NTC because she felt comfortable there after being away from school for several years.
"I needed to ease into school again because I was out of high school for a few years and very nervous," she said. "Northwest Tech really helped me get comfortable being back in school again."
That environment is helping Treat pursue her interest in medicine as a student in NTC's Health Sciences Broad Field program. She says she has particularly enjoyed NTC's variety of course delivery options, including several that use a flipped classroom model where students do required reading and studying at home and use classroom time for group discussions and conversations.
"I love the classes offered at the tech," she said. "Everything so far seems to pique my interest, and the instructors I've had go the extra mile to help students do well.
"This semester I've had courses like college writing and developmental psychology, and often they do a flipped classroom. It's interesting and very interactive."
Treat says that in addition to providing a quality experience in the classroom, her instructors have helped her stay excited about being in college.
"My college writing professor, Dawn Dahl, has done very well with encouraging me to keep going," she said. "We're at the end of the semester when procrastination is at it's worst, but Dawn has kept class fun. I have classes that I'm interested in, so I look forward to them every day."
Treat says while she hasn't settled on a precise plan for the rest of her life, her courses at Northwest Technical College are giving her the knowledge she needs to figure it all out.
"I hope to know what I'm going to do with my life before I graduate," she said.
As she's working to determine her future, Treat already knows that when she finishes her Health Science Broad Field program at NTC she wants to continue her education –– perhaps once again following in her mother's footsteps and transferring to Bemidji State.
"My ultimate plan is to continue to attend NTC for two years, then transfer to BSU and, hopefully, continue even further to medical school," she said.