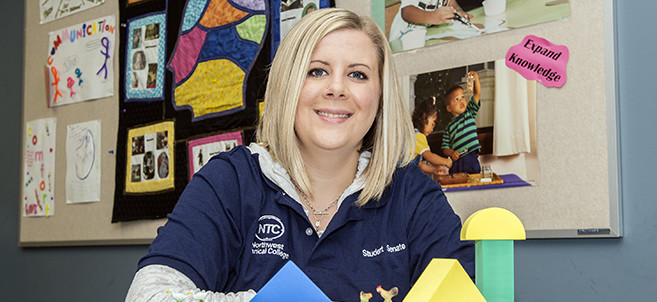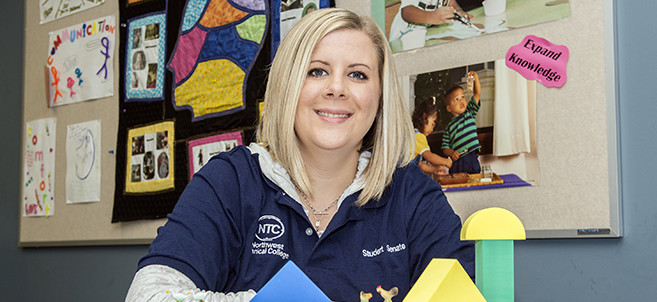 Like many parents, Holly Whitefeather wants to build the best future possible for her family. In order to do so, the 25-year-old mother of two has made her education a priority and has decided to pursue a degree at Northwest Technical College. With plans to become a pre-school teacher, the Bemidji native is studying Young Child Education at NTC and says the program has opened new doors for her.
Whitefeather chose NTC because of the benefits and opportunities available at a smaller school.
"I think what really appealed to me was the smaller student body," she said. "You get to know your classmates and form better relationships with them. You also get a more personal student-teacher relationship. The teachers are invested in the success of their students, and they won't let you fall through the cracks."
NTC's instructors demonstrate this investment through their willingness to go the extra mile for students and by giving them the best opportunities for success. Instructors have structured their classes to ensure students get the most out of their education and are taught the necessary skills to excel in their field. After her first year in the program, Whitefeather said she's already learned much about problem-solving, guidance, developing relationships with parents and many other skills she'll need in her future classroom.
Whitefeather enjoys the hands-on learning experiences offered in her Early Childhood Education classes, especially student-teaching and role-playing opportunities. Through these activities, Whitefeather and her fellow students gain experience in the field and are given opportunities to encounter real-life situations that could arise in their careers.
Outside of the classroom, Whitefeather says she has gained immeasurable experience from her involvement with NTC's Student Senate, which represents the student body and helps other campus organizations with planning and funding. As president of the Student Senate, she has been directly involved in decisions that have affected the campus and has influenced Minnesota legislative decisions that impact technical colleges throughout the state.
When Whitefeather graduates in 2016, she'll be prepared with the necessary knowledge and experience to begin a successful career as a pre-school teacher. With her degree in hand, she'll also be able to better provide for her family and set a shining example for her young sons.